Here Are Several More Reasons To Be A Baseball Fan, Ladies
So, I published a blog the other day about hot guys in baseball. When I tweeted it, I was flooded with people being mad that I didn't include their favorite. So, after much review, these are the next few reasons to be a huge baseball gal.
Aaron Judge
Aaron Judge was the very first person to get angrily mentioned in my replies. And you know what, you're right! That was wrong of me. The bone structure on this man's face seems extremely sturdy if you know what I'm alluding to. Plus, any time you can be attracted to the veins on a man's arm you know it's a goooood situation.
Scott Kingery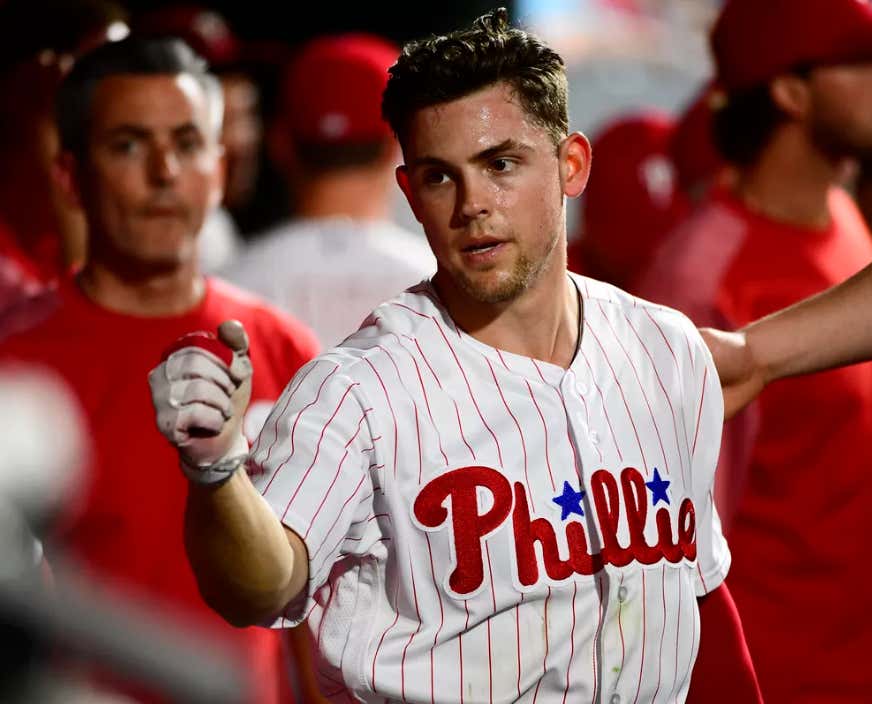 OH. No. Am I going to become a Phillies fan now?? Y'all already know I love a wholesome midwest lookin guy. I have no idea where this kid is actually from nor do I particularly care, but he looks corn-fed as FUCK. It's also a well- known thing that I like men with cute little noses because I feel like our children would have cute little noses and I'm all about that.
Dansby Swanson
Um………. this is the most attractive man I've ever seen. Forget most attractive man in baseball, most attractive man I HAVE EVER SEEN. Am I a Braves fan now?? I'm not okay. He's also big in on the merch game if anyone's interested. This looks like the kind of guy you'd run into in Florence, Italy studying abroad and spend one intensely passionate night with then never see again.
Travis Shaw
This is a VERY handsome man. No way around it. He came into HQ the other day and I think every woman in the office simultaneously dropped our jaws. Shockingly handsome guy.
Nolan Arenado
Every picture of this guy is undeniable. Sexual. The energy? The magnetism? Unbelievable. Nolan Arenado could tell me anything and I'd probably believe him. Imagine going on a lovely candlelit dinner with this man. Splitting a spaghetti. Lady and the Tramp situation goes down. If you think I wouldn't cause a SCENE in the middle of the restaurant for this guy you're dead fuckin wrong.
Michael Kopech
Listen, he's very hot, but his girlfriend is for real hotter. Quite the man, and quite the woman. He's hot on his own but I actually think this is a rare case where seeing his girlfriend makes me 20x more attracted to him. This might be creepy but like… imagine them boning. That is all.
Tyler Glasnow
This might be a niche thing but this guy looks like the hot version of a guy I used to hook up with. They sort of have the same face, except Tyler Glasnow is actually attractive and not just in certain lights. Anyway, he looks like a hockey player, which everyone knows (in the hierarchy of hot athletes) is a HUGE compliment.
Max Kepler
I'm pretty sure this kid is like 24 years old. Okay, he's 26, but still. Young, cute, talented. What more could I possibly ask for from a guy? Actually, I don't know if he's talented. His batting average is 0.236 so I'm guessing no? But remember, this isn't a "best baseball players" blog, it's a "hottest baseball players" blog. And Max Kepler certainly makes the list.
Andrew Benintendi
The first time I saw this guy was a Red Sox-Yankees game in September and I immediately fell in love. Andrew Benintendi is the undisputed sweetheart of the Boston Red Sox. I've never met a Boston gal who doesn't love him. I've never met a Boston guy who doesn't love him! I get the feeling that he's a huge relationship guy, too, so you know he'd love to meet your mama.
Cole Hamels
Straight up a hot guy. Also looks like a guy I used to hook up with? Damn, maybe I've been into baseball guys all along. He's married to Heidi Strobel, who was on Survivor (so I definitely couldn't take her) and they seem very happy. But like I said, you're still allowed to look!! This guy has the most symmetrical face I've ever seen.
Okay, that's all I've got for baseball boys!! I literally can't fall into this wormhole ever again because it's all I've been able to focus on for days. Next up, hockey boys! And if you're a dude/person who likes girls who's made it to the end of this, here's a picture of Paulina Gretzky: