In Memoriam: Those Who Have Tasted The Purple Rain (NSFW)
Here's a quick update: Prince is still dead.
The third anniversary of his death on April 21st came and went without much fanfare. It seems as if his day of remembrance is often overshadowed by either National Pothead Day or by those who secretly celebrate Hitler's birthday behind closed doors… Both of those events fall on 4/20 every year.
Since I partake in neither of those (as far as you know), I am going to carve out just a couple minutes of your Friday morning looking back on The Purple One's achievements.
More specifically, I am going to rank the Top 10 Women Prince Has Banged.
I think many have argued in the past what song of Prince's was his best work, and I know his name comes up in yearly debates on where he ranks as the greatest Super Bowl halftime performer.  However, I don't think he gets enough credit for the broads he left in his wake, so fuck it… Here are my Top 10.
All of these women are also AFTP's for the simple fact they are either my age or older… Starting with Number 10, who has NO business being on this list EXCEPT for the fact that I "enjoyed" her when I was a young lad…
Quickly…The 59-year-old Scottish singer collaborated with Prince on a number of occasions and appeared in his concert film Sign o' the Times.
*
NUMBER 9- Anna Fantastic
One of three girls on this countdown who changed their name for Prince.
Anna Garcia met The Artist Onetime Formerly Known as Prince at the age of 16 while attending his concert in London.  A year later she was living with him in Minneapolis.
The song Pink Cashmere was written about the jacket Prince gave Anna when she turned 18, but may also be a metaphor for Miss Fantastic's vagina… We can't be sure because as I mentioned above, Prince is still dead.
*
Number 8- Suzanna Hoffs
Again, this one is a little personal because the lead singer of The Bangles (and my first Jewish crush) also came along at a time when I was blossoming into manhood.
And this is her second not-so-honorable mention as an Ass From The Past…
Rumor has it that Prince gave the song Manic Monday, which he wrote in 1984, to Hoffs so that she would sleep with him.  I'd like to think this rumor is false because I don't like envisioning his grubby little hooves all over poor Suzanna.
*
Number 7- Tatiana Thumbtzen
Best known as the girl from Michael Jackson's The Way You Make Me Feel video, Tatiana is the only girl I know of to have dated both a Prince and a King of Pop.
*
Number 6- Heidi Mark
Former Playboy playmate, and now 48-year-old actress/model who is originally from Helsinki, Finland.
She dated Prince for less than a year in 1991 and was later married to Motley Crüe lead-singer, Vince Neil, for just over a year in 2000-2001.
*
Number 5- Mayte Garcia
Prince's first wife.
They met when she was 16. They began dating after she turned 18. At 19, she says he instructed her to get on birth control thus beginning their sexual relationship. On February 14, 1996, after a four-year courtship, Garcia married Prince.
Here's a little downer- Their only child, Amiir, was born with Pfeiffer syndrome and unable to breathe without a ventilator.  He died just six days after his birth.
And here's something both weird and sad- A week later, the couple were interviewed on Oprah, where they pretended their son was still alive.
And finally, here's something kinda cool- Mayte is the second girl in a row on this countdown (but not the last) who Motley Crüe got as Prince's sloppy seconds… She went on to have a 2-year relationship with hepatitis-riddled Tommy Lee.
*
Number 4- Kim Basinger
The actress dated Prince around 1989, when she was in Batman.
Together they recorded his fiery EP The Scandalous Sex Suite, Basinger's contributions to the tracks were either spoken word or orgasmic moans, and there was speculation it was recorded while the pair were having sex.
I put the cheesy-dancing GIF above because that late '80s dance scene from the film 9 1/2 Weeks was the inspiration for her cartoon turn in 1992's Cool World… And I love sexy cartoons.
*
Number 3- Apollonia Kotero
Former Rams cheerleader and Prince's love interest in Purple Rain… They dated in 1983.
My only real memory of this young lady was that scene where she got naked and jumped in a lake.  that was the second most famous cinematic topless Apollonia, lagging only the time Apollonia Vitelli bared her breasts for the equally short Michael Corleone in The Godfather.
*
Number 2- Carmen Electra
The second of the three girls on this countdown who changed their name for Prince
They reportedly had a relationship when she was on his record label in the early-1990s while she was still using her real name, Tara Leigh Patrick.
Prince wrote the song Eye Hate U about Electra and their subsequent breakup after he had found out she was cheating on him.
*
Number 1- Vanity
The third and final of the three girls on this countdown who changed their name for Prince, AND the third and final girl on this list that fucked around with a member of Motley Crüe after Prince was finish covering her in protein.
Let that sink in… Vanity, Carmen Electra and some girl you never heard of before (Anna Fantastic) changed their legal names at the behest of this little goat, AND three of them took the tongue tricks they learned from Prince and used them for entry into the beds, vans, or maybe a pile boxes behind a dumpster of arguably the greatest hair-band of all time.
I bet you do, but I can't help you, sweetheart.
But back to Vanity because her story is pretty fucked up… The half-black/half-Jewish Canadian singer/songwriter-turned evangelist was born Denise Katrina Matthews. Prince renamed her Vanity after they met in 1982, as he considered her to be the female form of himself.
I wish I was making this up, but he initially suggested she go by the name "Vagina", but they settled on a much more benign "V" word.
After learning that she could kinda sing, Prince asked her to become the lead singer of the girl group Vanity 6.  This was in the early '80s, when Prince was arguably at his most sex-driven, so this new girl group was a hyper-sexual answer to a similar slutty group formed by Rick James called the Mary Jane Girls.
Their only hit was "Nasty Girl" and the white girl on the left used to scare the shit out of me.
After leaving Prince, Vanity had some acting roles in forgettable movies and even dumped them out for the guy who is now the voice of Mr Incredible.
She eventually began dating Motley Crue bassist Nikki Sixx in 1986, and they became engaged within a year.  Similar to my wife and I, the couple was heavy into '80s rock star excesses and enabled each others' drug abuse.  According to Sixx's biography, the two were compulsive crack addicts.
In 1994, Vanity overdosed on crack… "My blood pressure was 250 over 190. I lost use of both kidneys," she told Jet writer Margena Christian in 2007. "I had internal bleeding with blood clots on the brain. I was completely blind and deaf. I had a heart attack and a stroke."
The experience led to her religious conversion, as she said that she'd received a vision from Jesus as she lay dying. She said that God wanted her to metaphorically "kill" Vanity and she did, reportedly discarding every interview or recording of herself as the sexed-up pop star, distancing herself from the entertainment world, and going by her given name only: Denise Matthews.
She would marry former L.A. Rams player Anthony Smith the following year… Who was another fucking doozy.
By 1996, their marriage was over, and I might as well mention here that Smith is now serving three life sentences for the 1999 double-murder of brothers Ricky and Kevin Nettles and the 2001 death of Dennis Henderson.
And as her ex-husband's criminal convictions piled up, Matthews' convictions as a Christian also grew. She would become an evangelist in the late '90s, speaking and writing about her faith, her past, and hoping to offer some clarity to other lost souls.
She had a kidney transplant in 1997, but apparently it didn't take because she tragically passed at the age of 57 from renal failure making her one of the few DAFTPs (Dead Asses From The Past).
*
So there's Prince's Top Ten according to me… Does this list hold up to the absolute LEGEND, Leonardo DiCaprio?
Of course not. 
Does it hold a candle to the female celebrity with the most impressive knock-list- Cameron Diaz?
Probably not. 
But keep in mind, when Prince passed, I was talking about his legacy with my wife when my 8-year-old asked, "Who is Prince?"
And I answered, "Picture a goat dressed in purple playing the guitar while hopped up on fentanyl."... And I don't think I could've done a better job with that description.  
So when you factor in how Prince looked vs the appearance of those who willingly accepted his purple load, then I think you'll realize that three years ago we lost not only a great musician, but also one of the greatest cocksmen of all time. 
Rest In Peace, my sweet prince… And take a report. 
-Large
Take a report.
-Large
Speaking of dead legends- I saw this cloud formation above my house on the anniversary of Whitney Houston's death earlier this year…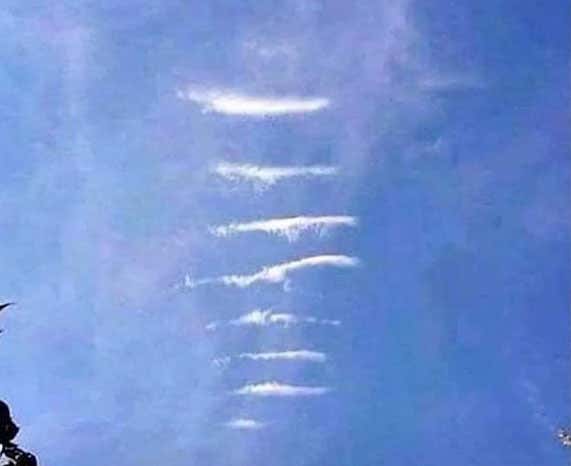 … and I took solace in the idea Whit is probably up there right now grinding rails with Amy Winehouse.
RIP and TAR.
-L
BarstoolGOLD drops another EXTRA LARGE in a couple minutes…
barstoolgold.com/large