CHUCKIE BRIGHT LIGHTS WINS IT IN OVERTIME!!! THE BOSTON BRUINS HAVE WON SIX IN A ROW!!!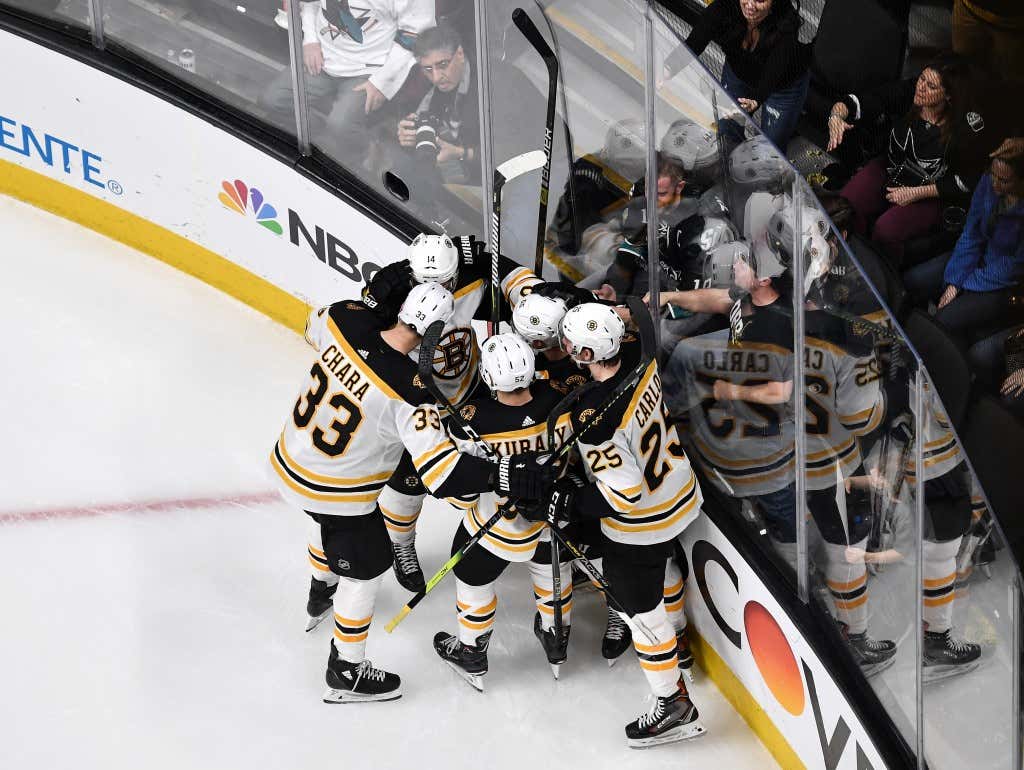 The Boston Bruins blew a first period three goal lead but held on to defeat the San Jose Sharks 6-5 in OT in a thrilling tilt.
The B's thought they opened the scoring early in the 1st (deflected off Danton Heinen in front) but Marc Edouard-Vlasic swiped it off the line. Or did he?
How is that not a goal? My eyes are telling me that's a goal.
Matt Grzelcyk got high-sticked and the Bruins were headed to the PP. David Krejci fed Torey Krug who unleashed a bomb to give the Bruins the opening score. Puck don't lie. Torey's 6th of the season, absolute bullet.
A Zdeno Chara knucklepuck special gave the B's the 2-0 lead just 3 minutes later.
Late in the 1st, David Krejci lobbed up a pass to Jake DeBrusk who found Karson Kulhman streaking to the net. Welcome to the show, Karson. He buried his first career NHL goal and quickly the Bruins took a 3-0 lead in the Shark Tank.
But these are the Bruins we're talking about, and of course they let Joe Thornton and the Sharks score with 2.7 seconds left in the period. Exactly what you don't want to do, give the Sharks life.. 3-1 after 1.
The Sharks converted early on the PP in the 2nd to pull within 1. Kevan Miller went off for delay of game… and that is why you can't allow the Sharks to score late in the 1st. 3-2 Bruins.
Three minutes later, David Backes kicked the puck to Jake DeBrusk, who then finished a give-and-go with Danton Heinen. There is no one hotter on the planet than Jake DeBrusk. He went shelf to extend the Bruins lead 4-2 on the PP. His 18th of the season.
Kick pass and a beauty.
With 3:57 to go in the 2nd, Jumbo Joe struck again, cutting the Bruins' lead to 4-3. Here we go again, the B's allow late period goals to let teams back in games.
And there it is. Logan Couture penalty shot goal (shorthanded) tied things up with 24 seconds to go in the 2nd. This game was drunk. 4-4.
The Bruins went without a shot for the last 7 minutes of the 2nd. Not great!
At 13:32 of the 3rd, Joe Thornton capped off the hat trick. Sharks took a 5-4 lead with 6:28 to go. Looks like it went off the shin pad of Charlie McAvoy.
JUST WHEN YOU THINK THEY'RE DEAD!!! CHRIS WAGNER TIED THINGS UP WITH 2 TO GO IN THE 3RD!! 5-5. This literally shouldn't have counted, and it's not reviewable, but I don't give a fuck. I'll take it.
… on to OT
Jake DeBrusk to David Krejci to Chuckie Bright Lights. Overtime winner. The Boston Bruins have won six straight games, have points in 11 straight (8-0-3) and sweep California. What a win. That David Krejci no-look pass. My goodness.
FINAL: Boston 6, San Jose 5
Holy fuck were the officials bad. Chris Wagner's goal shouldn't have counted, but the refs owed them one for that missed non-goal in the first. Don't think Couture deserved the penalty shot. Thought Chara should've got a penalty for high-sticking Pavelski. The net being off it's mooring in OT when Evander Kane was gonna come in on a breakaway, that was a big break for the B's. Quite a shit show.
News, notes and quotes:
Congrats to Karson Kulhman who collected his first career NHL goal in his second career game. Pretty Kuhl.
There is no one hotter on the planet thank Jake DeBrusk, his 18th of the season (career high) was his 4th goal in as many games. For a team that has been struggling to score, it's encouraging to see Jake open the floodgates. Three point night for JD.
Stick tap to David Backes for the soccer assist.
DeBrusk with an assist on the GWG, he sauced to Krejci who no-looked to Charlie McAvoy. Game over.
Jumbo Joe netted the hat trick, but it just wasn't the night for him to pull his rooster out.
The Bruins went a whole stretch of 17 minutes without a shot on net. From 7 minutes left in the 2nd to 9 minutes left in the 3rd. The Sharks absolutely flipped the ice and they could not get anything going. SEVENTEEN MINUTES OF PLAY. You can't expect to win many games if you go 15+ minutes with a SOG.
Despite the fact they scored 2 PPGs, I still think they can be cleaner on the man advantage.
Tuukka Rask still hasn't lost a game in regulation since the new year. He's pretty good. He turned away 33 shots tonight and is now 12-0-2 in his last 15 starts.
4 wins in a row without David Pastrnak. Secondary scoring is picking up, especially from the back end, but I still think the B's are missing a piece.
The Bruins are obsessed with allowing late period goals to keep teams in it. Insert Big Cat figure it out GIF here. Coughing up a three goal lead, actually bad. But the B's have won six in a row and are 3-0 on their current West Coast trip. Let's keep it going.
I did a mini electric chair for OT in which I look like an absolute unit in an oversized hoodie, but nevertheless here it is.
It was a great night to win a hockey game.