Part 1 Of My Imaginary Movie Career: The Rise
Going off a bullet point in one of my recent Thursday thought blogs, I decided to write out an entire movie career for myself. Do I have any acting experience? Not besides elementary school plays where I was the lead every year basically. Do I have any interest in being in movies one day? I guess it'd be cool, but not something I'm actively pursuing. But I used to like making up movies as a kid. I'd tell them to my dad and make him rate them 0-4 stars, predict the box office numbers, and give critic reviews. Some would say I'm psychotic, I would say I'm imaginative.
So if I ever make it out to Hollywood to star in movies, here's how it would go. This is Part 1 of a three part (probably three part) series. This phase is me getting my start in Hollywood with minor, side roles.
Movie #1
Title: Kicked Out
All movie posters made by Quigs
IMDB rating: 5.7
Plot: Damien, played by Anders Holm, is an affluent white male in his late-20s. He comes from a privileged family and has an Ivy League education from Dartmouth. He's skated by his whole life on his good looks and money – but his dad (Bradley Whitford) decides he's had enough of Damien's immaturity. Kicked from his mansion in the suburbs, Damien is given a small sum of money from his dad to go start his own life in the city (Chicago). As he navigates through life in the big city, he meets friends (Lamorne Morris) and love interests (Amanda Seyfried) along the way.
I play the bartender (Hal) at what becomes their preferred hangout destination. While Damien comes here to vent to his friends, I prove to be quite the nosey bartender, eavesdropping on their conversations and often offering unsolicited advice. At one point in the movie, Damien is talking about a fight he had with his budding love interest (Seyfried). As I'm pouring Damien's gin and tonic, his preferred drink, I say in my charming Midwestern accent, "Hey buddy, mind if I give my two cents on—" when Damien abruptly cuts me off and yells "Not now Hal! Jesus Christ! Stop constantly inserting yourself into our conversations and just pour our fucking drinks!" The anger shocks me, and I'm clearly saddened when finding out Damien's true feelings towards me. I look like a sad puppy and sheepishly cower away and apologize. Damien instantly feels bad for misdirecting his anger at an innocent bartender who is clearly lonely and lacking friends. In the end, we make up and the guys look at me as one of their friends, not just a bartender, much to my character's delight. There's a happy ending as Damien ends up with Seyfried's character and starts a successful career. Towards the end of the movie, his dad says "I'm proud of you, son." It's a touching moment.
Reviews: While most like the concept, they feel the execution falters. Many of the jokes seem forced and the plot seems rushed. Holm's performance is criticized, as reviewers question his ability to carry a feature film. On my end, while only serving a minor role, my pleasant character is well-liked by the audience as some praise my comedic timing throughout my scenes. 
————————————————————————————————-
Movie #2
Title: Stuck Here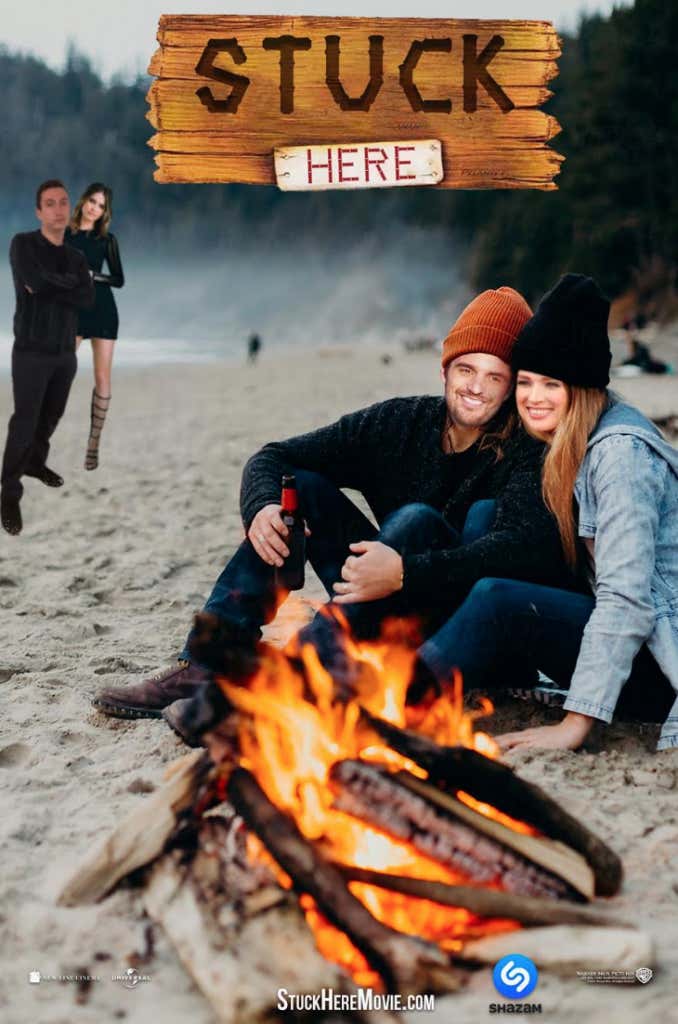 IMDB rating: 6.4
Rotten Tomatoes: 56%
Domestic Box Office: $49 million
Stars: Jake Johnson, Ellie Kemper, Shelley Hennig, Tom Scibelli (I was shocked to find out that I have an IMDB page. Is it similar to Wikipedia where anyone can make one? Or am I like in the industry?)
Plot: Justin (Jake Johnson) is a struggling comedian coming off a bad break-up. Fortunately, he gets the opportunity to appear on his favorite game show – "Shock Shazam!" It's a music trivia contest where contestants compete against each other and the Shazam computer to name a song. It's basically a modern version of "Name That Tune."
This portion of the movie is also what's known as native advertising. While serving as a plot device, Shazam also paid the movie production company (20th Century Fox) since it's basically also serving as promotion for the app.
Now back to the movie. The winner of this episode gets a trip for four to the Bahamas. Justin is a music aficionado so is confident going in. My character, Chase, is there for support and I keep saying how important it is that he wins. I say we really need "a boyzzz triiiiipp!!!" since he's coming off the break-up, and I just love spending time with my friends. On the game show, Justin is one of the competitors, as is Rachel (Ellie Kemper). They are the last two remaining, as both have a wealth of knowledge on 2000's alternative music. They are both so good that it ends in a tie, with both having perfect scores. The game show host, a jolly black gentleman in his 50s, consults with the show's producers and they decide that both Justin and Rachel will win, each getting a trip to the Bahamas with a +1. Justin and Rachel are both ultra-competitive so weren't happy with the tie, but they admired each other's knowledge during the show. I'm bummed out that we're not getting "a boyzzzzz trip!!!!" Rachel's friend Jessica (Shelley Hennig) is also mad she has to share her trip with two random guys. (It's not explained in the film, but Jessica has problems with men in general due to issues with her father).
Upon arriving at the Bahamas resort, we learn that we're sharing one suite together – and chaos ensues! Jessica and I really don't get along. She's repulsed by me and thinks I'm a chauvinistic pig. We draw a line across the room to split in two and want to basically just have separate trips. But Justin and Rachel begin to warm up to each other and spend time together. That upsets both Jessica and I, as we want to hang with our friends and not each other. One night, Justin and Rachel are hooking up. My character turns to Jessica and says "So should we just do this too, or what?" She looks disgusted and says, "I'm utterly repulsed by you."
Later in the movie, a tropical storm hits the island. Power goes out and we're restrained to staying in the suite. This leads to some tension, eventually Justin and Rachel get in a big fight – the conflict stage of the film. We're stuck on the island for an extra week, with limited clothes and other trip resources.Tensions are HIGH.
On the last night before leaving, there's a big dance party at the resort to celebrate the storm being over. The song "Don't Trust Me" by 3OH!3 comes on. It was played on the game show in the "2000's Alternative" category that Justin and Rachel bonded over. They see each other from across the room, lock eyes, dance to it and make up. Off to the side, Jessica admits I'm not so bad after all. We don't hook up or start dating, but she's able to tolerate me.
We get a "Two Years Later" on the screen. It's Justin and Rachel's wedding. I'm the best man. Jessica is the maid of honor. The credits play during the reception. Jessica and I do a funny dance together to "Low" by Flo Rida and T-Pain that the crowd loves. We've become friends. Justin and Rachel live happily ever after.
Reviews: The movie is slightly above average. It's a fun way to kill 108 minutes, but it's not reinventing the wheel. I have positive reviews though. People like me in that role and think, "I wanna see more of this cat."
————————————————————————————————-
Movie #3
Title: Hotspot
IMDB Rating: 7.4
Rotten Tomatoes: 76%
Domestic Box Office: $73 million
Stars: Ryan Reynolds, Mila Kunis, Ricky Gervais, Tom Scibelli
Plot: Aubrey (Ryan Reynolds) is the head chef at an upscale American restaurant in New York City. The spot, "Darcia", is an up and coming hotspot for young, rich folks in NYC. It's on the verge of breaking out and becoming THE go-to-place. The restaurant owner, Charles, is a wealthy, eccentric Brit played by Ricky Gervais. He's firm but fair.
Darcia has a big review coming up from a popular New York City lifestyle website – The New York Minute. It's tough to succeed in this city without an endorsement from The New York Minute. They are known for sending in multiple reviewers, separately, over the course of a few weeks to compile one, comprehensive review. They're not so much "food critics" as they also review the general atmosphere and vibe of the place – deciding if it's worthy of getting The New York Minute's coveted "Hotspot" label. (On their website, they have a tab at the top that says "Hotspots." You WANT to be listed on there).
Tensions at the restaurant are high. Charles is more on edge than usual, making more crude sexual and racial jokes than normal. Theo, a gay Asian waiter, is usually Charles' main target. They have a relationship similar to Ari and Lloyd from Entourage. However, the jokes and insults are much more mild, as we live in an entirely different political climate nowadays. People usually just shrug off his insults anyway, knowing that Charles comes from a different generation and doesn't mean any harm by these comments. It's just how he communicates. At the end of the day, he's got a heart of gold and genuinely cares about his employees.
Aubrey is super stressed and trying to perfect every dish into a masterpiece. (He makes a a mean Shrimp Fra Diavolo). Then there's me. I'm a waiter named Lance. I'm way more light-hearted than everyone else. Just having a good time and not too worried about the review. This jovial personality is well suited for being a waiter. When I go to a new table, my signature opening is, "Hey guys, my name's Lance. I'll be your server, and I hope friend, for the evening" with a pleasant smile. Also, one of my go to lines when taking someone's empty dish is – "Oh, you must have hated it!"
One day, Laura (Mila Kunis) comes in the restaurant with a girl friend. Unlike classic restaurant reviewers, those from The New York Minute don't come alone so it's less suspicious. Aubrey sees her from across the room and is in awe. Says she's the most beautiful woman he's ever seen. I'm encouraging him saying "Dude! You HAVE to talk to her! If I looked like you, I'd be approaching every hot girl I see!"
Aubrey finally musters up the courage to talk to her and introduce himself. There are immediate sparks flying. She's teasing him for having a girl's name – Aubrey. He says "My mother's name is actually Laura. I love that name." She's flattered, until he says "I made that up." It's a good little, quick-witted back and forth flirtation.
Aubrey doesn't know Laura is one of the reviewers. He asks her out sometime and Laura hesitantly says yes. Laura feels very conflicted. Aubrey is super hot and a great guy, but she realizes the obvious conflict of interest. She tells her friends back at the website, and they're all like "You're so baaaaad girl." Laura wants to keep it from her boss, an older but hip lady played by Carla Gugino who's a real tough cookie and wouldn't approve of this.
They begin dating and falling in love, as Laura still keeps her secret from Aubrey but feels more and more conflicted about it. Meanwhile, the other two reviewers go to Darcia and are split on their reviews. One likes it a lot, while the other thinks it's overrated. Laura is going to be the deciding factor and is ready to give it the "hotspot" label. She confesses to Aubrey and says who she really is, thinking that he's going to find out soon enough. Aubrey gets mad when he finds out the truth. He can't believe he's been lied to like this. They get in a huge fight and break-up. Now Laura's review is up in the air.
Charles, myself, and everyone else at the restaurant are telling him he has to make up with her before she writes the review. If she's still bitter, she'll prevent us from getting the "hotspot" label. I'm saying, "Dude who cares that she lied. Have you seen her? I'd let a girl like that murder my family!"
The review comes out. Darcia got the "hotspot" label! Laura put her feelings aside and gave her objective review. She really did enjoy the place. After the review comes out, Aubrey and Laura make up and fall in love. Charles gives Theo a big kiss as he celebrates. I yell out "Free drinks for everyone!" before quickly getting scolded by Charles since I don't have the authority to do that. Happy endings everywhere.
Reviews: It has very positive reviews. It's better and smarter than your average romantic comedy. All of the cast gets praise. I play a minor role, but get solid feedback. While it's less of a role than I had in "Stuck Here", I took the role because of the star-studded cast and thought it was important to be part of a good movie like this. My name and face is now out in front of a lot new eye balls. 
————————————————————————————————-
And that concludes the first phase of my hypothetical Hollywood career. Some solid side roles to set the stage for what's to come. In Phase 2, I will break out to stardom.
TO BE CONTINUED…