Boston Beats LA (Again), Bruins 5, Kings 4 (OT)
After dropping a two goal 3rd period lead (in their second straight game), Patrice Bergeron put the nail in the LA Kings' coffin with an OT game winner on the PP.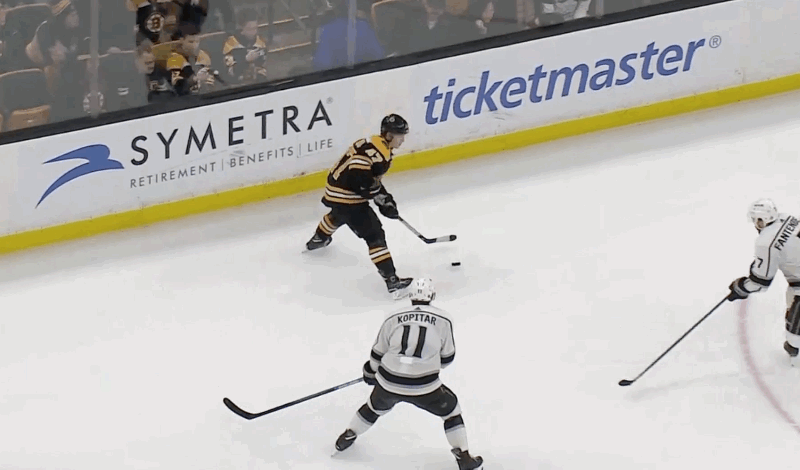 Pre-game ceremony before the game, three point night, game winner. Have a day, Bergy.
The Bruins opened the scoring, and then the Kings took over the game for the next period and a half. This pass, though.
The Kings power play made quick work of the B's and it was 2-1 LA in the blink of an eye.
The Bruins rattled off three goals in 3:22 in the 3rd, but still couldn't close out the Kings until a Patrice Bergeron PPG in OT.
Boston just won't stop beating LA.
FINAL: Boston, 5, Los Angeles, 4
News, notes and quotes:
The Bruins rallied from a 2-1 deficit and scored 3 goals in the span of 3:22 to take a 4-2 lead in the 3rd. The Kings scored twice to tie and force OT.
Every game should start with a ceremony for Bergeron. Three point night. Game winner. Have a fucking day Bergy.
Danton Heinen has come alive playing with Marchand and Bergeron. He tied things up in the 3rd with a huge goal, and added an assist on the McAvoy goal.
The Bruins refuse to close out teams. Second straight game they've blown a two-goal lead in the 3rd period. They closed the Kings out this time, but they've had trouble extending leads all season long. Not good. Tough game for Torey Krug.
You know what is good? Tuukka Rask. He's 9-0-2 in his last 11 games. Stuffed Adrian Kempe on a breakaway opportunity in OT.
Charlie McAvoy has continued his stretch of strong games. That's promising.
Ilya Kovalchuk with the tripping penalty on David Pastrnak in OT, more like Ilya Kovalsuckkkksss.
Brad Marchand a shorty and an assist, his 24th career shorthanded goal.
B's are back tomorrow afternoon, they host the Colorado Avalanche at 3 pm at the TD Garden.
It was a great day to win a hockey game.