Send Out The Smoke Patrol: We Have Found The Perfect Basketball Jersey
My sweet Jesus, we did it. We have found the perfect jersey. I mean look at this beaut. We have the Nuggets paying homage to the old school skyline and rainbow jersey with the perfect touch. I mean this is how all city jerseys should look. They change every year and we've seen a bunch of different looks for people, but no one will top the Nuggets one. I don't care about the throwback Hornets and Magic ones. This is the perfect jersey. They wore the original rainbow jerseys from 1981-1993 and the look was actually designed by a fan. Here's the old school look: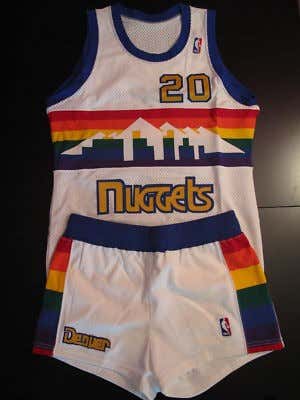 The real shame is that these jerseys will only be worn for 7 games. We need these all the time and I love the Nuggets jerseys. They have some of the best in the game. But, these are the absolute fire. Well done.