Miss America is at War with Gretchen Carlson and the Entire Pageant
Source – Miss America 2018 Cara Mund says the pageant's leaders, including chairwoman and former Fox News host Gretchen Carlson, have disrespected and belittled her since she won the contest.
She made her comments in a letter sent to former Miss America winners on Friday, less than a month before the Miss America 2019 pageant. Carlson, the Miss American Organization and CEO Regina Hopper, who Mund also named, have not responded to Mund's remarks. …
"Let me be blunt: I strongly believe that my voice is not heard nor wanted by our current leadership …" the Associated Press quoted Mund as saying in her letter (via CNBC). "Our chair and CEO have systematically silenced me, reduced me, marginalized me, and essentially erased me in my role as Miss America in subtle and not-so-subtle ways on a daily basis … and the sheer accumulation of the disrespect, passive-aggressive behavior, belittlement, and outright exclusion has taken a serious toll."
Mund said she has been left out of interviews and meetings and that group leaders have called her by the wrong name. She also said she was mistreated by being excluded from the Miss America Organization's nationally televised announcement that swimsuits were being eliminated, adding that she was with Carlson at the TV studio where it was made.
And – In a Twitter post late Sunday night, Carlson, the former Fox News host and #MeToo activist, wrote that she was 'surprised and saddened beyond words' by Mund's claims.'I have never bullied or silenced you,' Carlson wrote, addressing Mund directly. 'We've acknowledged your grievances and taken many steps to try to make your experience a good one.'
She continued: 'Actions have consequences. Friday, as an organization, we learned that $75,000 in scholarships which would have been the first scholarship increase in years is no longer on the table as a direct result of the explosive allegations in your letter.
'The impact won't stop there. We are already seeing a negative ripple effect across the entire organization, and I am so concerned that it will dilute the experience for the next woman selected to wear the crown.'
You might be among the people who ask "Who gives a shit?" And if so, you are no friend of mine.  What are we talking about here? What is the core of this issue? Miss America. Not Miss World or Miss Universe or Miss Magic Jesus Miss fucking America. Maybe you don't care about the most important title in the country I love. But if not, I say "Good day to you, sir," spin on my heels and take my leave of you.
And in this monumental clash of iron wills that will determine the future of this noble enterprise, I am on Team Cara with all my heart and soul. Sure, you can question her timing. You could point out that on September 9th, the new Miss America is crowned. Meaning she's the reigning champion for just over two weeks. Unless there's some kind of major event happens that causes them to postpone or cancel this year's pageant. Which, if true, would be diabolical genius on her part.
But that's the cynic talking. The stuff of conspiracy theories. The Occam's Razor explanation, much simpler and therefore much more likely to be the truth, is that Gretchen Carlson is a major league shrew who's trying to ruin the great American cultural institution that made her what she is: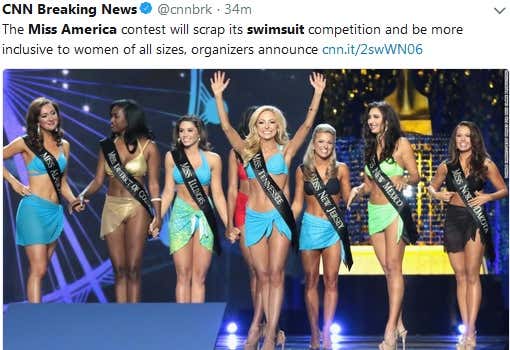 I mean, what kind of madness would drive anyone to eliminate the beauty portion of a beauty pageant? And then bully, harass, systematically silence, reduce, marginalize, erase and passive-aggressively behave toward the current Miss America? A past winner. A past winner who's aging, insecure and threatened by younger, more attractive, empowered young women having what she no longer can.
So good for you, Cara Mund. Don't let these bastards drag you down. You didn't do all those Pilates, purge all those meals, put all that bronzer on, tape up all your lady parts, rehearse whatever the hell your talent portion happened to be and practice being interested in those international issues they ask you about just to back down to these middle aged she-demons who are taking everyone's swimsuits away. Keep fighting the good fight to save the Pageant and I vow to lay down my life for you, Miss America.