I Work At Barstool Because I Called Kermit The Frog A Lizard
Make sure to watch the entire Behind the Blog I did with KFC, where I really dive into my path to Barstool, crying at the end of The Dozen, my love for the Olympics, and much more...
For those unaware, I used to work for ABC News and Good Morning America prior to working for Barstool. In the summer of 2016, I fired off this tweet...
As I explain in the video above, I added "Tea Lizard" and Smockin (click here for the explanation on the genius of Trillballins and Smockin) because I was asked to compare a photo of LeBron crying to the Crying Jordan meme. At the time, this was an absurd thing to do, because Crying Jordan was at its peak! After building up the @GMA account as self-aware and part of weird Twitter, I didn't want to tear it all down with a "how do you do, fellow kids?" type tweet.
So, I added the two memes.
Yes, I know Kermit is a fucking frog and not a lizard.
But, at the time, "Weird Twitter" and accounts in that glorious zone of the platform would sometimes refer to the Kermit Sipping Tea meme as "Tea Lizard." It was a super niche and deep-cut reference to an alternate name for the meme based on Trillballins (the king of Weird Twitter at the time) seeing this tweet…
Dumb, but funny!
I figured, hey, some may not understand, but the people in Weird Twitter who sometimes prop up the @GMA account into a different demographic will appreciate the references, especially Smockin. That's the funniest part, I really only cared about the Smockin part of the tweet! The fact I worked it in there gave me much joy. Funny enough, I had even done it before…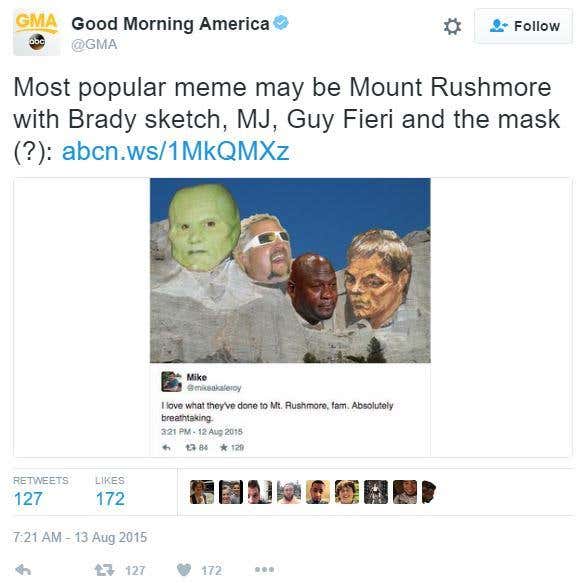 I fired off the tweet, thought nothing of it, and then…
Oh no…
….
oh boy…
shit…
uhhhhhh
WHAT…
…fuuuuuuck
EVEN CLEM!!!!!
All hell broke loose. Tweets, DMs, stories, it was never-ending. Left and right, people were destroying us, and me, over the fact I called Kermit a fucking lizard.
People were calling for GMA to fire their social media manager… BECAUSE I CALLED A FROG PUPPET A LIZARD!
I must note, I have always appreciated this one guy, though.
At least he called out the best part of the tweet!
The news eventually got to my boss, who didn't seem to care all that much… until her boss found out, as well his boss. In the end, it wasn't a huge problem, despite having to type out a long explanation as to why I called Kermit a lizard. But you have to understand the chain of who I answered to with my job and why, at the time, I was partially concerned about my job…
ME
-
MY BOSS
-
HER BOSS
-
HIS BOSS
-
DISNEY CEO BOB IGER
Structurally, I didn't fall in line that close to arguably the most powerful man in media (the accounts were big, but I was wildly unimportant human in the grand scheme of things at the show), but I did answer to someone very high up at ABC News and the Walt Disney Company. Good Morning America is one of the most important shows and brands at the House of the Mouse, so what got posted on the social accounts was a big deal. It made sense that the higher-ups at the show had a good pulse of what I would fire off on a daily basis. Why I was trusted with this position of pedaling social for one of the company's most important properties/shows is beyond me. So, calling Kermit the Frog, a Disney property, a lizard, did set off some alarms. To this day I am not sure if Mr. Iger (a fan of Dave's pizza reviews, by the way) ever had this news cross his desk, but it for sure came damn close.
Through all of this, I became closer to Trillballins, who was very kind in making sure I didn't actually lose my job (I never came close to being fired, my boss was awesome and dynamite morning news producer by the way -- morning television is a job for lunatics, and being good at it is not easy). Had he not reached out, we wouldn't really have ever been friends, and I would not be at Barstool right now. Let me explain…
Because I called Kermit a lizard…
- Trillballins and I became friends
- KenJac followed me on Twitter
- In February 2017, I saw the Barstool Comedy Central Rundown
- I decided I wanted to work for Barstool one day
- KenJac and I made up a podcast idea (LCP) in May
- Trillballins reached out in June/July about a Star Wars podcast
- The three of us recorded a Star Wars theories podcast
- We then added Trillballins to the movie podcast idea
- We released our first episode of LCP in August/September 2017
- I quit my job from ABC News/GMA in November 2017
- I worked solely on the podcast for the next few months
- PFT reached out to Trill (his friend) in March of 2018
- I met PFT at the Big East Tournament
- I took a meeting with PFT & Erika in April of 2018
- I got hired by Barstool Sports in May of 2018
The tweet was never meant to disrupt Twitter, or piss people off. I apologize if I offended anyone who created the fantastic meme that is Kermit Sipping Tea! All I wanted to do was move along in my morning duties at 8:00 AM without making the account I ran look lame as hell. Little did I know…
I went to school, paid THOUSANDS in student loans, grinded at internships, polished the resume, and everything in between, but, in the end, I landed my dream job because I called Kermit the Frog a fucking lizard.