Section 10 Podcast Episode 171: The Two Best Hitters In Baseball Belong To The Boston Red Sox
SUBSCRIBE TO THE SECTION 10 PODCAST ON ITUNES
On this week's episode of Section 10, would ya look what we got over here! I think it's the two best hitters in baseball and they're right here in the Red Sox lineup! Ain't that somethin'! We talk about Mookie Betts and JD Martinez being the two best hitters in the game right now, would you take JD/Mookie or the field for American League MVP, trying to find a correlation between Andrew Benintendi's hot streak and his relationship, who the most desired Boston athletes are, thoughts on the Red Sox doing themed road trips, how Didi Gregorius is a few more 0-for's away from being my intern, interleague coming up, a little Braves preview, which NL teams the Red Sox should play every year, the Red Sox alumni game coming up, which Red Sox alumni we'd most want to face, who should be there that isn't listed, how it should be broadcasted and Section 10 should do the play-by-play.
Down in the DM — Will it be an issue when Mookie Betts and JD Martinez are tied in triple crown numbers at the end of the year? My wife is finally around for some extracurricular fun; can you guys give her a shoutout? I need to get her a Section 10 shirt to put her in the Booby Box. Have you ever thought about what it would be like to have two baseball teams in Boston, similar to what it's like in New York? What do you think is worse — Hubbs' hairline or Didi Gregarooski falling off the side of the Earth? They don't allow smoking at Fenway, but do you think they could make a special section designated for Rally Cigs? Is Megaphone Hanley the best Hanley? Section 10 listener writes in, who's going to boot camp for eight weeks.
Emptying the Bench — Asking listeners to send us the best content they record at Fenway, great seeing Section 10 listeners at Fenway on Friday, Mookie logo contest going really well, Red Sox former run song is now the home run song.
Help support the show by grabbing a t-shirt!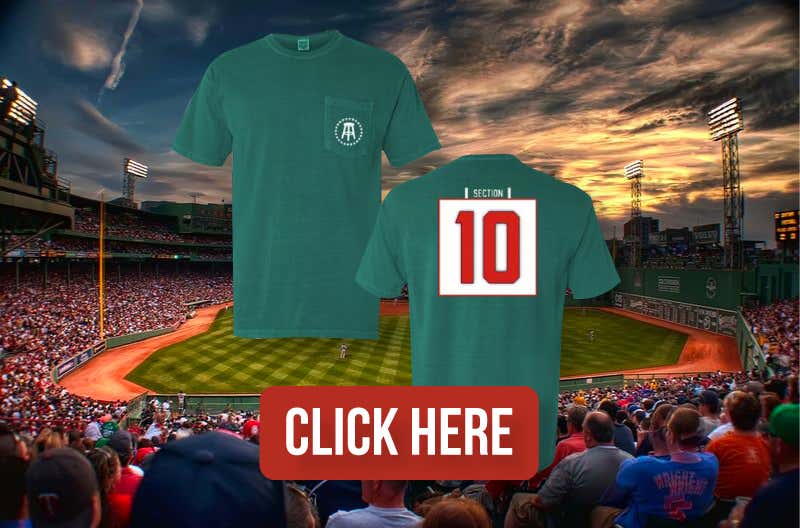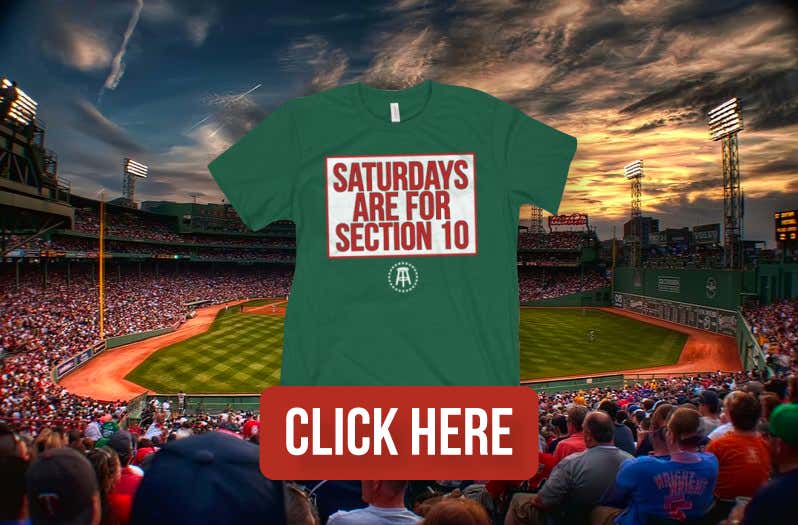 SUBSCRIBE TO THE SECTION 10 PODCAST ON ITUNES
Leave your Red Sox reactions throughout the week on our voicemail, and they could be used at the end of the show: 781-366-0950.