Barstool College Hoops Notebook: Arizona Finally Gets A Commitment, Xavier Loses Starter & More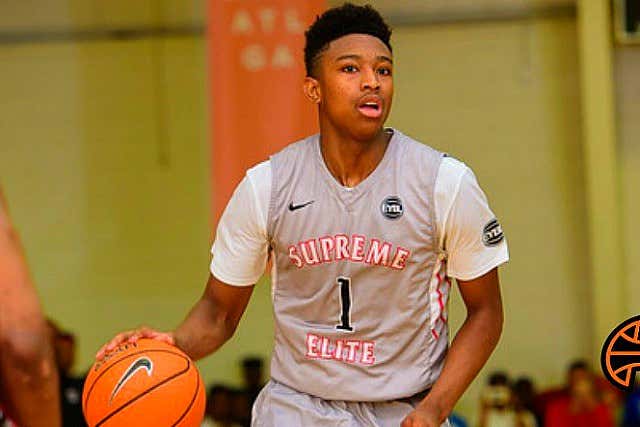 Basketball is starting to become a year round thing at all levels. We are seeing late recruits, transfers and changes to the game during the summer leading into preseason. My goal is to keep everyone updated with what's going on across the landscape of college hoops. Consider this a cheat sheet, because God knows we all used one at some point in college. If there's something specific you want to see or change in these notebooks, let me know on Twitter @barstoolreags.
Arizona lands 4-star Brandon Williams, again
This is significant for Arizona, who lost practically its entire recruiting class after the FBI investigation named Arizona in the documents. Williams was originally committed to Arizona before reopening his recruiting after a report said Sean Miller paid Deandre Ayton $100,000 to bring him to Arizona. After debating between Gonzaga and Arizona, Williams announced last night that he's going back to Arizona. Williams is a top-35 point guard from California, keeping that southern California to Arizona pipeline still alive.
Xavier's Kaiser Gates says he's signing with an agent
Xavier is going to be a completely different team next season, which is no surprise. Not only did they lose head coach Chris Mack to Louisville and JP Macura and Trevon Bluiett to graduation but now Kaiser Gates announced he's signing with an agent. Gates isn't expected to be drafted, but as I always tell people, we don't know everyone's background. We don't know what's going on behind the scenes, so I never will make fun of a kid leaving despite not being expected to get drafted. Gates should find a spot in the G League or a decent European team due to his ability to stretch the floor as a 6'8″ forward. He's also a decent defender and I wouldn't necessarily be surprised if he lands on a two-way contract this or next year.
Former Western Carolina and Ohio head coach Larry Hunter dies
Some somber news in the college basketball world. Larry Hunter, one of the more well-liked coaches in the country passed away at 68 due to complications from a massive stroke. Hunter spent time at D3 Whittenburg then Ohio U and Western Carolina. He won over 700 games in his career and won a D3 national title in 1977. He also coached Gary Trent – the Shaq of the MAC – during his time at OU. Hunter retired after this past season and suffered the stroke earlier this week.
West Virginia loses Teddy Allen to transfer
Teddy Allen was a player that West Virginia fans were wildly excited about this season. The freshman from Nebraska scored 22 points against Kansas State to start Big 12 play and followed it up with 20 points against Oklahoma. However, he found himself in Huggins' dog house and never really found his footing during the regular season again. He did hit double digits twice in the NCAA Tournament – against Murray State and Villanova. He averaged 7 points per game and chose WVU over Cincinnati, DePaul, Iowa State, George Mason, TCU and Virginia Tech.
Penn State extends Pat Chambers
Pat Chambers seemed to be on the hot seat heading into last season. He was able to get Penn State to the bubble, just missing the NCAA Tournament as that group of guys from Roman Catholic in Philly all seemed to start to take the jump. Penn State is getting is rewarding the 26 win season by signing Chambers through the 2021-22 season now. Penn State should be a bubble team again this year despite losing Tony Carr to the NBA. Chambers, who was a one-time Villanova assistant has spent time as a head coach at Boston University and then took over at Penn State in 2011. The Nittany Lions have yet to make the NCAA Tournament, but the improvement of the program is there, especially with Chambers starting to get that Philadelphia Catholic School to Penn State pipeline.