The Green "Windows" -- Full 2018 Wells Fargo Championship Preview
The Wells Fargo Championship's consistently gained notoriety because it's consistently drawn a strong field. It's drawn a good field because the players like the golf course.
Last year, that golf course — Quail Hollow — hosted the PGA Championship, adding even more pedigree to the track and, thus, this event.
This year, the Wells Fargo's back at Quail Hollow and the star power is following.
The Track
Quail Hollow has undergone significant changes since May 2016. All 18 greens were re-grassed, some were re-contoured, thousands of trees were removed, and four brand new holes were created.
The changes added some sharp teeth to the front nine.
Quail Hollow's now a 7,600-yard par 71. It's got nine par fours that are 449 or longer. The other two are in that fun 340 range. Let's take a look.
Notable Holes
1st, 524 yards, par 4
TEETH! The first is brand new. It's a combination of the holes 1 and 2, and it's a fucking BEAST. 524. Par four. Sobering way to throw yourself into the round.
7th, 546 yards, par 5
The 7th is the shortest par 5 on the course. It's a birdie hole. Pretty much every guy in the field can reach in 2, but it's a tight little tee shot and there's water everywhere. Fun hole where lots of scores are possible.
8th, 346 yards, par 4
Drivable by some but look at that green. Almost reminds me of Riviera's 10th, but I expect much of the field will go iron –> wedge.
14th, 344 yards, par 4
Reachable, but plenty of punishment for imperfect shots. but there's trouble everywhere. A lot of guys will rip driver or even 3-wood up near this green and take their chances getting up-and-down.
16th, 506 yards, par 4
16 is my favorite hole on the course. I just love it. 500+ yards, slight dogleg right, downhill approach to a green surrounded by water. It's awesome, and it kicks off the three-hole finishing stretch so relentlessly and annoyingly deemed "The Green Mile."
Rory's played this hole in impressive fashion over the years.
Justin Thomas came to this tee with the lead on Sunday of last year's PGA, took his balls out, and dragged them across all 223 yards of this treacherous thing.
18th, 494 yards, par 4
This is one of the toughest golf holes on the PGA TOUR, which we love. Carnage everywhere.
Famous Stoolie Jason Day, in contention, made a quadruple bogey 8 here to close out his third round during last year's PGA Championship.
Tiger Woods, Phil Mickelson, Justin Thomas, Rickie Fowler, Rory McIlroy, Hideki Matsuyama, Brooks Koepka, Patrick Reed, Kevin Kisner, Brian Harman.
Harman won last year's event, but at a different course.
Tori Slater's boyfriend Daniel Berger is also playing.
Predictions
Winning Score
The last time the Wells Fargo was here, in 2016, James Hahn won at 9-under. At the PGA here last year, Justin Thomas won at 8-under.
I think our winner comes in right in that ballpark but just a little deeper.
Winning score, -11.
Winner
I refuse to be on the wrong side of history. Plus his new irons got it going through the windows he wants.
Winner, Tiger Woods (25/1).
Steven Bowditch/Smylie Kaufman Memorial DFL Award
Smylie Kaufman.
Dark Horse
Kiz nearly won the PGA here last year but decided to snap hook his second shot in the drink on the 72nd hole instead (he needed to hole out for eagle, so not really a choke job). He finished T6 here in 2014.
He and partner Scott Brown found themselves in the final group last year, and Kiz is 40/1 this week.
Dark horse, Kevin Kisner.
Coverage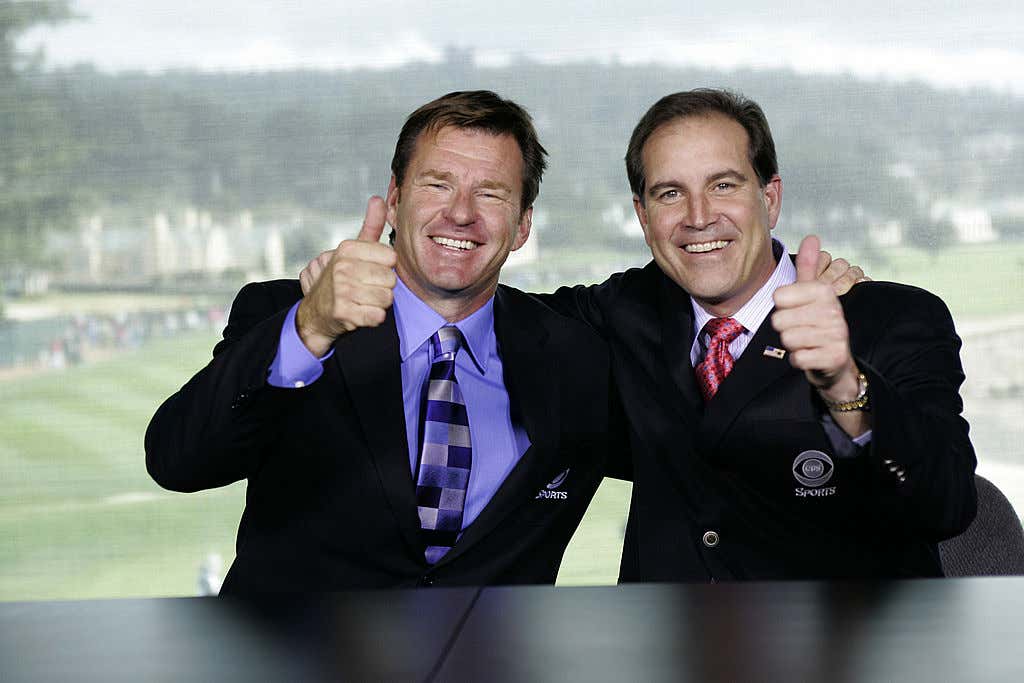 Golf Channel Thursday and Friday, 2 – 6 PM.
Golf Channel Saturday and Sunday, 1 – 2:45 PM.
CBS Saturday and Sunday, 3 PM on.
Final Thoughts
We added some unique insight to the show this week with my buddy Mike Ballo. Ballo's an assistant pro at Winged Foot, caddied for Jon Curran on TOUR this year, played on the Web, and has hilarious stories about being in the pro scene mix.
Also, this is where the mulligans in the US Open debate originated.