(NOTE: Today is my 30th birthday. Luckily my entire 20s was captured on the internet. These are the best videos. I also put out some new music today. Give it a listen.)
I don't remember what I did for my 20th birthday. Probably some party in my backyard at Penn State. That year was the year I started rapping. I had just finished working at the school newspaper and was doing some plays around campus while working some bullshit student government position. None of that stuff really seemed to fit, but rapping was fun for me. That March, a guy named Charles Hamilton came to Penn State. He had a big song called Brooklyn Girls at the time.
He was known for freestyling with fans, so after his show I went up to him and we freestyled. It wound up on Worldstar Hip-Hop the next day.
The whirlwind surrounding the incident and subsequent videos suddenly made rap very real for me. My music taste was balanced in high school, but I had listened to more John Mayer than Lil John.  Within days a rap battle league contacted me. My first official battle was scheduled for my 21st birthday. My second battle got 100,000 views in a couple days on YouTube, and in the lean internet streets of 2009, that was practically viral.
My first tear of battles produced a bunch of highlight moments, and I quickly picked up momentum through the scene.
At around the same time I started recording with Dice Raw from the Legendary Roots Crew in Philly. To me, Black Thought is the best rapper to ever live and the Roots are luminaries in Philadelphia. It felt huge. Larry Gould's Roots studio next to the Electric Factory in Philly smelled like Backwoods and had graffiti to the ceiling with a stripper pole in the corner. Big names were in and out and big ideas were getting made into music. I met a guy named Rick Friedrich who would record just about all the music I would ever make.
I was also living in squalor, cutting roast beef for a living.
I worked tons of shitty jobs for spurts in my 20s. A roast beef man, shitty lawn care and snow removal jobs, selling websites to Catholic Churches, a day of ripping up industrial carpeting, songwriting or acting gigs, holding boom mics, everything. All of this was to supplement what little money I was making from cooler things like music and battle rap.
Luckily I was getting really good at battle rap. International battle leagues started calling. I found myself going to Canada, then England, Australia and Sweden. It took me not only to vastly different countries, but to wildly different scenarios, like being in Sweden in a hotel room with Bone Thugz N Harmony as they thought up melodies in the wee hours of the morning. The stamps in my passport acted as a little consolation as I saw my friends making more money and being successful in the, ya know, real world.
England
I was also making tons of music, trying to make it as a recording artist.
At some points I thought I was really going to do it. Other times, I was completely bereft of any confidence. I booked shows with names like Pusha T and Action Bronson, some of my favorite rappers at the time. I was on stage with Black Thought. One of my biggest shows was at Exxxotica, a porn convention in Miami. But when I started performing the people streamed out like steam from a tea kettle. I guess no one comes to a porn convention to watch a white dude rap. Still, I kept pushing shows, radio freestyles, etc.
The biggest radio show I was booked for was Statik Selektah's show on Sirius. I could have performed better that day, but my boss at the roast beef place fired me for not making it to work that night, which marked the end of me trying to become an honest, "regularly employed" worker.
And I'm fudging the timeline here a little, but by the second half of my 20s I had risen to be one of the best battle rappers in the world.
My work got the attention of some of my favorite athletes and celebrities.
I would go on to be a battle rap champion two times over in the King of the Dot league, which is the biggest piece of hardware you can get in battle rap these days. I lost the third title defense last year right before my 29th birthday. While battle rap had taken me so far, it was changing. I had never wanted to do it forever. In a battle in 2011, I told someone "If I'm still battling in 2021 someone shoot me in the face." I had accomplished what I wanted to in battle rap, and while I never "made it" as a music artist, the rap world had taken me to places that I would have never imagined.
Meanwhile, I had always fostered other dreams. During this time I was on an improv team called The Sardines for three years.
I tried stand up a couple times at the Hard Rock in Philly.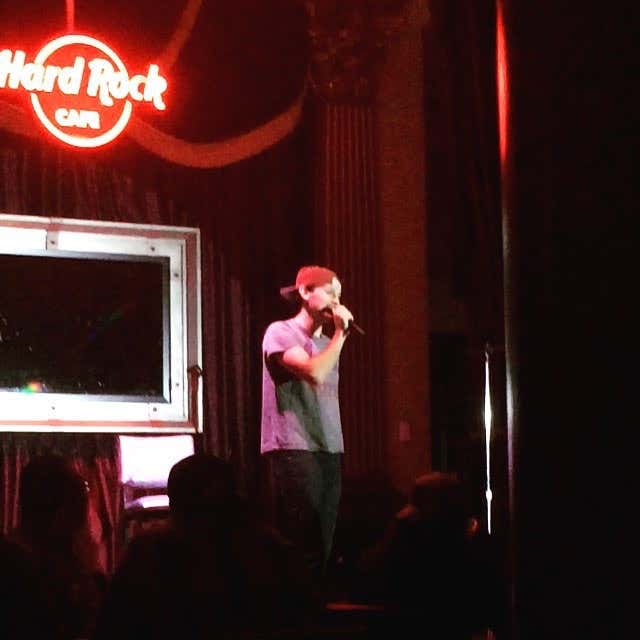 I shot pilots for a couple TV shows. I had a couple meetings at MTV and Viacom about starting a show or joining an existing one. I hadn't reached "success" yet, but I felt like a coin swirling around a sink, getting closer to the drain at every rotation. I was just trying to pull through. When I was back at Penn State studying journalism and theatre, I wanted to be a sports writer or an actor, and while those dreams were deferred, they weren't never really extinguished. Take that Langston Hughes.
I applied to Barstool for the first time when Mo stepped down. I wrote 8 sample blogs a day on a burner Tumblr account from the NFL draft to the NBA draft (which I'm pretty sure no one read) and narrowly lost out to Jordie to be the other Philly writer. Two years later, while I was working at a now defunct website called Oogeewoogee, I reapplied for the Barstool gig, suggesting that maybe I write about the Sixers. By that fall I was hired and I was able to make cool videos like these.
As the opportunity to write at Barstool was just beginning to rise, I met a guy named Jensen Karp would would eventually have me write on his TV show Drop the Mic, where celebrities battle rapped against each other. And while it took me away from Barstool, it was a very cool, informative experience. I've got two King of the Dot chains, two Dunkin Go 2 Barstool awards and Drop the Mic just won a Webby this week.
I even got to write a couple battles for James Corden's actual show, which is about as far as battle rap itself can take someone.
The nature of the business is that a million opportunities seem to be on the horizon and only about ten wind up coming through. I had so many disappointments that I thought would turn into the real deal that I eventually calloused myself and refused to get excited. Barstool eventually came true, as did Drop the Mic, but one of the most interesting other ones was the Eminem produced, Joseph Khan directed movie called Bodied that will come out this year. I read for the lead, didn't get it, but still got a little part in the movie. It was another dream that had simply presented itself through me simply churning forward.
So here I stand at 30. I feel incredibly lucky and incredibly grateful. Grateful to my family my friends, my girlfriend, the cosmos. I feel like I have so may options. At 20 I had wanted to be a sportswriter or an actor, and I feel like this job offers me those opportunities. I treasure creativity so greatly and I feel like I'm brimming with it, hungry for the opportunity to make more. I get to make comedy. I still have the option to battle or make music at any time I should choose. The EP I released today, Steak, was recorded the week before I left Philly to come to New York for Barstool. It sat in the back of my mind for some time, til I figured why not put it out? Life is about creating, getting judged, soldiering on. It's better to offer all we have to the discourse rather than to be scared of how big and bad the world can seem sometimes.
And you're reading, so thanks to you for being a part of it too.