Kevin Smith Suffered (And SURVIVED!) A Massive Heart Attack Last Night
So this scared the shit out of me today.
As I was getting ready for bed last night, I saw the following Instagram post from Kevin Smith…
…and I thought two things:
1. New Kev Smith stand up special! Yes!
2. Daaaaamn he looks skinny! Good for him!
I then put on one of his podcasts, this time "Hollywood Babble-On", and set the in-app sleep timer to 30 minutes. This is my nightly routine. Literally every night of my life for the past five or six years, I've fallen asleep to one of Kevin's podcasts. That way, no matter how good or bad my day was, I'll always drift off with a smile on my face. Works without fail. When I woke up this morning and checked Twitter, however, that smile was smacked off my face quickly by this news.
Kevin Smith is a guy who means a TON to me obviously (I mean I've literally got the words he suggested to live life by tattooed on my wrist and wear a backwards snapback as a small tribute to him), but he's a guy that means a lot to a lot of people beyond me. I know that may sound silly to a lot of you who may just see him as the fat guy in a hockey jersey who got kicked off a plane once and made Clerks a while ago, but it's so true. So many have turned to Kevin's movies, "Evening With…" specials, podcasts, and comic books when they were going through a tough time, and I'm sure he's "saved" more lives than he'll ever know because of that.
Beyond his dick and fart jokes, Kevin Smith is an incredibly inspiring human being who's gotten up on stage for over twenty years now to tell everyone in the world that they could do what he did. He spreads positivity, hope, and humor through his platforms, and not only will you pretty much never hear him say anything bad about anyone (with the exception of Bruce Willis), you'll never hear anyone have anything bad to say about him.
Here's just a small portion of the love sent his way on social media this morning…
…and I'm sure it'll continue to pour in as more and more people wake up and learn of the news.
Kevin went a little more in-depth on Instagram, and so eloquently described his near death experience as a peaceful affair…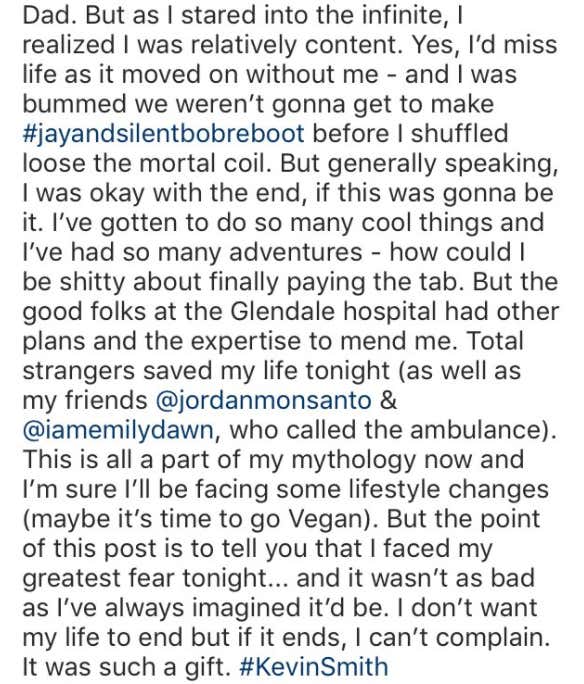 "I've gotten to do so many cool things and I've had so many adventures – how could I be shitty about finally paying the tab."
That's the line that really got to me. I hope that everyone good in this world gets to have that sentiment cross their mind as they pass. But for now, in the words of Bruce Wayne in Frank Miller's "Dark Knight Returns"…
"This would be a good death…but not good enough."
Kevin's not done here. Silent Bob can't stay silent for eternity. He's got more dick jokes to make, more people to inspire, and a stoner duo to reboot.
When I met him back in 2012 after waiting 7-8 hours in the scorching hot sun, he could not have been any nicer to me, signing my 'Superman Lives' script "Robbie – Fuck Tim Burton!", and walking over to my mother, putting his signing on hold for a minute, to thank her for waiting with me. He could tell it meant a lot to me, and wanted to show his gratitude towards my her because of that. He is the real deal, ladies and gentlemen. I'm really fucking glad that we didn't lose him last night. That was a close one.
Finally, if you take one recommendation from me for the rest of my life, let it be watching this video. It changed my life for the better, and I'd love it to have the same affect on you.