A 91 Year Old Man Led Cops on a 15 Mile Police Chase Because He Thought They Were Just Snow Trucks The Whole Time
A MAN of 91 led cops on a 15-mile motorway chase, after mistaking their blue lights and siren for a gritting lorry.
Grandad Gordon Lee was clocked hogging the middle lane and officers did a check on his reg — to find he had no insurance or license.
They put on their flashing lights and siren but he failed to spot them, even when they pulled up alongside his Ford Fiesta.
Frail Lee turned off the M27 at Eastleigh, Hants, and the officers had to get out of their car to get his attention at a red traffic light.
After finally being collared, the pensioner asked: "What have I done?"
Aldershot magistrates were told yesterday: "He did not react to the lights on the police vehicle. It was dark but the officers said there was nothing between their car and Mr Lee's car.
Tough moment for this guy here. You're driving on the highway going God knows where and you think there's some snow trucks behind you, better known as "gritting lorry" across the pond in England. How could he get them confused you may ask? Well let's take a look at the two vehicles and see how much they differ. I'm willing to give this guy the benefit of the doubt.
First, the English version of the snow truck
And then the English version of the police care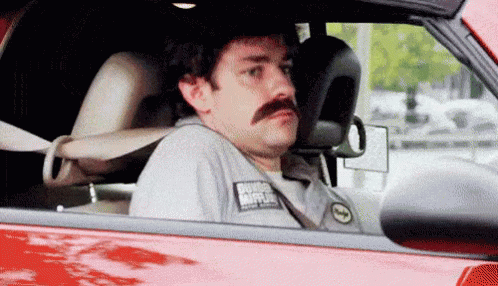 Do you know long FIFTEEN MILES IS? I highly doubt a 91 year old man is driving anywhere close to 60 mph so that must've lasted over 20 minutes. The cops probably thought this was O.J. in the car fleeing a murder scene, knowing he couldn't get caught. Nope, instead just a super, super old dude having no clue what planet he was on. This reminded me of when Crazy Eyes mistook the squirrel for a deer in Mr. Deeds.
There has to be an age restriction, especially with the invention of Uber, that people over the age of 75 shouldn't be allowed to own or operate a motor vehicle. We can't have people mistaking police cars for giant snow trucks. Just can't have that.