The Crease Dive Episode 4 Featuring The Nation's Leading Scorer Justin Guterding From Duke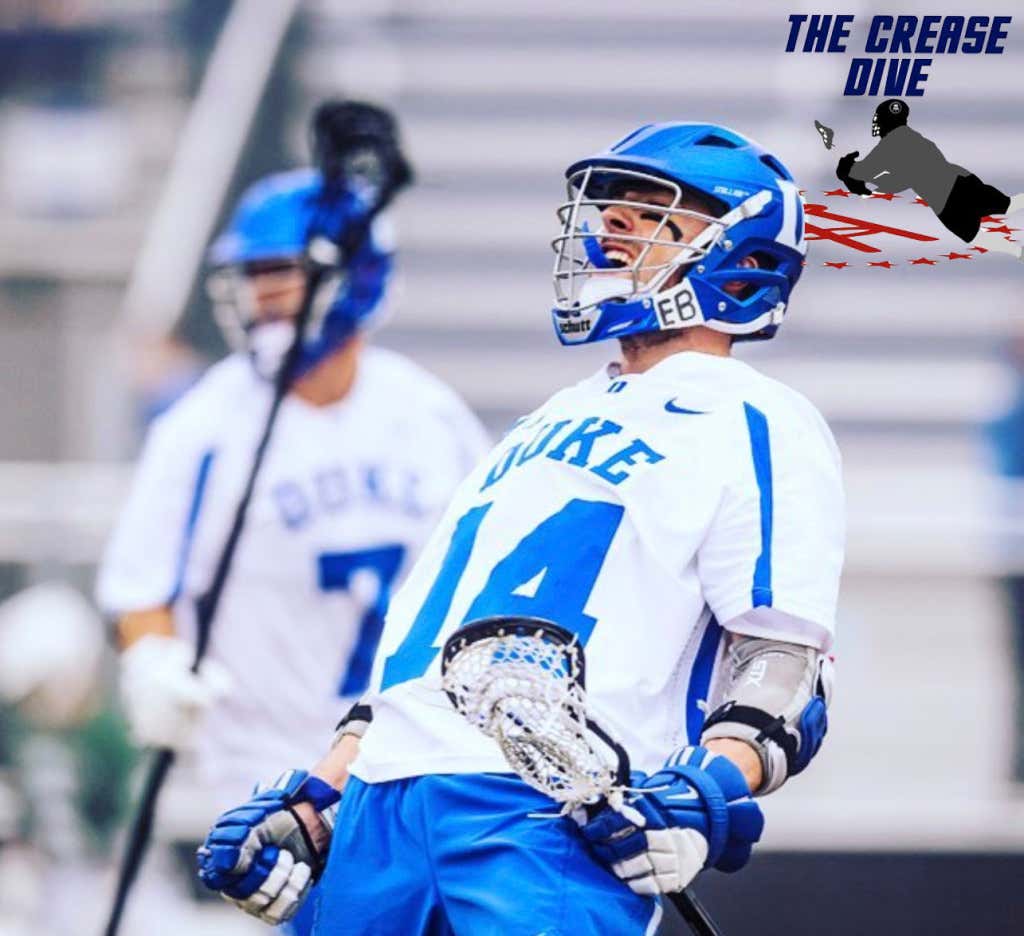 On this week's episode of the podcast we brought on our first guest and it just so happened to be the man who is lighting the NCAA on fire right now. Through 3 games this season, Justin Guterding has put up 27 points. I would have killed for a 27-point season back in my day and here's Gutty putting up 27 halfway through February. It wouldn't shock me if there are at least 3 or 4 attackmen in the country this year that end up with 100+ point seasons. It's definitely a brutal year to be a goalie.
Check out the interview with Justin Guterding plus the rest of the episode right here on iTunes.
(here's a SoundCloud link too just in case you don't roll with iTunes)
Weekend Preview (Feb 16-18)
We also talk about the biggest games coming up this weekend starting off with this afternoon when Denver travels to Duke for a little Friday Night Lights showdown. Obviously Duke's offense has been lights out so far this year but they also haven't gone up against anybody like Denver. Trevor Baptiste is an animal at the faceoff X and anytime a team plays against Denver, they're gonna have to be prepared for limited possessions. Fortunately for Duke, Denver had to hop on a plane and travel over to them so a home game will definitely help that offense snap today. But if you don't score on like… 70% of your possessions against Trevor Baptiste and the Pios then you're not going to have enough chances to get out of there with a win.
My favorite game on the schedule is obviously going to be Albany at Syracuse on Saturday afternoon. The last time these two teams played was the beginning of last year and Cardiac Cuse scored with less than 2 seconds left for the win. Syracuse has won the last 5 times Cuse and Albany have played. Syracuse already has a game under their belt after they beat the brakes off of Binghamton 21-4 to start the season. This will be the first game for Albany of the year and the first game in Tehoka Nanticoke's college career. Here's a quick little reminder in case you somehow managed to forget the name "Tehoka Nanticoke".
I think Cuse will be able to do enough to shut down either Nanticoke or Connor Fields. But I just don't see them being able to shut down both of these guys at the same time. I'm liking Albany coming away on top in this one but the spread on this game is a pick 'em for a reason. Probably going to be decided in the final few seconds of the game again.
We also preview Rutgers vs Army, the Scarlet Knights vs the Black Knights. And we talk some Yale vs Nova which will be played down at the Dallas Cowboys practice facility. Should be another prime weekend in college lacrosse. If you're at any games this weekend make sure to hit us up on Twitter/Instagram to let us know about it. I might end up at Drexel vs Virginia on Saturday as long as it's not cold as balls. Here's the full slate of games for tomorrow.
Jordie's TCD Picks of the Week (3-2 Last Week, 6-4-1 Overall)
As always, shoutout to Lax Vegas Lines for being our go-to lax line setting service. On last week's podcast, my picks were:
Maryland -7.5 vs Navy. The Terps opened up the season with a win but they only 10-4 and failed to cover the 7.5.
Army -3.5 vs UMass. The Troops came out and smoked the Minutemen 18-6. Thank you for your service
Hopkins vs Towson +1.5. I really thought this was going to be an epic, crosstown rivalry game that made it's way into overtime. Turns out Hopkins decided they wanted to murder some Tigers and won 14-6. Sheeeesh. 
Loyola vs Virginia +1 and my boys at UVA were able to pull out the huge win in double overtime to win outright. 
***And my Mortal Lock of the Week was Duke -5.5 vs Jacksonville. They took down the Dolphins 19-8. Easy money***
Could have been better but could have been worse too. For this week's picks, I'm riding with…
Duke -1 vs Denver
Hopkins vs Loyola +2
Army vs Rutgers +3
Albany over Syracuse plus the OVER 30 total (gonna be a barn burner)
With my Mortal Lock of the Week being Princeton -4.5 vs Monmouth. Make sure you all keep an eye out for Michael Sowers on Princeton all year long if you somehow managed to miss him this year. Probably the best quarterback attackman in the nation. He'll have enough points himself to cover that 4.5 against Monmouth.
(And in case anybody wants to ride with Robby O's picks for this week, he's on Duke -1, Hopkins -2, Army -3, Cuse in the pick'em, and his mortal lock of the week is Marquette -2.5 vs Jacksonville. We'll see who gets you richer faster).
***DOWNLOAD AND SUBSCRIBE ON ITUNES HERE***
FOLLOW US ON TWITTER AND INSTAGRAM: @thecreasedive