LaVar Ball Says Lonzo Will Sign With Any Team That Signs LiAngelo And LaMelo Once Lonzo's Rookie Contract Is Up
I must admit that I am pretty surprised The Biggest Baller showed his cards this early in the negotiation process. Usually he keeps his plans all buttoned up and shocks the world once he speaks something into existence. But this time he is airing it out for everyone to know. Usually free agents are looking for a competitive team, nice weather, or no state income tax. But the Balls are looking for a fucking family reunion. You know what we call that?
I have to say, I don't hate this plan one bit. I always hear that basketball is a brotherhood. That's all Zion Williamson said when shocked the world and chose Duke as his college. Coach K brotherhood this and Duke brotherhood that. It's all a brotherhood. Well you know what else is a brotherhood? BROTHERHOOD. You can't discount a brother wanting to help the people that shared a womb with him. I remember the Knicks signed JR Smith's brother to an NBA contract after JR won Sixth Man of the Year. If Chris fucking Smith can get a contract to keep JR happy, Lonzo should be able to lock up two roster spots and a couple million dollars for his brothers if he develops into a star, right? LaVar has already shipped 2 of his kids from LA to Lithuania in the dead of winter, so you knowwwww he means business. All Lonzo has to do is prove he is a franchise talent and then his dad can sign him to not the best or most profitable situation, but the one that will sign him AND his brothers. Lets check in on Lonzo real quick.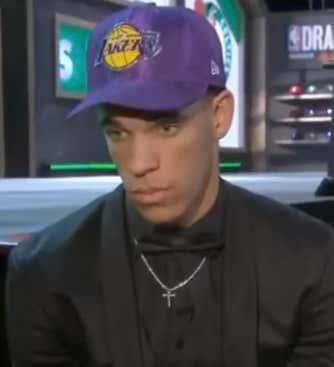 He seems to be taking the news very well!
Which brings us to our next question. Would the Lakers really let Lonzo leave because they don't want their 2 worst players to potentially suck? Because if so, I guarantee Kazoo Jimmy and the Knicks will be ready to pounce. Can you imagine the puff pieces that could go out about Lonzo playing point guard at The Mecca? People still talk about point guard legends in New York despite the fact that the Knicks haven't had a great player at the 1 since Clyde Frazier was handling the rock. And don't worry about Frankie Tentacles. He's not going nowhere. Him and Lonzo are playing together in my little fantasy world. Lonzo runs the offense, Frankie locks down the best wing on defense, and a very healthy Kristaps is able to pick his spots on both ends of the court. A rejuvenated Emmanuel Mudiay somehow fits into all of this seamlessly as well. Add in the two high draft picks the Knicks are definitely going to hit on thanks to the upcoming hell on hardwood without Porzingis and Knicks basketball is almost back!
*Again, just let me have this fantasy. The seriousness of KP's injury still hasn't sunk in and I feel like when it does, I am going to be in a very dark place for a very long time. Plus the world deserves a James Dolan vs. LaVar Ball feud.