Kmarko 2018 Super Bowl Prop Bets: Final Scorecard
Quick recap on the Super Bowl Prop Bets because I always hold myself accountable.
National Anthem:  Loss.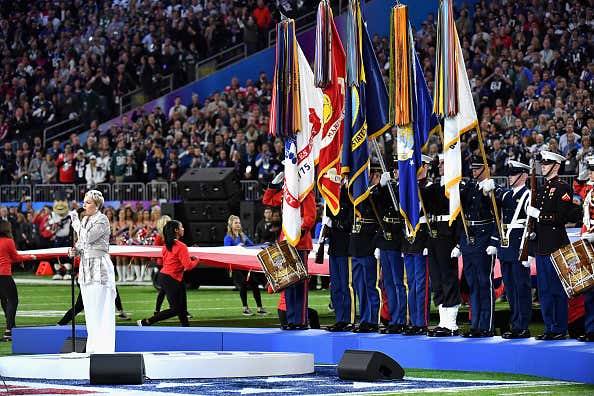 Ugh, brutal beat and finally let down by the Maestro.  Technically.  But the Maestro is not completely to blame.  He DID specify that his Over prediction was based on Pink doing a solo rendition – when she rolled up with the band behind her, it was a bad sight to see.  Also we've never had this much pre-anthem drama before: a sudden flu causing Pink to lose her voice and wild speculation over what this meant for her timing.
I checked back in and kept everyone updated – Maestro was rattled, he had to check in with his soprano friends, but he stuck with his Over.  Meanwhile the tide started turning in the popular opinion, with a lot of people switching to the under.  I kind of agreed with them but I made it my pledge to always follow the Maestro blindly since he's never let me down and I owe that to him.  If you made your own call and switched to the under, good for you.  I hope a lot of people did.  For the people who #RodeWithMaestro, we take this L as a family.
And, Maestro feels really bad about it for the record.
Pink sang with pre-recorded canned music. F that. An awful midi orchestra just ruined the moment and killed the prop. I had much higher expectations for Pink. I'll cut her some slack for being sick, but jeeze, that accompaniment was probably performed by the Toys'R'Us symphony orchestra. Bad. Possibly treasonous.

Sorry for letting everyone down. I know what Pink is capable of. I blame her for not living up to the potential, but this misread will be my cross to bear.
P!nk Hair:  Win.
Blonde.  Easy one.
Coin Toss: Win.
Tried to tell you guys I can control the Super Bowl coin flip with my mind.  It's my greatest gift.
First TD: Loss.
Tough loss on this one.  This is obviously a needle in the haystack bet that you do for fun just hoping to get lucky on, but we almost nailed this one to a tee.  14/1 odds on Blount was so good for what I was feeling.
…I feel like the Pats have been starting slow. I have this sneaky suspicion that the Eagles are going to come out and punch them in the mouth**. That they'll mount some long drive and score first and have all the Philly fans going absolutely bonkers while at home we're all like, wow, do the Eagles actually have a shot? Could this happen?

That's what I have a vision of in my head, like a clear premonition. Smoke more weed Keith.

Anyway, I think Blount scores. I think they drive it down to the 2 and LeGarrette punches it in. In my personal Vision Quest I just had, that's what I see happening.
Drive down the field, ended up on the 2, Foles drops back to hand it to Blount…and the play is whistled dead.  False start.  Move it five yards back.  Foiled by the refs.   Brutal.
Smitty's call of Clement wasn't right either for correct first score, but he was certainly right about Clement having a massive game.
Trump Tweets:  Win.
Didn't tweet once.  We were right.  Too entertainment savvy to try to out-tweet the Super Bowl.  Big time stable genius move.
JT First Song:  Win.
My biggest win of the night.   When the blog came out we somehow got "The Field" at 25/1.  After running through all the non-field options, I crossed each one off my list one by one because they didn't quite feel right as openers.  Then I listened to Filthy a few times and felt like the first 5-10 seconds was the exact sound Justin was going to come out too.  Since Filthy was part of The Field it made it easy, but I doubled down and said Filthy specifically.  Nailed it.
Brady Completions > Kevin Durant Points vs. Nuggets: Loss.
Brady ended with 28 completions, which is the EXACT number I set him at.
Ok so first bet of KD vs Brady gets a Brady endorsement from Coley.  But let me do some of my own research to be sure.

Coley is setting Brady's completions at 30, so let's drop to 28 to be safe.  28 completions for Brady is our baseline.
Good job on that end.  Miscalculation came on the Durant side.  Instead of the 24-25 points I predicted him at, he hit some tough shots and bumped himself to 31.
Thought it was an automatic loser heading into the game, but we actually had a chance if Brady didn't get strip sacked – we were looking at at least 4-5 completions on a potential game winning drive.  Unfortunately, it wasn't meant to be.
Gronk Longest Reception > Kyrie Irving Points vs. Blazers: NO ACTION.
Kyrie with the injury DNP.  Wipe it off.
Spieth Final Round Score > Ajayi Rush Yards: NO ACTION.
Spieth missed the cut.  Wipe it off.
Brady Yards > Mickelson Average Drive Distance: Win.
Mickelson ended Phoenix with a 315.6 average drive.  Very solid.  Normally would make you a little nervous heading into a bet like this.
Luckily Brady had that beat in the 3rd quarter.  Thank god for no defenses.  Easy dub.
Longest Punt:  Win.
McAfee nails it.  Under 54.5, lock it up.  Yes it helped that there was only one punt in the entire game.  Like I said above – thank god for no defenses.
Gatorade: Loss.
Like I said, the smart thing to do was not bet this.  But being smart for is for losers with no friends.  I went for it, used 3 paragraphs about depression and anxiety to explain why, and even though I guessed wrong, I wouldn't trade that rush of dopamine for the world.
FINAL:  6-4 
Reminder – Use code KMARKO52 for 30% off an annual Action Network Pro membership