2018 Barstool Bracketology: Version 4
It's about that time where people start looking at bracketology and try to figure out where their team will be slotted. This is especially true with the release of the top-16 show on February 11 so we'll at least have an idea where teams are slotted at that time. For the time being, I'm going to continue to put out my bracketology and try to take a guess at what we'll see as we approach March. I'll be releasing mine every Sunday because, well, why not? 
After yet another week of weird results and teams doing their best to make me move them all around seed lines, I present to you my fourth version of Bracketology: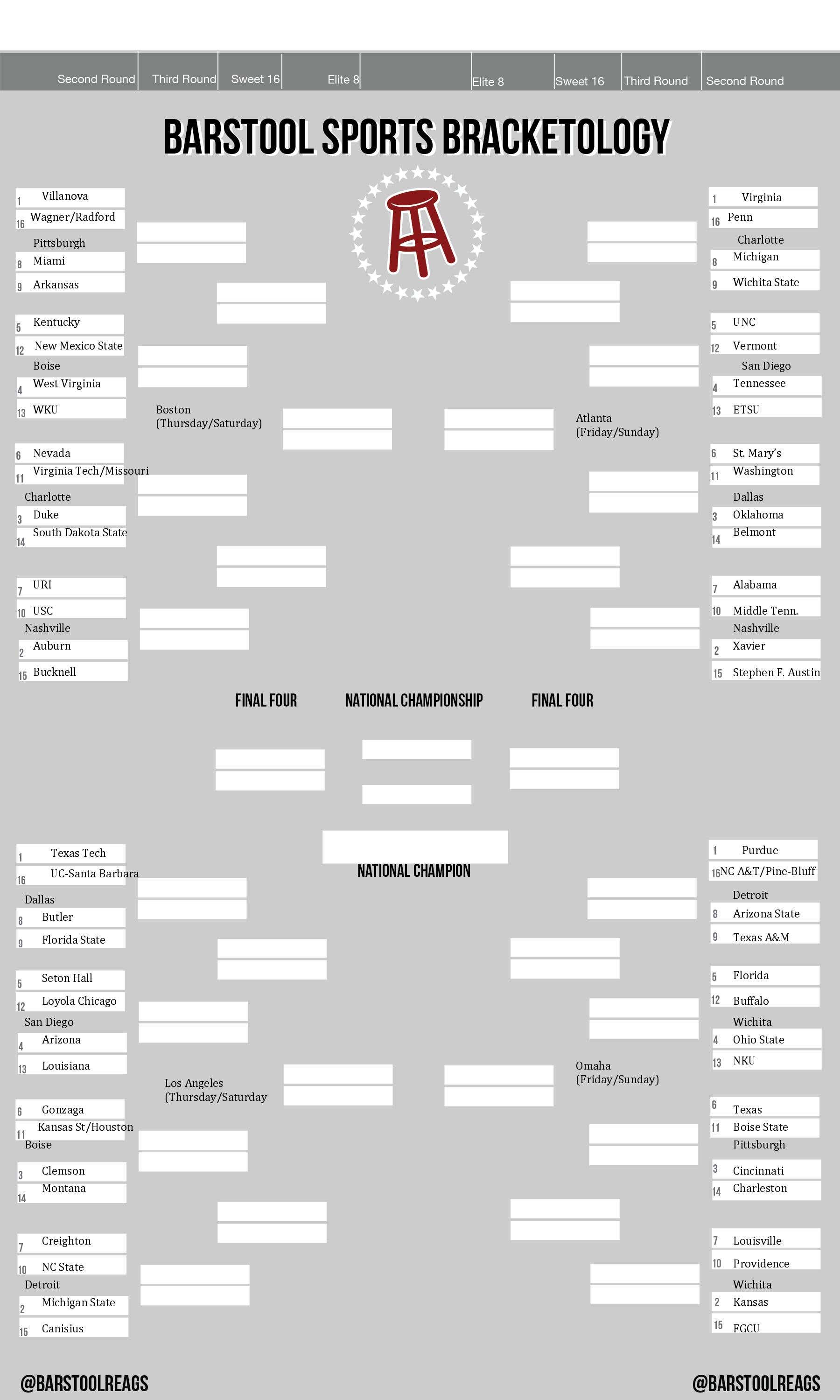 So the biggest question for me this week was who gets the fourth No. 1 seed with Kansas losing at home to Oklahoma State. They had been the No. 1 seed for the last couple of weeks, but with them losing I had to drop them to a 2 seed. The debate for me came between Michigan State, Texas Tech, Kansas and Xavier. Ultimately I gave it to Texas Tech when you look at their wins and compare it to the other three.
After that it was figuring out what to do with a team like West Virginia. The Mountaineers have quality wins and really just one somewhat bad loss (at Iowa State). However, they've gone through a losing streak recently, as most teams will do in the Big 12. Same sort of debate about Arizona for me. Yes, they aren't on a losing streak or anything like that, but how do you judge them and the rest of the Pac-12?
As you can see I'm still buying into the MWC and C-USA as a multi-bid league with Middle Tennessee State and Boise State getting at-large bids. I'm going with Nevada and WKU as the automatic bids out of the respective conferences. There's also some teams playing their way off the bubble in the right direction – NC State, Washington, Providence while others are going the other way – Arizona State, Wichita State, Virginia Tech among others.
I know there will be some debate, but it was tough to figure out what to do with a handful of teams. So I'm sure people will be upset, just remember I hate your team and always cheer for your rival. So what do you agree/disagree with? Let me know @barstoolreags.