The 5 Barstool Employees Least Likely To Ever Join A Country Club
Every single day, I get a phone call from a robot telling me how to find relief from my student loan debt. I always laugh. "Stupid robot. You think I have student loan debt?! Have you seen my fur coat?!"
Fur doesn't grow on trees, you know. It grows on animals–animals that generously sacrificed their lives so that I could wear them for warmth and style in the winter. Any robot that sees me wearing this coat thinks, "there's a guy whose parents not only paid his college tuition, but whose parents could also have covered his tuition for law school, medical school, business school, and rehab when he inevitably drops out of his third graduate program in a row." Student loan debt? More like free rides for life. Thanks mom and dad!
The audacity of these robocalls is reassuring, because sometimes I worry that robots will take over the world. After all, the only way anyone or anything could think that I have student loan debt is if they had absolutely no idea who I was. The same could be said about someone who would think I've never belonged to a country club. Enter Erika Nardini, CEO extraordinaire of Barstool Sports:
When I first read this tweet, I went through a range of emotions.
Phase 1: "What? lol"
Ha! My boss doesn't think I've ever belonged to a country club? That's ridiculous. I've posted dozens of pictures of me playing golf and tennis over the last year. She knows I went to Harvard. She must be toying with me, and I'm not going to take the bait. She must know. She must.
Phase 2: "Who am I?"
Throughout my life, my identity has been so thoroughly defined by my memberships at country clubs that for my boss to omit me from this list made me wonder… was I ever a member of a country club? My memory banks are scored by the sounds of tennis balls popping off rackets inside the bubble; perfumed by the smell of the pesticide spray on the freshly-rolled putting greens; flavored by the taste of the grilled cheese from the snack shack by the pool; haunted by the sight of old men's genitals flopping breezily around the locker room. Surely, I walked those carpeted halls in wet bathing suits that clung to my prepubescent thighs. Surely, I belonged.
Yet memories have a funny way of morphing, shifting, disappearing. Perhaps I had imagined it all? Was I just a kid who visited country clubs as the guest of someone else? Was I ever a member… myself? 
Phase 3: "Time to blow up the office"
I'M MR. COUNTRY CLUB. MY NAME WILL BE ENGRAVED ON THE "CLUB CHAMPION" PLAQUE AS SOON AS I FIX MY SHORT GAME. BUT YOU'LL NEVER FIND MY NAME ON THE "MIXED DOUBLES CLUB CHAMPIONS" TENNIS PLAQUE BECAUSE I WOULD NEVER PLAY TENNIS WITH A WOMAN. THEY SERVE THEIR SECOND SERVES UNDERHAND. SPEAKING OF WOMEN, WHY DO WE EVEN ALLOW THEM TO JOIN THESE CLUBS, THESE ESTEEMED BROTHERHOODS OF WEALTH AND ACCOMPLISHMENT? WHAT HAVE WOMEN DONE LATELY? ANYTHING? OHHHH LOOK AT ME, I'M A WOMAN, I'M THE CEO OF BARSTOOL SPORTS, I'M A MEMBER OF A COUNTRY CLUB. WELL GUESS WHAT, ERIKA? #METOO
Okaaaaay! Haha whoopsie daisies! Had to take a quick walk around the block there, but I'm back to my regular, calm self. Cool as a cucumber, like the cucumber you often find diced into the water jugs around the club? I prefer the orange-infused water, but beggars can't be choosers, am I right?! Hahaha beggars! Fuck the poor.
Without further ado, here are the 5 people/groups of Barstool Sports employees who will never belong to a country club:
1. All the interns/viceroys/Zah
I'm fairly sure these guys are paid in snacks. Simply put, they can't afford initiation fees, food minimums, annual dues, guest fees, tennis clinics, or even new shoelaces at the pro shop. For fun, I asked Zah if he'd ever been to a country club and he said "I don't even know what those are." Adorable.
2. Tex
If Tex stepped foot into a country club, he would immediately be escorted off the premises. The staff would assume he'd escaped from a nearby prison. Look at that haircut. Would you let this man into a pool with your children? Not a chance.
3. Dave, Big Cat, Keith
4. Glenny Balls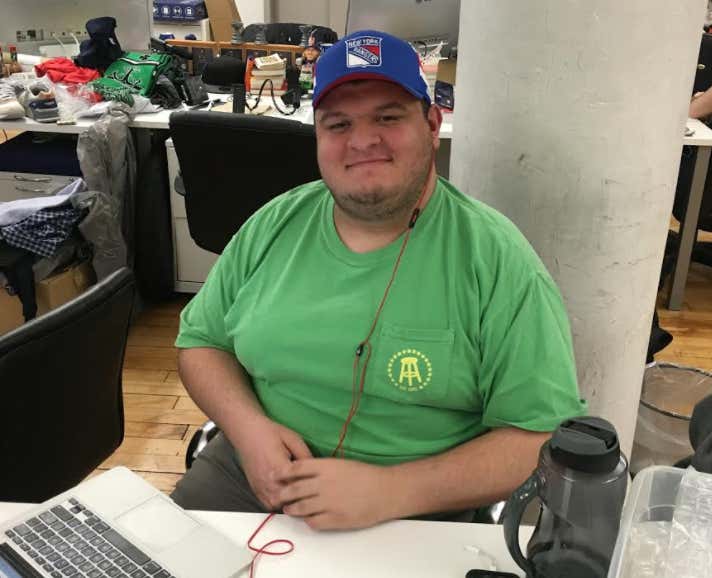 Dude doesn't own a collared shirt. Also, he'd plow through that food minimum on day 1.
5. Francis
A walking German war propaganda poster. A face that says, "more lobster, please." A backhand that nicks the tape, every time. As comfortable behind the wheel of his girlfriend's dad's Porsche as he is with a sailboat rudder in his hand. Pianist. Writer. Body by Equinox. Nightlife companion to Dave Portnoy. In short, the last person on earth whom you would ever see joining a country club. Right?