Road To The Repeat Hits A Speed Bump, USA Loses To Slovakia At The World Juniors
Tuesday night was essentially a practice for Team USA as they smoked Denmark 9-0 in their opening game of the 2018 World Juniors. What we saw out of them was exactly what we expected to see heading into this tournament. One of the deepest and most dynamic group of forwards that the tournament has to offer. 7 different players scored for the Americans and key players like Casey Mittelstadt, Brady Tkachuk and Kieffer Bellows all shined. Tonight they have another lay up game against the Slovakians who got shutout by Canada last night 6-0. Here are the odds on this game brought to you by Bovada.
Now here's the only issue I see with tonight's game. It's an 8pm puck drop. USA has an outdoor game scheduled against Canada tomorrow at 3pm. Canada just so conveniently has the day off today. So whoever the hell decided to schedule Team USA for an 8pm game followed up by an outdoor game less than 24 hours is a piece of shit. I don't know if it's the IIHF who schedules these things or if it's the host nation or what. But if the reasoning behind this is because Buffalo wanted to give Team USA a primetime game and get 700 people at the game tonight as opposed to 400, then whoever is in charge of that needs to be fired. I don't want to shit on Buffalo too much but the turnout of the tournament so far has been horrendous and here is a prime example of how that is backfiring so far. Regardless, I don't think we'll see Team USA keep the foot on the gas for the full 3 periods tonight like we saw against Denmark. Once USA builds up a sizeable lead in this game, expect them to try to keep their top guys rested for the Canada game.
So what I'm trying to say is that Team USA could easily cover the 4.5 against Slovakia by the end of the 1st period if they wanted to. But if they do the smart thing, they'll just play keep away from the majority of the game and try to get out of there as quickly and healthy as possible. So I'd just stay away from touching this game.
So now, without further ado, let's get this shit going.
***LIVE BLOG officially activated. Blog will be updated at the end of each period and make sure to follow along on Twitter @BarstoolJordie for live updates/scores/highlights***
End of the 1st: USA 0, Slovakia 0
Early in the game and we're already seeing a little bit of what I said to expect. Team USA just doesn't seem to have the same jump that they had for the Denmark game and you have to imagine that's due to a combination of a couple things. For starters, I'm sure the team is distracted thinking about the outdoor game tomorrow. And secondly, Slovakia has been doing a good job of keeping the Americans to the outside for the most part.
It's only a matter of time before the floodgates open and these rushes end in goals. But the longer this game stays tight, the more spent Team USA will be by the end of the night. I'd really like to see them go back to their original lines from Tuesday night to start the 2nd period just because the chemistry seems a bit off tonight.
It may have been a small part of the game and not necessarily a "highlight" but here is what NHL teams can expect out of Brady Tkachuk next year.
No chance in hell is anybody taking this kid down in the corner. He plays meat and potatoes hockey just like his old man and his brother. It's cute seeing teams try to slow him down though.
Time for the boys to pop some addy and get after it in the 2nd.
End of the 2nd: USA 1, Slovakia 1
And for the first time in the 2018 IIHF World Junior Championships, Team USA has allowed a goal. Filip Krivosik gives Slovakia the 1-0 lead 5 minutes into the 2nd period.
I thought Joseph Woll has been playing a real solid game in net so far tonight. Been good at rebound control and covering up anything that he's been unsure of. This is one that he'd clearly like to have back. But hopefully this just ends up being a shot in the ass for Team USA and gets them going for the rest of the night.
And that shot in the ass was delivered by Brady Tkachuk who gets Team USA on the board and ties this game at 1.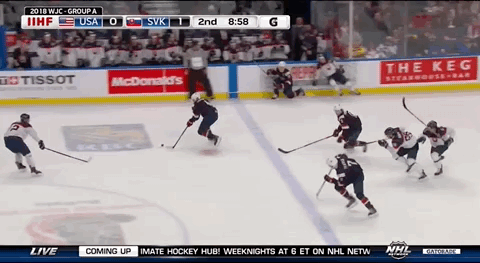 Absolute beauty of an assist from Ryan Poehling and then a perfect finish by Tkachuk. Forehand-backhand and tucks it away 5-hole. We're only 2 games into this tournament so far and Brady Tkachuk is already having a World Juniors that should make him a top 3 pick in the NHL Draft this summer.
Not sure if 1 more goal will win this game or not. Slovakia is treating this shit like it's game 7 of the Stanley Cup Final so I have to imagine they'll come out flying for the 3rd. USA is gonna have to just battle that storm for the first few minutes and then put them away with skill and composure like the superior team that they are. 20 minutes to go.
Final Score: USA 2, Slovakia 3
USA has been dominating Slovakia in shots so far tonight but Slovakian goalie Roman Durny has been an absolute animal between the pipes.
The few times that USA has actually been able to get some solid pressure on goal, Durny has been there to turn them away. And what usually follows after ridiculous saves like this is a goal the other way. Which is what happened when Filip Krivosik scored his 2nd goal of the night to give Slovakia the lead.
Things were looking bleak for Team USA but that's when Casey Mittelstadt decided that he'd turn himself into an American Hero and show Buffalo what they have coming in the next year or so.
This is exactly what Team USA needed. They had a poor game all night but when push came to shove, they needed their breakout players to breakout. You figured that it would be Casey Mittelstadt & Co. to save the day. But then just over a minute later, it was a horrendous defensive zone coverage breakdown for Team USA and Samuel Bucek regaining the lead for Slovakia with under 2 to play.
And that would be all she wrote. We knew that this was going to be a trap game for Team USA heading into tonight. I told you that I'd stay away from placing any bets on this game considering USA would be focused on Canada rather than tonight. But I thought this was just going to be an ugly win for Team USA. In no way did I think they'd end up losing to Slovakia. Better come out tomorrow with a win or else this team is in trouble.