Barstool's Midweek Soccer Preview – The "Boxing Day(s) Extravaganza" Edition
Ho ho ho haters,
Mom got you a scarf. Dad got you another book. Sibling got you a gift certificate to Amazon (but says it is still in the mail). Nana get you the same oversized t-shirt as last year, albeit in a different color.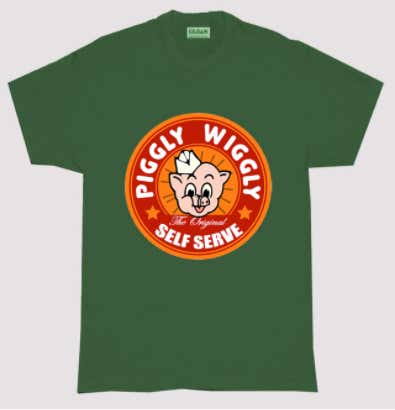 Let's face it, these days Christmas is usually more about the pomp and circumstance of the build-up than it is about the actual day itself, which is more about manufacturing smiles for bad gifts, avoiding as many uncomfortable conversations about your crap job and non-existent girlfriend with family members, and taking larger and larger pulls off the eggnog that gets increasingly "watered down" by rum with every passing hour.
However, while Santa never gets you what you really want (since animatronic fellatio bots have not yet been invented), the Premier League is here to save the day. Every other (soccer) league in the world is counting its blessings and spending time with friends and family this week. Not in England (and Wales), though, where an appreciation for hyper-Capitalism means that athletes are made to dance like little street-monkeys for our enjoyment
Unfortunately that means a lil mo' work for ya boy, but such is the life of a shitty sissy sport spirit guide: BLOG DON'T SLEEP (and, truth be told, I've had about all the "So what are you up to these days?" conversations with uncles and aunts that I can handle for the year). So without further ado let's get to the good stuff…
***********************************
ENGLISH PREMIER LEAGUE
Let's start with the scores from last weekend:
News, notes, highlights & lowlights:
– Arsenal and Liverpool are who we thought they were… and the game did NOT disappoint (unless as a fan of one of the teams you were hoping that maybe, just maybe your club's defense isn't quite as bad as I alleged). Frustrating result for both teams but brilliant entertainment for neutrals.
– Saturday's game at home against Spurs was Burnley's big chance to prove they are for real. Alas, they too are who we thought they were… which is to say a feisty, hard-working team that is better than most everyone gave them credit for coming into the season but not quite good enough week in and week out to play with the big boys. No shame in that. A top half finish would still be a hell of an achievement if they can pull it off.
– Big Sam seems to have fixed Everton's defense… albeit at the expense of even pretending to throw more than two guys forward in the attack against teams like Liverpool and Chelsea.  Ain't mad at it though. Pragmatism at its finest.
– Bournemouth limiting City to four goals was the upset of the weekend.
– Somewhat lost in Lester's last gasp equalizer against United, which wasted a handful of chances to salt the game away in the last five minutes, was the fact the Red Devils had been playing with 10 men for the last 20 minutes. Not a great look.
– Newcastle's last nine results: L-L-L-L-D-L-L-L-W.
– If anybody knows wtf is going on with Watford and could let me know that would be fantastic, please and thanks. Either way, precious win for Brighton, which along with Huddersfield and the aforementioned Toon are bearing a strong resemblance to a newly promoted group that may ALL stay up this season – something that I was surprised to learn has already happened twice (most recently in 2010-11 when Fulham, Blackburn and Bolton all survived).
– Stoke decisively won the pillow fight of the week against West Brom, which is giving Swansea a serious run for its money as the league's worst team.
***
POWER RANKINGS
TOP 4
1. City
2. Chelsea
3. United
4. Tottenham
Honorable mention: Liverpool, Arsenal
BOTTOM 3
20. Swansea
19. West Brom
18. Stoke
Dishonorable mention: Bournemouth, Palace
***
Table as it stands now:
And the extended Boxing Day(s) schedule: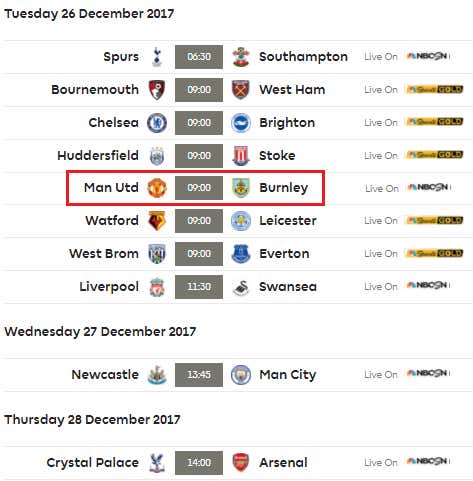 ***
PICKS OF THE MIDWEEK
Lots of interesting games with obvious implications for top four and bottom three but none that stand out as the clear "headliner"… but among the options I'd say the highlight is probably:
United [-425]
Burnley [+1200]
Draw [+475]
This is one of those games where you might be tempted to take the ridiculously long odds on Burnley and, if we're being honest, I wouldn't blame you if you did. Not necessarily on the Clarets to win, mind you, but a 1-1 or even scoreless draw seems like a decent possibility for almost five-to-one odds. Yes, Burnley did just get shredded by Spurs but that looks like a bit of an outlier for a solid squad that is difficult to break down… especially considering how unimpressive United has looked going forward. Having said all that, United missed a ridiculous number of chances to beat Lester and prior to that they were without Paul Pogba, who is emerging as the kind of difference maker for which a team would happily pay $100 million. My guess is it'll be a close game but Deal Leader Jozay's men grind out a close one. United to win 2-1.
**
Crystal Palace [+340]
Arsenal [-140]
Draw [+290]
I'd imagine even Arsenal fans would have to admit that has upset written all over it. In fact, the only reason I'm even wavering on my pick is how confident I am about the home side's chances. For one thing, Palace have been MUCH better lately, and will have both Wilfried Zaha and Christian Benteke available up top. In addition, Arsenal's defense is… well let's just say they are fragile – physically and emotionally. If the Gooners come out and play like they did in the second half against Liverpool there is no question they could win this game. However, they club is clearly lacking motivation – Lexi Sanchez, in particular, looks like he has zero fucks to give – which is something that can and should be traced back to the manager. Calling it now: late penalty conceded by Laurent Koscielny is the difference after Benteke wisely hands the ball to Luka Milivojevic who buries it. Palace to win 2-1.
***
Other picks:
• TOTTENHAM v SOUTHAMPTON: Harry Kane is too damn hot right now. If you are thinking to yourself, "Well that probably means month-long hamstring injury is right around the corner" just know that I will find you and I will cut you. Spurs to win 2-0.
• BOURNEMOUTH v WEST HAM: Two clubs that are a lot better on paper than they are on the field. Ham Sammies' defense has improved from atrocious to merely bad under David Moyes, and unfortunately for the Cherries anything less than an atrocious defense is probably enough to bottle them up at the moment. West Ham to win 3-1.
• CHELSEA v BRIGHTON: Antonio Conte will be seething after settling for a scoreless draw at Everton, though that was precisely the kind of result that stems from his need to rotate an already thin squad. Alvaro Morata's absence up top was glaring. As much as I hate the new fad of one-striker sets, zero-striker sets are even worse. Brighton are a tough little squad, and Pascal Gross has been one of the signings of the season, but hard to see them sticking with an XI involving Morata back up in front of Hazard and Fabregas (and/or Pedro). Chelsea to win 3-0.
• WATFORD v LESTER: Welp, I'm officially stumped on this one. Both teams have consistently done exactly the opposite of what I was expecting so far this season, so the fact that I think Lester is playing too good (and Watford too poorly) to win means that I have no choice but to go with Watford to win 3-2 – sorry, it was out of my hands.
• WEST BROM v EVERTON: Clubs heading in different directions at the moment but the Toffees have been hit hard by the injury bug, and could be missing Idrissa Gueye, Phil Jagielka and Wayne Rooney in addition to the buttload of guys on the long-term IR list. Six game unbeaten streak for Everton… and as much as part of me thinks that it is about time for them to lay their traditional "holy shit where did that come from?" egg, West Brom has been so bad that I just can't pull the trigger. Everton to win 2-1.
• LIVERPOOL v SWANSEA: did Liverpool take their foot off the gas or did Arsenal suddenly remember how to play soccer on Friday? Tough to say… but what is less unclear is that the Reds have weapons coming out the ying yang, and a defense that has been a lot better recently when playing non-Big Six clubs. Swansea has scored 11 goals in 19 games. Sounds like the recipe for a good old-fashioned spanking. Liverpool to win 4-1.
• NEWCASTLE v CITY: Pep's people will lose a league game this season, and the fact that is sort of a controversial statement is a testament to how damn good they have been. It wouldn't even surprise me if their first loss came not against another Big Six but against a pipsqueak pops out of the long grass, kicks them in the dick with an early goal and manages to batten down the hatches for the rest of the game. Don't look now but Newcastle have scored more early goals than just about anybody in the league (or at least it feels that way)… but yeah, no, they are just too porous to weather City's storm. City to win 3-1.
***********************************
REST OF THE WORLD
Spain: too lazy to play
Germany: too lazy to play
Italy: too lazy to play
***********************************
So there we have it. I actually got a start on putting together some midseason awards and an interim review of preseason predictions [so we can all have another good laugh at how dumb I am]….. buttttttttttttt it is getting late and kickoffs are early tomorrow morning so I'll include those in the upcoming weekend preview instead. Also, before I forget:
Thanks for reading you filthy animals!
Holler,
Samuel Army