Fred Wilpon Was Reportedly "Irate" That The Yankees Traded For Giancarlo Stanton And Is Pissed/Surprised Every Time The Yankees Make A Big Move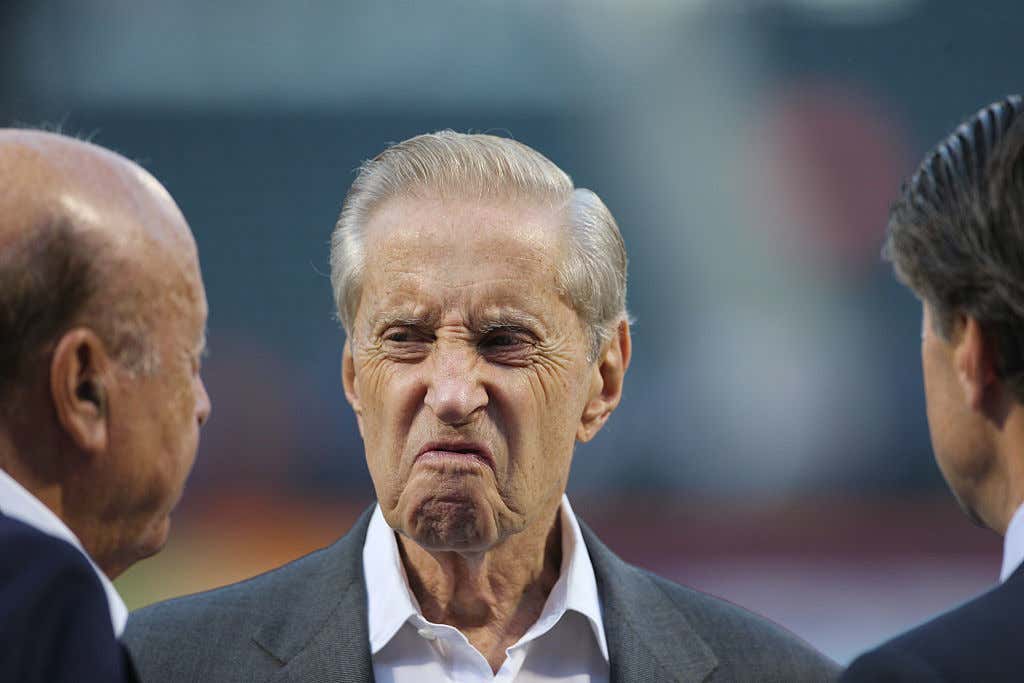 NY Post- Just call him Frazzled Fred. Fred Wilpon was "irate" after learning of Giancarlo Stanton's recent trade to the Yankees, according to an industry source, continuing a pattern of hand-wringing by the Mets co-owner following a splash by his crosstown rival.
"Fred is pissed every time the Yankees make a move," said a person who speaks to Wilpon regarding baseball matters. "And he always seems surprised." At issue is the Yankees' willingness to take on huge contracts, in the process embarrassing the Mets for their restrained spending habits. The Yankees, who acquired Stanton from the Marlins earlier this month for Starlin Castro and two prospects, will pay the All-Star slugger $265 million over the life of his remaining contract if he doesn't opt out. Jacoby Ellsbury and Masahiro Tanaka are other current Yankees in the middle of contracts worth more than $100 million.
Well I think this seals it. Fred Wilpon is officially unfit to be the Mets owner anymore. Anybody in the world that can still be surprised when the Yankees spend a shit ton of money on players like they have done since they bought Babe Ruth from the Red Sox and gave him enough money for all the hot dogs and hookers he could get his hands on shouldn't be allowed to own a Major League team.
Now I am irate that Fred Wilpon was irate about the Giancarlo Stanton deal. OF COURSE the Yankees were going to acquire a big dicked superstar with a huge contract while their window to compete was wide open. That's what big market teams do. Even James Dolan, despite his *deep breath* many many many many many many many many many many faults, spends money on his team in order to make it better. I guess Fred thought that having about the same payroll on Opening Day as the Seattle Mariners despite having a team built around cheap, good (when healthy) pitching was the way to go.
While the seeds of General Steinbrenner aren't cutting checks at the rate their dad used to, they also aren't afraid to bring the Brinks trucks with them while looking to improve the team. Meanwhile the Wilpons are still throw around nickels like manhole covers as they continue to recover from Bernie Madoff fucking them directly in the ass while getting upset the team across town has the GAUL to try to improve their team. Now Sandy Alderson is busting his Maverick dick off during the holidays trying to put a competitive team on the field for 2018 like Bob Cratchit as Mets fans hobble around Twitter like Tiny Tim just praying their team's ownership does anything close to the kind of moves going on less than 10 miles away. But they won't. And they can't. Because the broke ass Wilpons are somehow still allowed to own a baseball team in New York because they slurp the right people at MLB HQ. What a fucking joke.
I need this dickhead to remind Fred Wilpon just how unsustainable the Yankees strategy is by waving 27 rings in front of Fred's old bony face.
At least Giancarlo Stanton is out of the NL East and can only ruin Mets fans' days 4 times a year for the foreseeable future. But Fred Wilpon doesn't care about that either. He just wants everyone who didn't get absolutely dominated by Bernie Madoff to stop trying. Fuck the Wilpons.
Buy a shirt and let those cheap fuck Wilpons know how you feel.