Last Night In The NBA: Paul George Returns And The Bulls And Rockets Are Streaking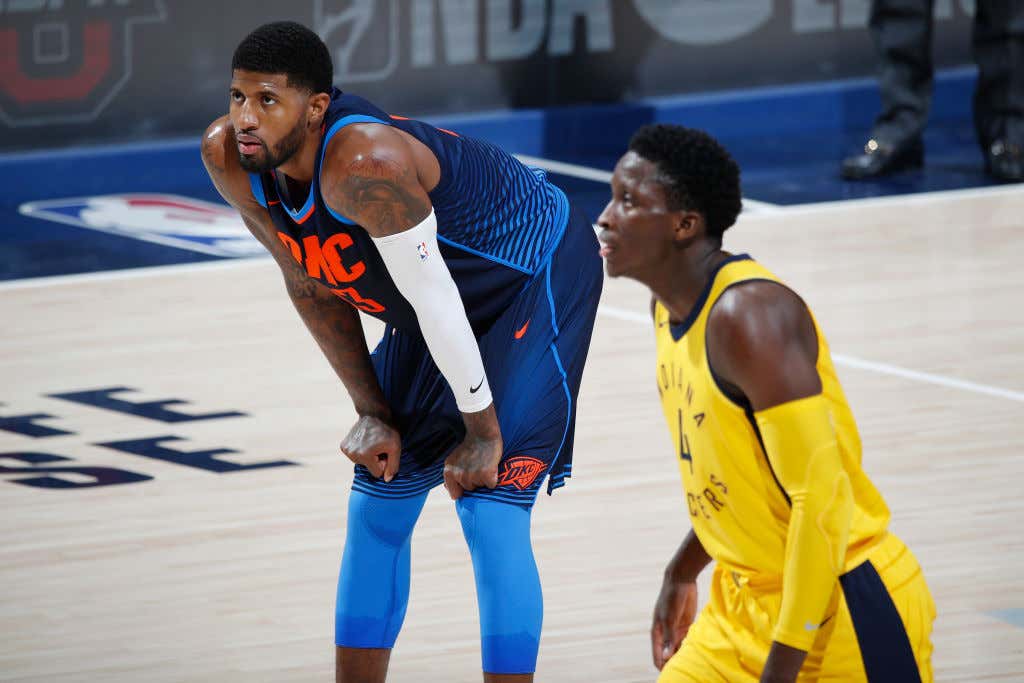 Welcome back to another edition of Last Night In The NBA where we catch you up on everything that happened the night before in the Association. We had a total of 9 games last night, and plenty to talk about so let's get right into it. Here's what happened
Thunder (13-14) 100 vs Pacers (16-12) 95
You could say Paul George's return to IND was an anticipated affair. So much so, that people who do not regularly watch Pacers games freaked out that PG13 wasn't included in a video showing Pacers greats, even though that video is apparently like three years old. The internet was foaming at the mouth at any opportunity of shade being thrown. Well, Pacers fans went home a little disappointed because while George struggled (3-14),
the Thunder still pulled it out. Crazy they did too, given how well IND is playing and the fact that Melo/Westbrook combined for 7-31.
It was Steven Adams who saved the day, with his 23/13 on 11-16
It was fitting that George made the FTs to seal it, and Westbrook did have a triple double. At this point OKC fans will take a win any way it comes, and if you look at the standings, they are just 2.5 out of the 4 seed. It may be ugly at times, but OKC will be just fine it seems.
For IND, it was CLEAR that Oladipo wanted to stick it to his old team, and his 26 FGA were no surprise. He made only 9 FGs and Myles Turner went 3-11, so when that happens it usually spells bad news for the Pacers. No bench player reached double figures, and the 19 point 2nd quarter really hurt them.
As a Pacer fan you're still feeling good though, or at least you should be considering you're tied for the 4 spot and are playing much better than most people expected you to so far this season.
Clippers (11-15) 106 vs Magic (11-18) 95
After a slow first quarter, the Clippers woke up and looked like a completely difference team. It's hard to imagine that a team can have 44/46% splits, and just three players in double figures, but that was the case last night. Jordan with a 16/20 performance on 8-13 shooting
and the savior of the night Lou Williams, who had 31 points on 11-22 shooting in 33 minutes off the bench.
After losing four straight the Clippers have now won 3 in a row, and are jusssssssst close enough to playoff contention that I don't think they blow their team up, even if they should. That makes me sad.
For ORL, They have now lost three in a row, and are now 3-14 in their last 17 games. There's crashing back to Earth, and then there's whatever is going on in Orlando.
Wizards (15-13) 93 vs Grizzlies (8-20) 87
Welcome back John Wall!
Sure he may have only had 13 points on 6-15, but the mere presence of Wall on the court had to be a nice sight for Wizards fans. It had been a long 9 games since he last played, with the Wizards going 4-5 over that stretch. It's not wild to say that Wall is pretty important to what they do, so welcome back.
All the starters finished in double figures, Beal had 18, and they even got some nice production from their bench, who went for a total of 27 points led by Oubre's 11. Sure maybe they blew a 17 point lead, but a nice 13-0 run in the fourth made sure this would not be a horrific loss. Credit to WSH for pulling it out down the stretch, something they often have trouble doing.
For MEM, christ, just trade everybody already. Trade Gasol to anyone not named CLE, trade Evans to the Celtics and just be done with it. If not for that prayer win over MIN, we're looking at a 16 game losing streak. But yeah, totally the right move to fire your young promising coach. Real smart you idiots.
Trail Blazers (14-13) 102 vs Heat (13-14) 95
Hard to beat POR when they are getting this type of showing from CJ/Dame. They combined for nearly half their points, and made nearly half the team's threes.
POR finally broke through, ending their 5 game losing streak and they did it though a very familiar path. Give it to Dame down the stretch and let him go to work. His 7 points in the final 3ish minutes were huge, and POR was able to overcome a 16 point deficit in order to pull this out. POR had to go relatively small with Nurkic and Leonard out, a style that doesn't really seem to hurt them since they have pretty decent guards.
Perhaps the surprise of the night was PORs defense, who held MIA to just 26 fourth quarter points
For MIA, you gotta stop losing at home. The Heat are now 5-7 at home, and even with Whiteside sitting for the 7th game in a row, they certainly had their chances to put POR away and simply couldn't get it done. Sad really, wasting Wayne Ellington's outrageous shooting performance
Tough when your starting backcourt goes 10-30 like MIA's did, and it was clear that the Heat shot their load way too early in the first half, since they didn't break 20 in either quarter in the second.
Celtics (24-6) 124 vs Nuggets (15-13) 118
Full blog is coming, but lets just say if you like offense and hate defense, you got high as fuck off this game.
Bulls (7-20) 103 vs Jazz (13-15) 100
How bout those Bulls! What are they doing?!?!? Did you know they have the longest winning streak in the East and the third longest streak in the NBA? And this is without Baby Dirk? Someone needs to remind them what their goal is this year, and it is NOT to be winning basketball games. And yet, Mirotic has come back and has set the world on fire
The Bulls starters have been playing fun basketball as of late, as every starter ended the night in double figures, and guys like Kris Dunn were solid as hell, with a 13/7/8/2 performance that included a dagger late
Are the Bulls fun? Are they back? Will they most definitely screw themselves out of a top pick now? So much intrigue with a team that has 7 wins
For UTA, this may feel like a bad loss, but again CHI has been balling so don't worry about it. All the good teams are losing to them right now. Instead, focus on Donovan Mitchell being really really really really good
32/6 for him in 37 minutes last night as him and Rubio were the only starters that really showed a pulse. At two games under .500 UTA is in the 9th spot in the West, but certainly still in playoff contention but listen, being 2-10 on the road is a PROBLEM. They need to figure that shit out, and as it stands right now they are the only team not in the playoffs in the West with a positive point differential.
You can't win on the road in today's NBA, you're cooked.
Pelicans (15-14) 115 vs Bucks (15-11) 108
Now this was a fun one that went down to the wire. This three guard lineup has been an interesting experiment for the Pelicans, and they've been alternating wins/losses for the last 8 games so I want to say it's working, but for sone reason they can't string together consecutive wins. In this game though, as expected, it was Boogie/AD
They combined for 51/23 with 5 blocks, and were huge down the stretch. E'Twuan Moore has also been playing his dick off, as he went for 21 on 8-11 too. You could say they got a little lucky given how often they turned the ball over, and Cousins had something wild like 9 of them. Either way, this win kept them in the playoff hunt, which is all that matters.
For MIL, they were without Tony Snell which hurts their outside shooting, and it showed as the team went 8-27 from deep. They did get a pretty ridiculous 32/9/4/5/1 on 13-24 from Giannis
and 15/10 from Middleton
and 14/5/4 from Bledsoe
but in the end it was a tale of two halfs for the Bucks. After winning the first quarter NO won all the ones that followed, and the Bucks didn't break 24 in either the third or fourth. With IND breathing down their neck for the 4 spot, the Bucks also need to figure out how to win on the road, where they are 6-7.
Raptors (18-8) 115 vs Suns (9-21) 109
Gotta love that schedule. DeRozan was a monster with 37 on 12-24 for TOR
but he certainly had his help with Big V going for 20/11 and Ibaka pouring in 21/13. When that happens you can overcome a 3-12 from Kyrle Lowry, and virtually no production from the bench who had a total of 16 points.
They've now won 7 of 8 and have tied their second best start in franchise history through 26 games. Not a lot of people talk about TOR, and I think that's because CLE and BOS have been so dominant, and that they haven't really played anyone that tough recently, but they will be a problem come the playoffs if healthy. They've been able to be relatively healthy so far this year, and the results speak for themselves.
As of now they have had the 17th hardest schedule in the NBA, slightly easier than Boston who is 15th, and much harder than CLE, who is last in the league. They've played garbage.
For PHX, how about Troy Daniels!
32 points and 7 threes outta nowwhere!
Rockets (22-4) 108 vs Hornets (10-17) 96
The best team in the NBA right now continues to murder people, this time it was CHA. The Rockets have won 11 in a row, and are showing no signs of slowing down
45 of their 88 FGA were from deep and they made 17 of em. When they do that and turn the ball over just 10 times, good fucking luck.
For CHA, hey at least Dwight looks great
And that's it! You're now all caught up on everything that happened last night in the nba. We have just 5 games on tonight, but if you want to watch the last color rush of the year instead that's OK. Just come back tomorrow and I'll tell you all about it.