Blackhawks Drop Their 4th Straight Game And I'm Starting To Get UPSET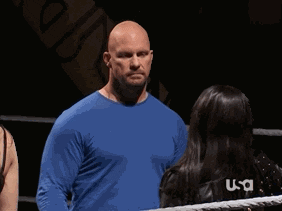 Ah, my favorite gif to use when I want to pull my god damn hair out. They say you are judged by the company you keep. Well lets take a look at the Blackhawks company right now
Philadelphia, Detroit, Buffalo, and our Chicago Blackhawks. Three of the worst teams in the league and…the Chicago Blackhawks. Now look it, I know this was a rough stretch of the schedule. And whoever decided to have the Blackhawks, or any team, play 5 games in 7 nights should be fired immediately. However, four straight losses is four straight losses and the Blackhawks had opportunities to get wins all of those games and couldn't get over the hump. Getting over the hump is the mark of a good team, and the Hawks haven't been able to do it lately. As the great Bill Parcells says, "You are what your record says you are". The Blackhawks record:
6th place and a full 9 points behind division leading Winnipeg. The Blackhawks are 27 games into the season now. Just like that, in the blink of an eye, a third of the season has been played. I always use this stat in blogs, but I'll say it one more time for the new people…78% of the teams who are in a playoff position on Thanksgiving, end up making the playoffs. These games, and the current standings MATTER. The Blackhawks are at the point in the year where simply having a good effort isn't good enough. They had 4 games against the Western Conference, 3 against Central Division opponents, and came away with 2 of a possible 8 points.
"We played some pretty good, steady, patient hockey, not giving up too much as the game went along. And then we wanted to bear down and finish well over the last 20 and it just wasn't there in the last 10 minutes"–Jonathan Toews
Hey Jon, nobody wants to hear that anymore. The Blackhawks did play well for the majority of the game. It was steady. It was patient. It's almost too patient. There needs to be a sense of urgency because guess what…it's not 2013 anymore when the Blackhawks were just better, faster, and deeper than everyone else. That Toews line is a part of the problem here. That group had the puck a LOT vs the Kings. Hayden gave them some juice after being switched with Panik. But none of the possession is dangerous. People keep saying that Jonathan Toews has lost a step. I honestly don't see that. He's still a strong player over the entire 200 feet, but it feels like his line isn't even looking to score. They're too content to just play keep away along the wall for 35 seconds and then go back to the bench and feel like they did their job. You didn't. Your job is too score. It's too be dangerous. It's to get the puck and bodies to the net. The Saad-Toews-Panik line has a combined 5 goals in 5-on-5 play in the last 24 games. Serious question…how is playing that style even fun for Toews and Saad? Who wants to just grind against the wall for 22 mins a night and walk away with nothing? It looks like WWI trench warfare out there with that group. A stalemate where you fight and die for no gain. Toews said he changed his diet, his workout regiment, etc this off-season. I think that shows. He needs to change his mentality too. Work to score, don't just work for the sake of working. Right now he's an ox, and they need him to be a thoroughred. Go play, score goals, have fun.
As for other changes, I think its time to give DeBrincat a shot in the top 6. I would put him at LW with Kane and Anisimov. I like Nick Schmaltz's game, but Kane would benefit from playing with a guy who looks to bang home goals and knows how to get to the prime scoring areas. We haven't seen enough of that from Schmaltz since he came back from injury. Also, Schmaltz could have that same benefit playing with Sharp and Hartman. Let Schmaltz be the primary distributor and puck handler on the 3rd line. Those three, Sharp-Hartman-Schmaltz would be able to recreate similar looks and style as a DeBrincat-Anisimov-Kane line would.
Dick Panik…I don't know anymore. I thought he looked a little more focused after his demotion last night. He is at his best when he's the villain. The bad mamma jamma who pisses people off by playing physical, getting to the crease, and then staying in the crease an extra second or two after the whistle blows. That Panik looks like he belongs with the terrorists in Die Hard, but he's playing like a backup singer in Pitch Perfect 2. On twitter I threw out the idea of packaging Panik with Kempny and maybe a pick/prospect or too in an attempt to get John Moore away from the Devils. The logic there is two-fold…I'm kinda done with the Cody Franson experiment. He's been fine, but the thought of him getting top pair minutes in the playoffs against a fast team like the Jets gives me nightmares. Moore would slide into the bottom pair with Seabrook and Murphy plays with Keith. Panik and Kempny get fresh starts. I don't know if the Devils would bite on that, but it's at least plausible since the Devils are looking to the future. Moore is a UFA and the Devils are currently carrying 8 defensemen. The Hawks could use a shake-up and I like the idea of creating roster spots for Hinostroza immediately and for Dylan Sikura later.
As frustrating as things have been lately, I still like the names on paper. They've been better defensively than they were in the beginning of the season, and while they're 9 points out of first, they're only two points out of a playoff spot.
In my heart of hearts, I know the Blackhawks are better than Vancouver, Minnesota, and Calgary. And last year proved that the regular season just a warm-up routine for the real show. Get in the dance, and if you're hot and healthy you can make a run. The Blackhawks just need to start playing with more creativity and urgency. Have good habits and the talent will eventually win out. Starts on Wednesday in Washington. Lets GO.