Recapping a Crazy Saturday in College Basketball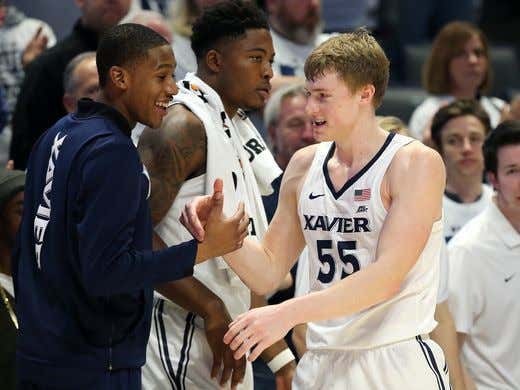 Consider this your cheat sheet if you were watching college football all day. I'll be honest you missed some great college basketball games for only a couple of good football ones. It was a fairly big slate of mostly nonconference games so we'll get right into it.
Xavier 89, Cincinnati 75
– This was the biggest game of the day as you had two teams with Final Four expectations and talent playing in arguably the most heated rivalry in the country. Xavier jumped out to an early lead led by Trevon Bluiett's 28 points. More important, Xavier got some help elsewhere as Kareem Kanter came off the bench for 17 points. The grad transfer's ability to stretch the floor showed as he hit a couple of threes and left the lane open for Xavier to attack.
– Kaiser Gates continues to be an important player for Xavier going forward. The starting stretch four had 10 points and 10 rebounds last night. He's improved defensively this year and needs to continue to be someone who can grab rebounds for Xavier.
– Kyle Washington being irrelevant in this game is something to watch going forward. I like Washington's game a lot. He's a good rebounder, he has strong post moves and is patient with the ball. The one complaint most Cincinnati fans have about Washington though is he doesn't show up in big games. Xavier took it to Washington right away and forced him into tough shots. He played just 15 minutes per game and hardly recorded a stat. If Cincinnati wants to live up to expectations, they can't have Washington disappear in these sort of games.
– Obviously all people are talking about though is the postgame stuff with Mick Cronin and JP Macura. There's video of Cronin going back after Macura in the handshake line and being escorted away. Cronin claims Macura told him to fuck off three times and then said that Macura would never play for him. Chris Mack then stepped up to the postgame podium and said a few years ago Lance Stephenson called him the n-word while playing at Cincinnati and to fuck off as well. My thoughts on this? If that's all that happened, who cares? People talk shit during a sporting event, especially one as heated as the Crosstown Shootout. If you're Cronin you can't let a kid saying fuck off to you get under your skin that much, no matter what. Should Macura be talking shit to an opposing coach? No. But, again, I'm not going to act like this doesn't happen throughout the country at the high school level, let alone the college level. It's another somewhat black eye in this rivalry, which is filled of pure hate, but this story isn't some huge deal.
Wichita State 69, Baylor 62
– This was a huge win for Wichita State as they now have a win over a quality opponent for the first time since Fred VanVleet and Ron Baker were playing. Wichita continues to be balanced, even with Markis McDuffie not playing, as the Shockers had four guys in double figures. Landry Shamet's numbers aren't going to blow you away, but he continues to be the consistent point guard that Wichita needs. He can do a little bit of everything and score at all three levels, whether it's catch and shoot or off the bounce. Against Baylor's zone he was able to draw attention and kick to Connor Frankamp who went 5-for-8 from the 3-point line. Again, this was an important win for Wichita State as they need to get these quality nonconference games.
SMU 72, USC 55
It's a little crazy to think USC was actually leading in this game. During the first half USC never let SMU get comfortable and didn't give up that big run. That all changed in the second half, part of which was due to USC not shooting the ball well again. This is the second game in a row that USC gave up a big run while not shooting well in the second half. SMU on the other hand continues to be dominant at home while confusing overall. They have wins now over Arizona and USC, but losses to UNI and Western Kentucky. Shake Milton went for 22 and 9 while three other Mustangs scored in double figures.
– More important we still didn't see De'Anthony Melton play for USC. This continues to be a joke. The reason Melton has been sitting is due to eligibility questions stemming from the FBI investigation. The documents stated that someone in his family took money but video evidence shows that didn't happen based on what the documents said. Do that there's absolute 0 reason for Melton to still be sitting. He's a guy that can defend and really what USC needs in order to impact the game without the ball in his hands.
Rhode Island 75, Providence 68
Well, this didn't go as planned considering the two best players for each team had just awful games. Ky Cartwright for Providence went for just 2 points and 4 assists while having 3 turnovers. For Rhode Island, Jared Terrell had 11 points on just 2-for-11 shooting. The Rams got help elsewhere, most notably in Fatts Russell (A+ name) who had 20 points in 24 minutes. Rhode Island continues to get quality wins while E.C. Matthews doesn't play due to injury. They now have wins over Seton Hall and Providence to add to the resume, which should all but guarantee them a NCAA Tournament berth assuming A-10 play doesn't go to shit.
Arizona 91, UNLV 88 (OT) 
Yeah, it's time to start worrying a little bit about Arizona. Yes, they got the win but the defensive questions are still there. UNLV is a team that Arizona should have matched up well again due to them wanting to play through the post. Arizona gets hurt when people attack them from the wings and stretch them out – similar to what SMU did to them in the Bahamas. Now, part of this is due to Arizona not having Rawle Alkins, who is their best guard defender, something that will change when he comes back in a few weeks. This week though, Arizona needs to figure out what to do defensively. They have Texas A&M and Alabama, both of whom can beat you from the wing – Alabama especially with Collin Sexton. Miller started using Ayton at the five and going small around him and I expect to see more of that going forward, especially once Awkins comes back.
Kansas 76, Syracuse 60
That Devonte' Graham guy is pretty good, eh? Graham seems to be lost in the shuffle when talking about great point guards so far this year, mostly due to the fact Kansas has been successful without him going off yet. That all changed yesterday against Syracuse in Miami when Graham dropped 35 points on 10-of-17 shooting. What I liked here is Kansas still dominated this game despite not shooting the ball well from the 3-point line. They are the 8th best team shooting and shot just 35% from behind the arc. The Jayhawks held Syracuse to just 22% shooting and LG Vick chipped in with 20 points.
Ohio State 83, Wisconsin 58
Okay, it's time to officially worry about Wisconsin. Yes, I didn't think they were going to be great when the season started as I picked them to finish 8th in the Big 10 in my preseason blog. That said, they look like a complete disaster right now, which is shocking. Wisconsin doesn't lose at home by damn near 30 points to a very average Ohio State team. You can usually bank on Ethan Happ having a big game, no matter the opponent but he had just 7 points and 6 rebounds yesterday. The fact is this team doesn't have someone else they can rely on. Freshman Brad Davinson is starting to become more consistent, but teams are just daring others on Wisconsin to beat them. They are throwing double teams on Happ in the post, where he's at his most uncomfortable. Happ tends to get careless with the ball passing out of a double before he can make one of his moves. Wisconsin can still get nonconference wins against Western Kentucky, Marquette and Temple, something they need to do with how poor the Big 10 looks this year. Offensively, Ohio State attacked Wisconsin from behind the arc, going 7-for-13 from there.
Crazy Story of the Day
During South Carolina State's game at North Carolina State yesterday Tyvoris Solomon collapsed while on the bench. It ended up being incredibly more serious than that as it was reported that Solomon's heart stopped and he was resuscitated by South Carolina State's athletic trainer. In great news it was reported he was conscious at the hospital and talking. All in all this was an absolutely scary scene, but luckily the athletic trainer reacted and was able to save Solomon's life.
Other notable scores: 
Virginia Tech 83, Ole Miss 80 (OT)
Houston 91, Arkansas 65
Bucknell 81, Vermont 77
Penn State 77, Iowa 73
Villanova 94, St. Joe's 53