Barstool's Weekend Soccer Preview – The "Member When Arsenal Used to Win North London Dærbies? Me Neither" Edition
Hi haters,
WE BACK! Remember how much we used to complain about international breaks sucking? Man were we stupid. After all, there is usual run-of-the-mill international-break-suckiness, and then there is international-break-just-after-you-have-been-eliminated-from-World-Cup-contention-in-historically-embarrassing-fashion-suckiness… and to say this past week has opened up my eyes to a whole new level of suck would be the understatement of a lifetime.
We tried to make the best of it, of course, soldiering on and popping a half-chub at the official start of the Weston McKennie Era
but real soccer is back in a big way this weekend (meaning dærbies galore throughout Europe – plus MLS playoffs) so let's get right to it…
***********************************
ENGLISH PREMIER LEAGUE
Scores from the last matchday:
News, notes, highlights & lowlights:
– Dear Leader Jozay is the consummate bully. Goes around beating up on the little guys but anytime he sees another Big Six club he gets scared and runs home to mommy. (Ps: speaking of United, can somebody please put an APB out on Henrikh Mhkhtaryan? Where'd you go bro??)
– City and Arsenal are who we thought they were.
– Helluva start to the season for Burnley (7th), Brighton (8th) and Huddersfield (10th), and even more miraculously is how they have done it while scoring 10, 11 and eight goals, respectively, in the first 11 games. #efficiency
– Sam's fun fact of the week™: Huddersfield has scored 8 goals and conceded 13 goals. Swansea has scored 7 goals and conceded 13 goals. One team is in 10th on 15 points. The other is in 19th on 8 points.
– Tough years for Wests. Adam is dead. Ham is deader. Brom is deadest. In fact, tTalk about a rough stretch of results for Tony "T-Pain" Pulis. On the bright side, they have two winnable games—oops nope, nope they don't. Yikes.
– Member what I said about West Ham just now… kidding! The Ham Sammies are BACK
– So far this season Newcastle has lost to Huddersfield and Brighton (the other n00bly promoteds), as well as Burnley and Bournemouth – all clubs thought coming into the season to be relegation contenders. Toon has also beaten Stoke and West Ham while drawing with Southampton and Liverpool – all clubs thought coming in to be (likely) top half finishers. Tough to say at this point whether that says more about Newcastle or their opponents.
– Win is a win but horrendous performance from Tottenham, eking out a 1-0 win at "home" against Palace. As for the Eagles, on the other hand, they seem to be showing legitimate signs of life. ROY HODGSON DA GAWD.
[Note: suggesting you are showing "signs of life" by scoring a goal here and there and/or only losing by one is probably the meanest thing I have ever said. Sorry (not sorry [but actually kinda a little sorry]) Palace fans.]
***
POWER RANKINGS
TOP 4
1. City
2. Spurs
3. Chelsea
4. United
Honorable mention: Burnley, Brighton
BOTTOM 3
20(b). Azzurri
20(a). USMNT
19. West Ham
18. West Brom
Dishonorable mention: Swansea
***
Table as it stands now:
And this weekend's schedule:
***
PICKS OF THE WEEKEND
Arsenal [+140]
Tottenham [+175]
Draw [+245]
Arsenal have been quietly not terrible this season, which is something of a compliment considering the club began the season fresh off a clusterfuck of a summer with a manager that has been a dead man walking about three seasons in a row. Viewed in that light, 6th place maybe ain't so bad. The problem is that Tottenham is a much better team at the moment, both on paper and in reality. Let's do a little exercise: put together a starting XI from the combined rosters of the two teams. Even the (profitably) miserable fooks over at Arsenal TV would have a hard time making a case for more than two – yes just TWO – of their players in the XI, those being Lexi Sanchez and Hector Bellerin, with the only case for the latter being based on potential and not current form. So suffice to say things are not looking great for Creepy Uncle Arsene & Co. at the moment.
HOWEVA, as soon as you count the Gooners out, that's when they sneak up spider monkey-style and kick you directly in the dick. There is a reason they come in as the favorites, after all. I am honestly not exactly sure what that reason is, but I'm sure there is one… maybe?
Point being, if Tottenham think they can walk into the Emirates and drop a multi-goal winning deuce on Arsenal just because they are more talented, more attractive and have bigger phalluses… they most definitely have another thing coming. But all jokes aside, Harry Kane eats pieces of shit like Per Mertesacker for breakfast. Spurs to win 2-1.
**
United [-400]
Newcastle [+1050]
Draw [+400]
If timing is everything, Newcastle's is pretty shit just now. United are fresh off a nice long international break where most of the squad have been resting and clearly – according to the news above – recuperating quite well. This is unlikely to be a pretty game as neither side has been playing anything approaching "attractive soccer" lately (and, for the record, I'd be shocked if Pogba or Zlatan saw much of the field), but Red Devils are going to totally dominate possession so it's just a matter of whether they can find some cracks in Newcastle's relatively sturdy defense. I say yes. United to win 2-0.
***
Other picks:
• Crystal Palace hosting Everton should be a strangely entertaining affair. Both clubs see light at the end of the tunnel, though depending on the result on Saturday it seems like the light will end up being an onrushing train for one of them. Strange to say that Palace have shown signs of life lately considering they have only one ONCE all season, which was a month ago, but the performance against Spurs right before the break – along with Everton's porous defense – offers reason for a tiny bit of optimism. What's more, the Toffees had the entire international break to find a manager, yet couldn't. Woof. Gotta say the trendlines are heading in the right direction for Palace in this one… but I foresee Wascally Woy's (reported) decision to start Christian Benteke fresh off injury will be the difference. In a bad way. Everton to win 3-2.
• Aaron Mooy has been a bulldog for Huddersfield so his absence, coming off Australia's recent WCQ win (in a game that I refuse to acknowledge the existence of), could be a problem, especially with the absence through suspension of CB Christopher Schindler. Bournemouth to win 1-0.
• So, wait, I'm confused. One minute Liverpool sucks (getting poo-dollared by Spurs) and then the next they don't (smoking everybody since). Maybe – jusssssssssssssst maybe – Jurgen Klopp has finally stumbled upon a secret strategy whereby the Reds will start beating the teams the should beat and losing to the teams they should lose to? Nah, you're right, probably not. But I'm gonna give the theory a shot anyway. Southampton are who we think they are: a good but definitely not great team that is finally feeling the effects of being bled dry of talent by bigger clubs (cough *Liverpool* cough) that will nevertheless find a way to grind out a mid-table finish under new no-nonsense manager Claude Puel. In other words, a beatable team. Liverpool to win 2-0.
• Burnley versus Swans. Solid defense plus woeful offense versus solid defense plus woeful offense.
0-0 draw.
• Don't let the deserved 1-0 win over United fool you, something still ain't right at Chelsea. Whispers about Morata and Conte, and more recently David Luiz, plus a technical director saying "peace out"… something smells, fam, and it doesn't smell good. Talk about well-rested. West Brom haven't played since September. UPSET ALERT! West Brom to win 2-1.
• City is going to slip up before long. Lester have been bary, bary sneaky in going unbeaten since mid-September, which is no small thanks to the emergence of Wilfred Ndidi in the middle of the field, where comparisons to Ngolo Kante are flattering but not totally off the mark. Dang it, here I was, planning to build up Lester's chances then tear them down because City's offense is just too damn good… but I think I accidentally convinced myself that the Foxes actually have a chance. Stupid me. I'll say a 1-1 draw.
• If you like Tuesday and Wednesday night MACtion, you are going to love West Ham visit Watford, which is the official defense-optional game of the weekend. Tough to tell whose back line has been worse this season, but let's assume for a moment that this one will end up being a litmus test on David Moyes' abilities as a defensive tactician… Watford to win 3-1.
• Stoke at Brighton is not going to be the Monday Showcase that we want, but it's going to be the Monday Showcase we get. Goals will be at a premium as both clubs are averaging roughly one per game… though Stoke's gaudy 22-goals conceded was artificially enhanced by the one-time massacre they suffered at the hands of City last month. This game screams "you will get one goal and you like LIKE it" – but for whom? Brighton has been the better side, which is likely in part a reflection of the consistent starting XI that manager Chris Hughton's has been able to field. That plus Stoke's weaker defense means advantage Seagulls. Brighton to win 1-0.
***********************************
MLS – PLAYOFFS
And then there were four.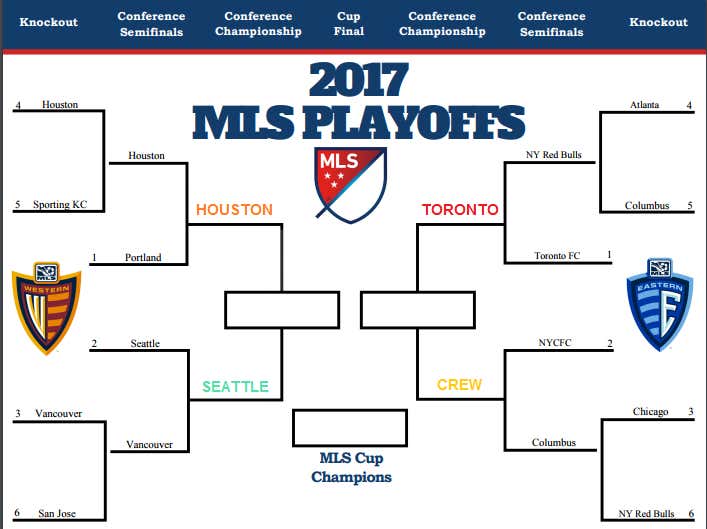 The semi-finals are set and our (temporarily) beloved Columbus Crew are still alive and kicking. If you aren't on the bandwagon then you must just be a horrible person and I'm not altogether sure how you even live with yourself.
Schedule for the respective home-and-homes is as follows: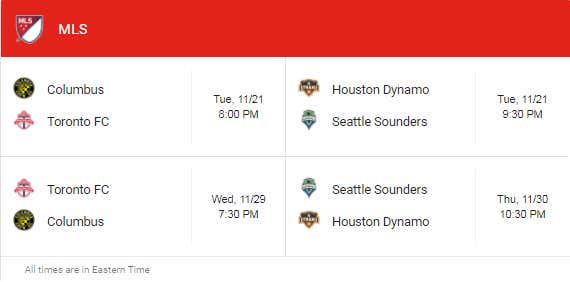 ***********************************
REST OF WORLD
La Liga – MADRID DÆRBY! Atletico welcome Real on Saturday (1:45pm CT on beIN Sports) in what in some senses could end up being a title eliminator as it could leave the loser 11 points behind Barcelona. Youge game. Do yourself a favor and at least set the DVR.
Serie A – After producing a couple relatively tame matchdays in a row, Italy is bringing the thunder in a big way on Saturday with back to back biguns, starting with Roma hosting Lazio (11am CT on bein Sports) followed by Napoli versus Milan (1:45pm CT online at beIN Sports Connect). Not only that, but Juventus travel to Sampdoria on Sunday (8am CT on beIN Sports) as well. Helluva way to bounce back for those silly Italians after missing out on the World Cup. Haha! Imagine that, missing the World Cup! What a bunch of dummies.
Bundesliga – Not the greatest weekend in Germany and since the BVBabyjesus will have already played on Friday by the time most of you read this I'll highlight the game in which RB Leipzig head to Bayer on Saturday (8:30am on FS2).
***********************************
So there we have it. Soccer is back and not a minute too soon.
By the way, I addressed the "rumors" about a possible "World Consolation Cup" (or "NIT" soccer tournament) coming together in the US next summer but feel like I should at least mention it here as well: it is absolute GARBAGE, and it is RUBBISH
and if it is true I will probably watch it because I am a godamn sheep but I nevertheless want to go on record as saying it is a HORRIBLE idea born out of butthurt, envy and greed, and I hope it does not come to fruition. I don't care if it doesn't overlap with the World Cup. I don't care if it is limited to younger players. I don't care about any of that. World Cup summers are sacrosanct. Respect it. And that's really all I have to say about that.
Programming reminder of what's on deck next week:
Get pumped. See ya Tuesday.
Holler,
Samuel Army