RAW and SmackDown Go To War This Sunday At Survivor Series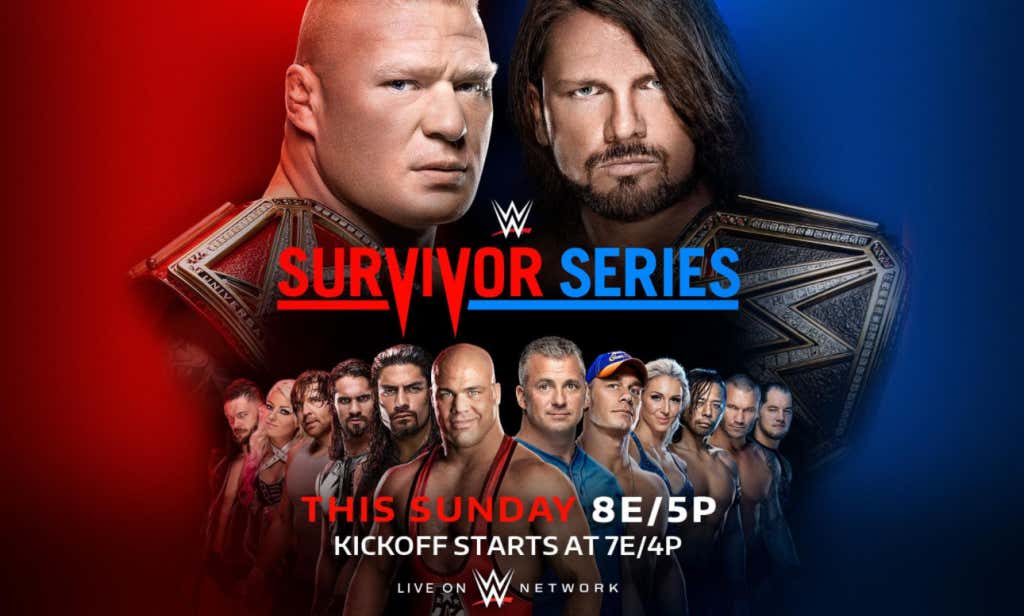 Hello and welcome to the official Barstool Sports Survivor Series preview blog. Before we get into the card, I'll remind you that Jared "The Vacation Boy" Carrabis and I previewed it top to bottom on From The Top Rope, Barstool's wrestling podcast, so listen to that HERE if you haven't already.
Now for Survivor Series, the (new) one time a year where RAW faces off with SmackDown at every turn…
Enzo Amore (c) vs Kalisto for the WWE Cruiserweight Championship
…except this one. Because there's only one cruiserweight division, this one's just going to be RAW vs RAW, or 205 Live vs 205 Live if you'd like to put it that way. I've been saying for a few months now that I was okay with the Cruiserweight Championship being on the pre-show, because it's not like the crowd noise would be any different, and at least on the kickoff they'll have more time. I'm not sure I feel the same about that now that Enzo is champion, because with him, you pretty much have to get in and get out as quickly as possible. He can't work a match. I think the better play here would've been a 5 on 5 traditional Survivor Series match with the whole division where you're able to build stars and let the boys go nuts.
Prediction: Enzo Amore
WWE Intercontinental Champion The Miz (RAW) vs WWE United States Champion Baron Corbin (SmackDown)
The Miz, RAW's Intercontinental Champion, faces off against Baron Corbin, SmackDown's United States Champion, in a match solely built on social media. Here's the promos that led to where we're at:
The Miz definitely got the better of the exchange, but Corbin held his own, and that's not easy to do with the A-Lister. Miz is also kinda the babyface, in a strange turn of events. Baron Corbin goes after the man's pregnant wife and he's fighting for her honor? I'll be in his corner, pal.
Prediction: The Miz
Team RAW (Alicia Fox, Asuka, Sasha Banks, Nia Jax, and Bayley) vs Team SmackDown (Becky Lynch, Tamina, Carmella, Naomi, ???) in a Traditional Survivor Series Match
Here we have the first traditional Survivor Series match of the night between Team RAW (captained by Alicia Fox) and Team SmackDown (captained by Becky Lynch). Asuka is in the match, and currently carries the longest undefeated streak in modern history, so unless Vince McMahon is a fucking idiot, RAW wins because of her. SmackDown is getting a mystery partner that could very well be Paige as she's been back on the road with the company recently.
Prediction: Team RAW
WWE RAW Women's Champion Alexa Bliss vs WWE SmackDown Women's Champion Charlotte Flair
You wanna predict sleeper match of the night candidates? Here you go. This could main event WrestleMania in a few years and tear the house down. It's funny looking at that matchup screen, because each woman's championship was "made" by their opponent, but that's just how things have changed since the Superstar Shakeup. After Charlotte's emotional title win, promo, and reunion with Ric, I fully expect her to go over Bliss strong after a competitive match and get cashed in on by Carmella. Talk about nuclear heat!
Prediction: Charlotte, followed by a Carmella cash-in
The Shield (RAW) vs The New Day (SmackDown)
Everything and I mean EVERYTHING about The Shield's reunion has been botched and underwhelming, but this is still really cool. The New Day is the only really dominant trio since The Sheild originally disbanded, making this a dream match of epic proportions. Carrabis and I basically fantasy booked this to be a trilogy. Shield wins here, New Day gets their win back at the Royal Rumble, and the giant marque rubber match goes down at 'Mania. That won't happen, though, and this will most likely be a one-off when The Shield goes over. Should be incredible. I hope someone (either Rollins or Kofi) jumps off something big.
Prediction: The Shield
WWE RAW Tag Team Champions Cesaro & Sheamus vs WWE SmackDown Tag Team Champions The Usos
Airhorns. Just airhorns blaring everywhere. Those are my thoughts on this banger of a match. I can't fucking wait. B-B-B-BERRRR!!!! B-B-B-BERRRR!!!
I think Cesaro and Sheamus should take the pin being they won the titles via shady business and the Usos are coming off an incredibly serious and hard fought feud with The New Day.
Prediction: The Usos
Team RAW (Kurt Angle, Braun Strowman, Finn Bálor, Samoa Joe, and Triple H) vs Team SmackDown (Shane McMahon, John Cena, Shinsuke Nakamura, Randy Orton, and Bobby Roode) in a Traditional Survivor Series Match
Those are some fuckin' old geezers! Braun Strowman is the youngest person in this match, clocking in at 34 years of age, but hey, that doesn't matter much I suppose. I'm sadly not expecting a good match here, but I'm expecting some cool face-offs. Cena and Angle staring
at each other will be a moment, Triple H and Shane McMahon the same, and I even made two prop bets with Jerry Carrabis. I'm predicting:
1. Kurt Angle attempts a moonsault
2. Triple H "Too Sweets" Finn Bálor
So keep an eye on both of those things happening. Going with the red squad here because Kevin Owens and Sami Zayn aren't on the card, so I want them to cost SmackDown the match causing turmoil on Tuesdays. Steenerico vs the world, gang.
Prediction: Team RAW
WWE Universal Champion Brock Lesnar vs WWE Champion AJ Styles
In the MAAAAAAAAIN EVENT of the evening, "The Phenomenal One" AJ Styles will face his toughest challenge to date…"The Beast Incarnate" Brock Lesnar. This is a match that AJ Styles needs to win. There is no world in which Brock Lesnar should win this match, as it genuinely hurts the company and doesn't help anyone in any way. Samoa Joe and Braun Strowman have both gotten noticably less reaction from the crowd since losing to Brock for no reason, and you can't afford that happening to your WWE Champion right after winning the championship and getting the biggest response he's gotten all year. I am telling you, Vince McMahon, I'm gonna be fuckin' pissed when you put Lesnar over here. PISSED. Make the right call.
Prediction: Better fuckin' be AJ Styles, Vincent Kennedy McMahon. Better be.
That's all for Survivor Series! This is a WreslteMania-caliber card worth your $9.99 for the month of November, and now we can just sit back and hope it lives up to it's potential. Carrabis and I will be recording our recap show the second that WWE closing graphic hits the screen, so look out for that on Monday morning. Thanks folks!