NHL Direct Message Monday Blog (Tuesday)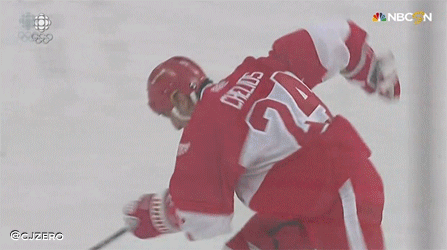 Just came up with the name of the title of this mailbag blog today. Unfortunately for Direct Message Monday, the first edition is going up on a Tuesday. You can't pick out when you're bored and have ideas and alliteration in titles is more important than details so here we are. Going forward these posts will be on the Mondays. It'll be a nice way to take stock of things around the league and kill time on a winter Monday. Thanks to everyone who submitted questions. I got over 60 as of this sentence. Always appreciate the stoolies coming through.
Amazing to quite amazing. The Flyers have a chance to build a winner similar to the Predators with all of these nice, mobile, and exciting defensemen in the system. Provorov at 20 years old looks like he is a legit top pairing, all-star type D-man. I believe in Gostibehere even after a rocky sophomore season. They've got Myers, Sanheim, Hagg, and Morin coming right behind those two. There's your six D unless Philly wants to flip some of them(they should) and get in the Matt Duchene Derby. Giroux and Voracek look like they're declining pretty rapidly, but if Nolan Patrick is the real deal, they "suck for Tkachuk(trademarked)" and get another top forward in the next draft, and add a Duchene or Tavares then holy moly look out Metro Division. The biggest challenge will be managing the contracts for that group. If you look at the Preds D-core, the only guy who isn't a complete bargain is Subban.
In the pre-season these rule changes made it tough to watch, but in general I like the concept. Slashing got kinda out of control last year. The Ducks assaulting Johnny Hockey and Crosby chopping off Methot's finger as examples. I don't think slashing will be called quite as tightly in the regular season or playoffs, but this definitely needed a correction. Players will adjust and it'll be fine. Same thing for face-offs. It's just turned into a scrum with the wingers coming in. This will be another correction that gets back to rewarding quick hands and strength of centers. It's a skill and should be treated as such. As for the failed offsides challenges…could be HUGE swings. Goal, failed challenge, power-play goal is going to kill someone this year. High stakes rule change. We'll see how it plays out I guess.
I'm super high on Nick Schmaltz. Anyone that plays with Kane is going to put up points, Schmaltz is going to pressure and back off D with his speed and that's going to create more room for Kane through the middle. As great as Panarin and Kane were, at times they became predictable because they always played the slow-up game over the blue line looking for the pass through the seam. I think Schmaltz, if he's with Kane for the majority of the year will be over 65 points. Kane should be over 90.
These two questions are obviously tied together. The Hawks have money available now and they also have question marks on defense. In the short term I don't think they'll do anything with their cap space besides the Franson signing( 1 year $1M). Stan and Joel kept 8 dmen and I think you'll see Forsling, Kempny, Oesterle, Franson, and Rutta rotate in and out all year long. My guess is that Rutta, Kempny, and Forsling play the most out of that group and comments from Stan and even Joel suggest that they'll be given some extra leash for mistake/growth. We'll see. There's not really any great rental options on defense this year so I wouldn't look for the Hawks to add a big name/top 4 type at the deadline. They'll need internal development there to improve. I am sure they'll do something at the deadline but it's too early to speculate on that.
I don't think Ted Leonsis will ever trade Alex Ovechkin. He's worth too much at the gate. HOWEVER, maybe Laurene Powell-Jobs(Steve Jobs's widow) will trade him. She just bought 20% in the Caps and Wizards. My gut says Ovi plays out the contract in DC, never gets a ring, and then goes to a contender to chase a Cup when his deal is up.
I think DeBrincat will play most of the year in the NHL. He is really smart, has a lethal release, and the kid competes hard. I think he will make mistakes, Joel will get pissed, but then he'll score a goal on a shot only he can really make and it'll erase any thoughts of sending him down. No idea where he will lineup or with who, but I think it's reasonable to expect 35-40 points assuming he plays 70+ games and gets PP time. The Hawks power-play was awful last year. I think DeBrincat, Sharp, and possibly Franson will really help them in that area.
I love Jack Eichel. He is the right kind of super-star to build a Cup contender around. The Sabres haven't done a great job of that though. I don't like his supporting cast. Moulson is getting older and slower, Okposo is suddenly 29, and Evander Kane is a punk. The Sabres need to be bad again, get a high draft pick, and then hope Eichel is willing sign and wait for help coming from Reinhart, Middlestadt, and Alex Nylander. They've missed the playoffs for like 6 years in a row or something and somehow they're still pretty far away from being a contender even though they have a talent like Eichel. Good video here on how effective Eichel was last year
I would say the hockey world will realize how good he is around April 25th. Towards the end of the first round of the playoffs. The Canes will be in. Their biggest problem last year was goaltending, they fixed that with Darling. They've got a really nice group of forwards with Skinner, Aho, Rask, Staal, Teravainen, and Justin Williams. They also replaced Jay McClement in their bottom 6 center who SUCKS five on five, with Marcus Kruger so they'll be an even better possession team this year under Bill Peters than they have been in previous years. IF the Hurricanes can get Duchene for Hanafin then the sky is the limit for this team. They need a big gun up front and while Hanafin still has HUGE upside, he's a luxury for this team since they're stacked on D already and have Jake Bean and Hayden Fleury just about ready to step into their 3rd pair. Hey Ron Francis…do it man. Pull the trigger.
I'd be nervous if I were a Rangers fan. Nash is another year older, like you said there's concerns at center, Hank is another year older and even though his hair is still elite they'll miss having a backup like Raanta. Right now I have Pittsburgh, Columbus, Washington, and Carolina ahead of them in the Metro which means they're battling for that last Wild Card spot with the Islanders, Panthers, Canadiens, etc from the Atlantic. I wouldn't bet on the Rangers making the playoffs this year.
We'll end on this one. Asterisk means a wild card spot. I'm sure you'll all hate these, but I'm gonna write them anyways.
Atlantic
1) Tampa Bay 2) Toronto 3) Boston 4) *Ottawa 5) Florida 6) Montreal 7) Buffalo 8) Detroit
Metro
1) Columbus 2) Pittsburgh 3) Washington 4) *Carolina 5) Rangers 6) Islanders 7) Flyers 8) Devils
Central
1) Chicago 2) Dallas 3) Nashville 4) *Winnipeg 5) *St Louis 6) Minnesota 7) Colorado
Pacific
1) Edmonton 2) Anaheim 3) Calgary 4) San Jose 5) Los Angeles 6) Arizona 7) Vegas 8) Vancouver
Oh Chief, you homer blah blah blah, suck my dick. The Hawks finished with 109 points last year in the reg season while playing 9 different rookies. I think Toews having a bounce back, Saad in lineup, and improved special teams they'll win the division again. We'll see how they do in the playoffs.
Thanks again to everyone who sent in questions. Always love when the stoolies get involved and help make the blog go.