Barstool's Champions League Preview – Matchday 1(b) aka The "Civil War In Sam's Heart" Edition
Hello haters,
Some of you may have seen the big soccer-related news emanating from HQ yesterday but for those of you who did not here ya go:
Slowly, evvvvvvvver so slowly – tiny brick by tiny brick, some might say – jogo bonito has been becoming "normalized" within the confines of Barstool culture over the past few years but this feels a little more like a punctuated equilibrium-type situation (shouts to my college evolutionary biology professor for that one) wherein the beautiful game has taken a particularly important step forward.
That's not meant to pigeonhole JSB, of course, who knows her way around football and hockey and baseball and (I assume) curling and god knows what other sports and/or entertainment topics, but many of you will recognize her from recent stints at FOX and ESPN where soccer has been one of her main beats.
So shouts to her for joining the pirate ship, and to the powers-that-be for bringing her on, and as for your logical questions about what exactly this means for CONTENT and coverage of the game that you and I love so dearly… please stay tuned. All good things come to those who wait! (Except for the early bird that got the worm – but fuck that overachieving flying vertebrate.)
For now though let's turn our attention to the bountiful feast of glorious games that the soccer gods have seen fit to bless our eyeballs with today… after, that is, we get our minds right:
Musical Viagra. I'm officially aroused. Now on to the previewing, pontificating and prognosticating…
***********************
CHAMPIONS LEAGUE
Quick reminder of the eight groups:
And scores from the first half of the midweek slate: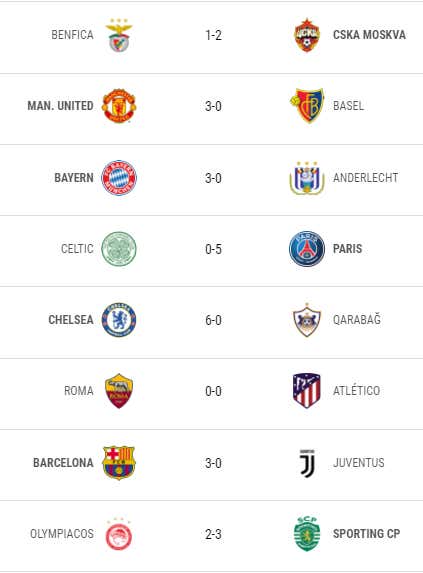 I offered up some brief thoughts in yesterday's blog about who got good and/or bad draws and some teams to watch/fade, so have a look if'n it strikes your fancy. As for today, this is what is on the schedule:
***
Tottenham [+115]
Dortmund [+200]
Draw [+240]
This…….. this is my nightmare. Asking me to pick a winner is like forcing me to choose between my two soccer babies who I love and adore just as much as if I had borne them as the fruit of my loins. But such is the life of a shitty sissy sport spirit guide so I'll give it a shot.
Why Dortmund should win: um, because they are really good? What a ridiculously stupid question. Okay, fine, I'll play along (with myself) for a minute. They could win because their strengths – an attack featuring Aubameyang, BVBabyjesus, Gotze and Sahin – is deadly af and Spurs will likely go with a back three setup that could (oh dear lord please god say it won't be so) include Ben Davies. Hopefully Poch goes with Sanchez instead but who knows if the coach will want to throw the n00b into the deep end right away like that. Also, Dele Alli is suspended. Also also, the game is being played at Wembley, which honestly may be reason enough to blindly put your faith in whoever Spurs are up against. [Note: yes, I am flabbergasted that bookies think BVB are the underdogs in this.]
Why Spurs could win: BVB is missing a ton of guys through injury (Bartra, Schurrle, Schmelzer, Weigl, Durm and Guerreiro to name just a few). That's really the main thing Tottenham have going for them apart from how good they looked in dominating Everton's life last weekend, but Dortmund will put up a much sterner test than the belief-less Toffees did.
Prediction: Split the baby! Gimme a 1-1 draw.
**
Liverpool [-150]
Sevilla [+380]
Draw [+290]
To answer the question I have gotten a number of times on twitter dot com: YES, Sadio Mane is available to play today despite the incredibly legitimate red card he was given this weekend (I will delve more deeply into this incident more in Friday's blog). Also, assuming that Liverpool did not suffer any emotional trauma from the ass-kicking they took from City, the final score should include a massive asterisk as the loss of their best player in the first half totally changed the dynamic.
Anyway, as for how things will play out, Sevilla will likely win the possession battle but they may play right into the hands of Liverpool, which will bide their time while counterattacking the Spanish side to death. To that end, Mo Salah's illness and Philippe Coutinho's match fitness are important question marks, but signs seem to point to both playing a part in the proceedings [UPDATE: Coutinho not starting but is on the bench and (I'm guessing) will see some time if needed]. Liverpool to win 2-1, including a goal from SUPER SUB STUDGE!
**
Real Madrid [-2900]
Apoel Nicosia [+3300]
Draw [+1500]
Listen, I'm as big a soccer fanboy as anybody but even I have to admit I this – from a kid who is on the verge of blossoming into a legitimate superstar, no less – is a bad look for the sport. Where should we even begin to break down the preposterousness of this situation? (1) Why tf are you shaving your legs, man? (2) Going on IR because of an infected pimple? Are you just trying to give the haters material for hating on how soft they (wrongly) believe soccer is? Good lord, Asencio, clean it up. A lot. Now. Real Madrid to outscore Apoel 11-0… but hard to call it a "win" given the Asencio nonsense.
**
Feyenoord [+700]
City [+155]
Draw [+205]
City has an ungodly amount of attacking talent at its disposal but anytime Vincent Kompany goes down – and he goes down waaaaaaaaaaay more than any girlfriend I've ever had – the club is basically forced to play Nicolas Otamendi, who is not only bad at soccer but is bad at soccer while wearing eyeliner, which is all the more embarrassing. Having said that, Feyenoord will be without the services of injured striker Nicolai Jørgensen, which will take a little of the pressure of City's back line. City to win 3-1.
*****************************************
So there we have it. Got another biggggggggg slate tomorrow… bahhhhhhh, just kidding, it's Europa. But I'll be damned if my underoos don't get just a tiny bit tighter thinking about watching Ol Uncle Arsene play on Spursday.
Reminder: I/@BarstoolSam am still in jail so smash that follow (below) on @SamsArmy if you want to see what inane blather I come up with on the twitter machine before/during/after the games… and/or to troll the hell out of me when Tottenham inevitably get their dicks kicked in.