George W. Bush Is The Early Star Of Hillary Clinton's New Book
Hillary Clinton's book 'What Happened' hit bookshelves yesterday. I'm about halfway through it; we'll get to my thoughts on it later.
The first and most important thing you need to know is that the man, the myth, the legend himself George W Bush is the early star of the book. I got through about 11 pages on my commute home yesterday; I laughed twice, both induced by W.
W's first cameo comes immediately after Hillary delivered her concession speech. She's crying, hugging people, obviously devastated, and W suggests this.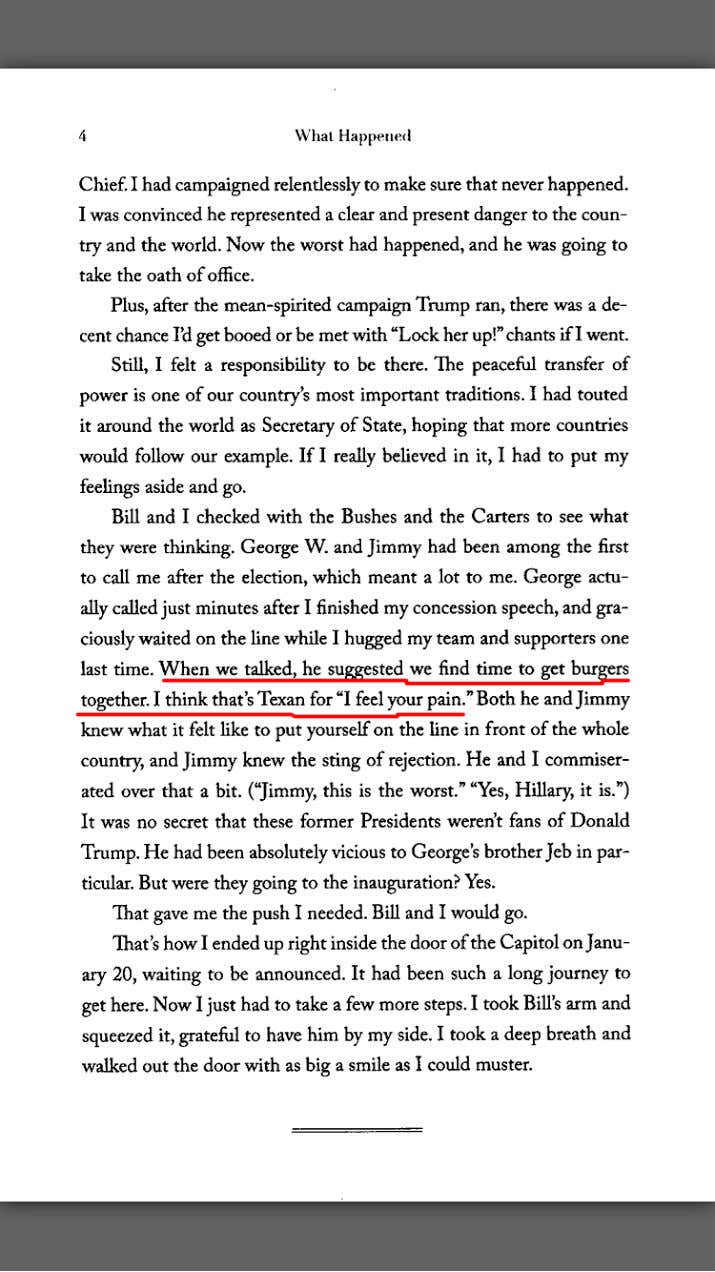 The most George W Bush suggestion of all time. "Yo you just lost the most soul-crushing, stunning, humiliating election for the most powerful job in the history of the world, let's grab burgers sometime."
He pops in again on Inauguration Day. The Clintons were sitting right next to the George and Laura Bush. A report about him saying this surfaced shortly after Inauguration, but I didn't remember it and I laughed for about 10 minutes at this.
Right after Trump finishes Inauguration speech.
"That was some weird shit" is a laugh out loud funny reaction to pretty much anything, let alone a new President's Inauguration Address.
I miss W — one of the great misfortunes of our time is that he came and went a decade too soon. If twitter were around for him, he might've been the biggest internet star of all time. Guy is fucking hilarious.
The shoe…
The door…
The poncho…
And of course, we'll never forget the GOAT first pitch for all of eternity.
Man I miss Dubya.