The Patriots Might Have Lost Derek Rivers for the Season and the DE Spot is a Shambles
#Patriots 3rd rd pick DE Derek Rivers tore his ACL & sprained his LCL, per the initial MRI. 2nd opinion coming to confirm surgery is needed.

— Ian Rapoport (@RapSheet) August 18, 2017
.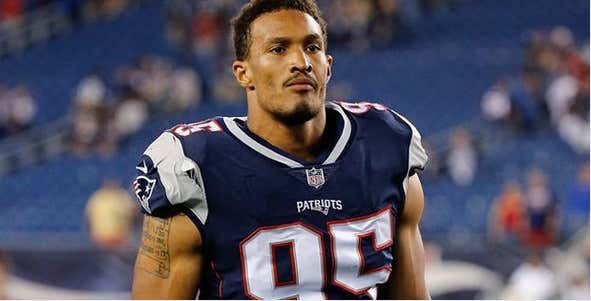 This Derek Rivers injury news has been hovering out there all day like a drone. But I haven't mentioned it yet because I was waiting for that second round of tests in the hopes he wouldn't be done for the season. But regardless of whether Rivers gets to avoid the butcher block and salvages the end of the season or this turns out to be a redshirt freshman year for him, it still creates a problem. A problem bigger than it typically is when your 3rd round draft pick gets injured. Both because Rivers had really begun to stand out over the last week-to-two weeks of practice and for a much bigger, potentially fatal flaw reason.
There's no putting a shine on this sneaker: Rivers' injury leaves the Patriots dangerously thin at defensive end. It wasn't the deepest position on the roster to begin with, which explains why the Pats used half their draft picks – Rivers and Deatrich Wise, Jr. – on Edge players. But when Rob Ninkovich retired it got worse. And now with Wise out a week with a concussion and Rivers maybe done for the year, the already thinnest position on the team is in the bathroom purging the salad she just had.
Minus the injured rookies, here's the current roster at defensive end:
Trey Flowers – 17 games, 23 tackles, 7.0 sacks
Kony Ealy – 47 games, 43 tackles, 14.0 sacks
Jonathan Freeny – 62 games, 59 tackles, 2.0 sacks
Shea McClellin – 66 games, 114 tackles, 8.5 sacks
Geneo Grissom – 26 games, 3 tackles, 1.0 sacks
And that's me padding the roster because to me Freeny and McClellin are much more traditional off-the-LOS linebackers and they have Grissom listed at OLB. But even throwing all those guys into the DE mix, adding their numbers and dividing by five to find the median, you're looking at a decent month for a truly elite Edge player.
I won't discount Bill Belichick's ability to coach an overachieving season out of a pass rusher. He's gotten double-digit sack years out of the likes of Tully Banta-Cain, Mark Anderson and an end-of-the-line Andre Carter. And as I've mentioned before, David Harris emerging as the signal caller in the middle of the defense will free up Dont'a Hightower to play up on the line much more. And ask the Seahawks and Falcons how effective he is at shooting gaps.
And so while you can argue that mid-August is no time to panic, as Woody told Buzz, this is the perfect time to panic. No to mention, regret ever letting Chris Long walk and getting nothing in return. Or as someone put it on the Patriots sub-Reddit, this is the scene outside Ninkovich's house right now: