Barstool College Hoops Notebook: Mitchell Robinson Saga, RJ Barrett Cuts List, South Carolina Suspension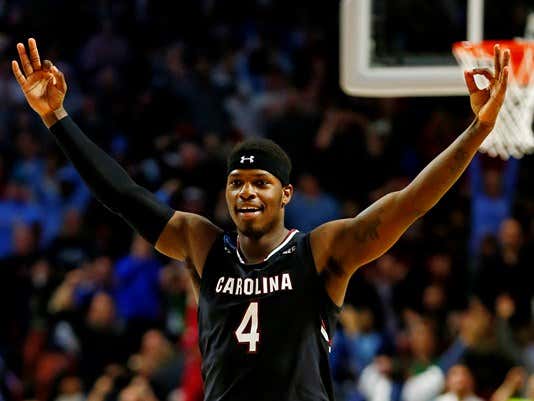 Basketball is starting to become a year round thing at all levels. We are seeing late recruits, transfers and changes to the game during the summer leading into preseason. My goal is to keep everyone updated with what's going on across the landscape of college hoops. Consider this a cheat sheet, because God knows we all used one at some point in college. If there's something specific you want to see or change in these notebooks, let me know on Twitter @barstoolreags. 
Mitchell Robinson's Saga Continues: 
This has been one of the more bizarre situations in college basketball in recent memory. Robinson was committed to Texas A&M then followed Rick Stansbury to Western Kentucky, showed up on campus, left, was suspended despite leaving and now is apparently deciding between Kansas and New Orleans. I really hope Goodman means like the Pelicans or visiting bourbon street because Robinson at New Orleans would be a waste. UNO is coming off arguably its best season and Robinson is from the greater New Orleans area, but going there would be a shame for college basketball fans that want to watch a top-15 guy play. At Kansas it would make sense. This is just something to keep an eye on as it all could be for nothing anyways as Robinson can still declare for the 2018 NBA Draft. If I were him and really didn't want to go to the G-League or overseas to make a little bit of money, I'd go to Kansas, practice against that talent and then declare. Going to UNO if you're going to declare doesn't really do much for him.
RJ Barrett Cuts List: 
With Bagley reclassifying to the class of 2017, Barrett is now the clear No. 1 player for class of 2018. He announced his final five  yesterday and none are a surprise with what's been said all along. Barrett is currently playing at Montverde Academy in Florida under Kevin Boyle, which has ties to almost all of the schools listed here. He notoriously destroyed Team USA at the 2019 U-19 World Championships earlier this summer and is a guy that can attack in a variety of ways on the offensive side of the ball.
South Carolina Suspends Guard: 
This is not ideal news for a team that loses its two best players. Rakym Felder was supposed to make a jump this year and be one of the better players for South Carolina after being a key reserve during the Final Four run last season. This suspension apparently stems from a bar fight which started with him spitting on a woman. For anyone who knows Frank Martin knows he doesn't deal with shit like that, so the suspension isn't surprising. Felder was charged with third degree assault and battery on July 13, which means he could face a 30-day prison sentence. Felder averaged over 5 points a game last year and was expected to compete for the starting point guard role with PJ Dozier leaving to play professionally.
Big 10 Reveals Conference Schedule with Early December Games: 
Perhaps the dumbest thing in basketball this year is the Big 10 playing its conference tournament a week before Selection Sunday because they want to play in Madison Square Garden. The B1G doesn't belong at MSG and I don't give a shit what they say about expanding its footprint to television markets. Certain conferences belong in certain cities and the B1G should only play its conference tournament in Indianapolis or Chicago. Just like the Big East belongs at MSG, the ACC belongs at Greensboro, the SEC belongs in Atlanta or Nashville, the Big 12 belongs in Kansas City and the Pac-12 belongs in Vegas or LA. So now the Big 10 announced its conference schedule yesterday and there are 14 games being played in the first week of December. There's then a month break before conference play starts back up. This is incredibly stupid. The only smart thing the conference did here was make sure each team plays a home and road game during this early December stretch. Regardless, conference play doesn't belong in early December and the Big 10 doesn't belong at MSG, let alone a week before Selection Sunday.