Florida Bro Ties Michael Phelps Record of 7 Gold Medals IN ONE WEEKEND At the 2017 World Championships
"Caeleb Dressel won his seventh gold medal of the world championships Sunday, putting the U.S. team ahead to stay with another dominating swim in the 4×100-meter medley relay.
Twenty-four hours after becoming the first swimmer to win three golds in one night at a major international meet, Dressel joined Phelps in another elite club: seven golds at the second-biggest meet after the Olympics.
Phelps was the first to do it at the 2007 worlds in Melbourne, Australia — a prelude to his unprecedented eight golds the following year at the Beijing Olympics.
The 20-year-old University of Florida student won three individual golds and was part of four winning relay teams."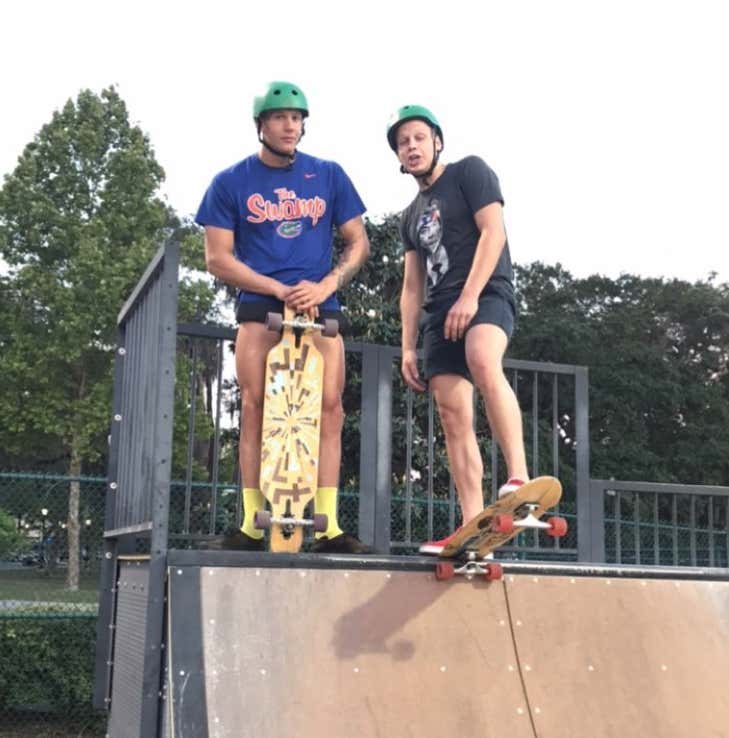 Tying the GOAT Olympian's record of 7 gold medals in one weekend is an INCREDIBLE feat of athleticism that is going to fly way under the radar. Of course it doesn't help that Dressel's big day happened on the same weekend as one of the biggest UFC cards in recent memory, Adrian Beltre's 3,000 career hit, and the start of training camp in the NFL, but seven 24 karat medallions in 72 hours shouldn't go unnoticed. Imagine if Russell Westbrook went out and broke Elgin Baylor's record for most points in a finals series or Andy Dalton (when, not if) goes out and throws for more yards than anyone in Super Bowl history. Stephen A. and Max Kellerman would spend two whole hours on Monday morning debating whether or not Dalton should be considered an elite quarterback or not. Instead, I'll bet you a dollar and a donut that the only shine Dressel gets is a quick 20 second shout out on Pardon the Interruption's big finish. I'm not gonna pretend to be some sort of men's swimming stans or anything, but just because aqua sports haven't really caught on in America outside of a two week span every half decade or so doesn't mean that Dressel's accomplishments in the pool are any less impressive.
Also how pissed do you think Ryan Lochte is right now? 'The next Michael Phelps' just got cucked by a literal child from his alma mater while being simultaneously dethroned as the best swimmer in Gators history. Not to mention Lochte was watching from his couch because he held out of the 2017 World Championships due to that little incident in Rio last year. Bet that hurts more than getting pistol whipped in the back of the head at a Brazilian gas station. JEAH JEAH JEAH!