My Expectations Are So Low For WWE's Battleground That It Can't Possibly Disappoint!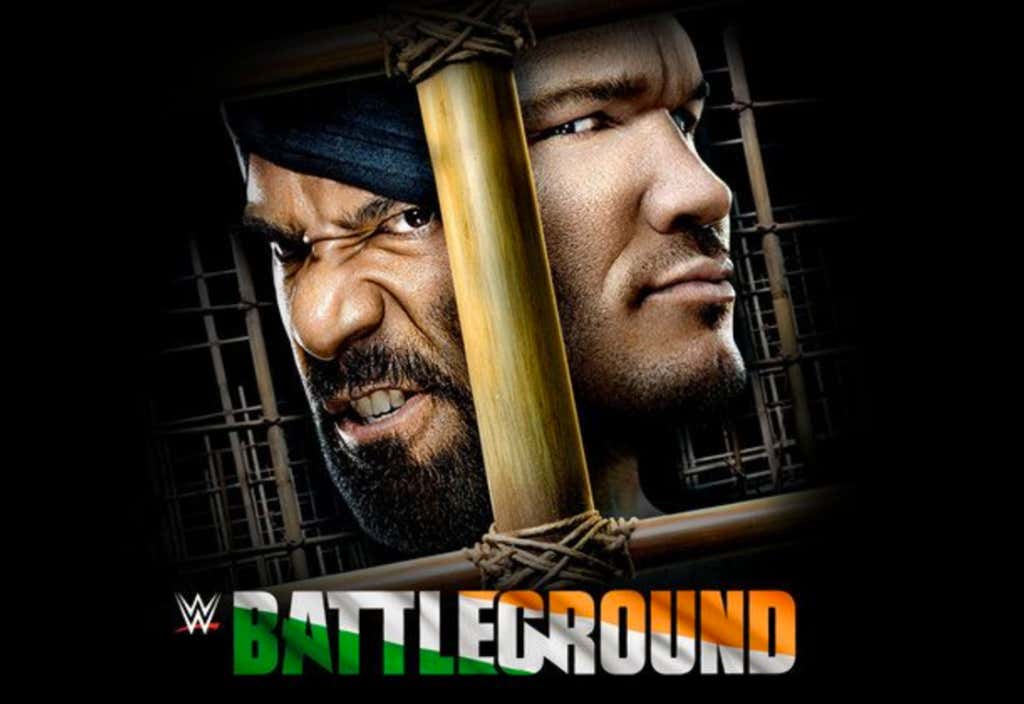 As we talked about on From The Top Rope this week, SmackDown's Battleground pay per view on Sunday may the least interested I've been in a pay per view since Survivor Series 2013. It's so genuinely horrible that there are still FRONT ROW tickets available and the show is in 2 days…in Philly. One of the most famous wrestling cities in the world. Decent tickets can be found for about $30 online. Oh, and it's headlined by one of the dumbest stipulations of all time: the Punjabi Prison match. Let's talk about it.
Jinder Mahal (c) w/ The Singh Brothers vs Randy Orton for the WWE Championship in a Punjabi Prison Match
Ah, the classic structure known as the Buddha's Playground. You know, the one named after India, where there are 1.3 billion people and only 28 million people are Punjab. You know, the one that The Undertaker and The Big Show competed in. You know, the one that makes it incredibly hard to see what the fuck is going on.
It's almost as bad as TNA's red birdcage matches:
I really don't give a shit about this match, just like I didn't last month or the month before, but I've convinced myself to just get excited for the Singh Brothers and the ridiculous bumps they'll take. I want Randy Orton to win so Jinder isn't going into Summerslam the WWE Champion, because Brooklyn will go off the rails and turn into the "WE ARE AWESOME" beach ball crowd they like to be. You saw what happened last year when Dean Ambrose was champ, and Jinder ain't no Ambrose.
John Cena vs Rusev in a Flag Match
Flag Matches are much like this feud: vaguely racist and should've been left in the 80s. I love John Cena, and he's phenomenal on the mic, but he couldn't have made me care any less about this one either. It's such a ridiculous stipulation that it makes him look dumb for suggesting it.
Cena: "I love my country."
Rusev: "I don't."
Cena: "WELL DEN HOW BOUT YOU PUT YOUR FUCKIN FLAG IN ONE CORNER AND I'LL PUT MINE IN THE OTHER CORNER AND WHOEVER GRABS THEIRS FIRST IS THE BEST COUNTRY!"
My fear is that John Cena will win this match, and Jinder Mahal will win the main event, and the 16x Champ's actual wrestling ability will be wasted on the two biggest shows of 2017.
AJ Styles (c) vs Kevin Owens for the United States Championship
From what Carrabis and I saw at MSG, this should be really fucking good, but it's hard to fully get excited when the match doesn't mean much and we know the winner going in. AJ Styles is NOT dropping the title he just won in a huge moment at a house show at the pay per view. He'll be established as champion for a while. I'd like to see him attempt the double champ thing Rollins did two years ago, too, defending both belts in separate matches. Commentary could even compare him to Conor McGregor if they wanted to get the clicks.
The Usos (c) vs The New Day for the SmackDown Tag Team Championships
My hope for this match is exactly the same as last month. I'd like to see The Usos win clean as a result of the New Day not taking them seriously and thinking they could just come into SmackDown and run the show, and then build to a serious high profile match at Summerslam. I've got no issue with the countout finish they used last time, and it was actually smart to keep the rivalry stretch out a bit, but now is the time to cement the Usos as legit threats and not just shitheels.
Shinsuke Nakamura vs Baron Corbin
I hope this is as good as it can be. Shinsuke and Baron are both obviously great workers, but something tells me Shinsuke is being told to work in a way that isn't beneficial to him. His body of work in NXT wasn't groundbreaking, but since becoming a member of the SmackDown roster, he's been working the most basic "take the heat, comeback, five moves of doom" matches ever. He should be a killer. This match should be a 6 minute hard hitting sprint like Lesnar vs Goldberg to a lesser level.
Other:
-SmackDown's women's division has a lot of misused talent. They've been focused on "ALL OF THESE LADIES HATE EACH OTHER" for too long now. In the beginning, when Nikki was feuding with Carmella and Alexa was feuding with Becky, it was great. Now it's a clusterfuck the champion Naomi isn't even apart of. She's not wrestling on this show. Tamina is the worst professional wrestler of all time too.
-Tye Dillenger is a guy who could probably benefit by being in the RAW midcard so he's not stuck on the SmackDown kickoff shows.
-Sami Zayn and Mike Kanellis could be really good! I actually have nothing bad to say about that. Hopefully Sami loses in a way that keeps him strong if they're gonna do that.
So yeah, this show is probably going to shit the bed, but is it really shitting the bed if the bed was already shat on when you laid down?