Does This Look Like the Face of a Man Who Was Arrested For Impersonating Chad Johnson Trying to Spend $18k In the Louis Vuitton Store?
"A 25-year-old man attempted to usurp the identity of a well-known former NFL receiver Friday in a bid to purchase more than $18,000 worth of merchandise from Louis Vuitton in downtown Aspen, police said in court documents.
Mervin Cabe of Miami told employees at the high-end luxury goods store that he was Chad Johnson — who is formerly known as Chad Ochocinco — in order to be able to make the purchase. Customers at Louis Vuitton must have a "profile ID" in order for their transactions to go through, according to an affidavit filed in Pitkin County District Court.
Cabe could not come up with the matching phone number to Chad Johnson's profile ID, though an employee did allow him to purchase $18,548 worth of items. Cabe initially tried to use a credit card that was twice declined to make the purchase, then pulled up an Apple Pay account on his cellphone, which worked, the affidavit states.
Cabe also told Aspen police officers he was Chad Johnson, though he gave them a date of birth different from the former football player's, the affidavit states. He also declined to show them the Apple Pay account and credit card number he used to purchase the items.
Police later checked a database and discovered Chad Johnson's identity and that he does live in Miami.
"More internet research showed that Chad Javon Johnson … is an ex-NFL player and known to shop for and wear Louis Vuitton merchandise," according to the affidavit."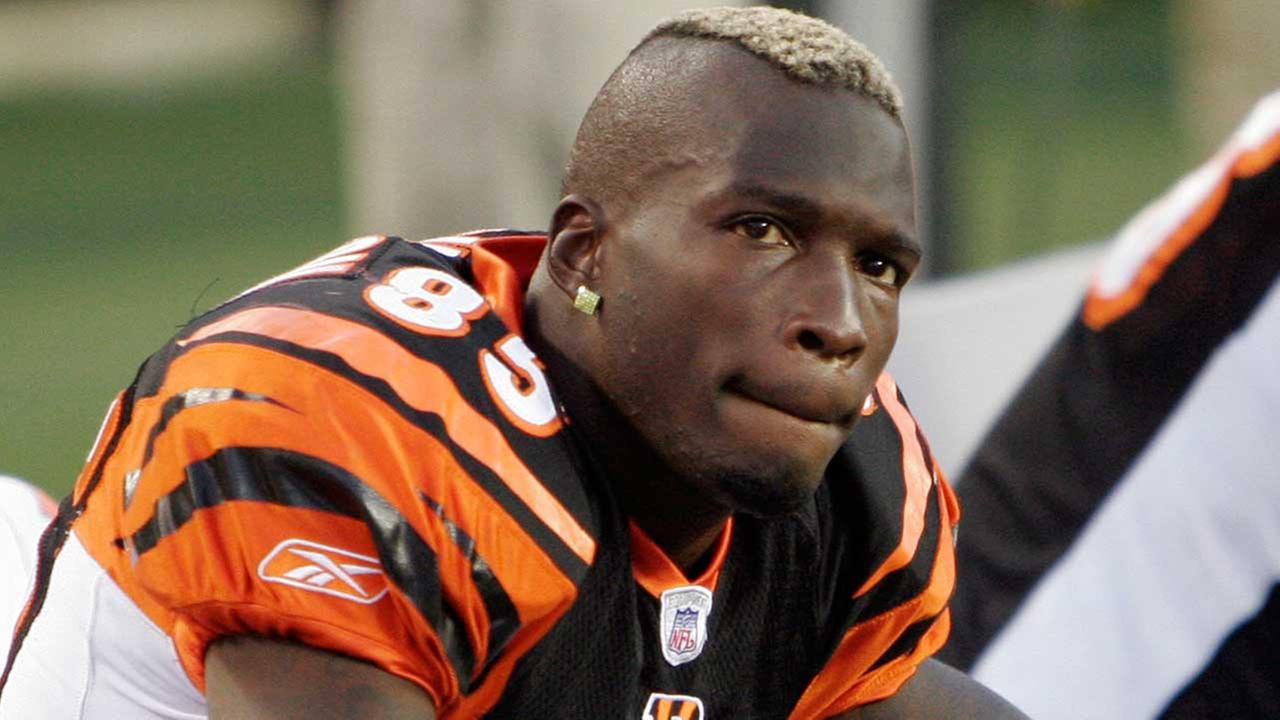 Chad Johnson
Not Chad Johnson
First rule of impersonating someone else is to make sure you pick someone famous enough to enjoy any perks that may come along with being not you, but not famous enough to where you're exposed as a fraud and locked up for identity theft and unauthorized use of a financial transaction advice. Everyone knows that. Back in college, I was frequently (more than once) asked by strangers if I played football, specifically when I was wearing any licensed school gear. Admittedly, the answer was more often than not, 'yes' depending on the type of situation I was in, but I knew that if I overplayed my hand and tried to act like some sort of Heisman finalist or future first round draft pick, the outcome may have resulted in me being tossed from a bar or receiving an ass kicking at worst. Mind you this was in a big city at a big school where not everyone knew each other.
At first thought, Denver actually seems like the perfect place to try to impersonate a former NFL star. It's always been my understanding that outside of the Broncos, Denverites don't really give a shit about sports, so it's conceivable that the wannabe fashionista working the counter at the Louis store wouldn't be able to identify a Cincinnati Bengals WR from the early 2000's. The problem there is Chad Johnson isn't your run of the mill receiver. Ocho sort of transcended football with the celebrations and the personality and the Dancing With the Stars appearances. In fact if you showed the average American citizen a picture of Johnson and asked them who this is, I bet more often than not you'd see Johnson identified correctly.
If you're going to impersonate an NFL player in Denver, your best bet is to act like a rookie or some fringe special teams player and pray the cashier is a Broncos mega fan who just hasn't started their fantasy research yet. Or if you're really that desperate for attention and free stuff, just throw on a pair of fatigues and hit IHOP on Veteran's Day like all those other losers out there.
JK don't do that.