Oklahoma State's Punter Launches The Greatest Heisman Campaign Of All Time
Meet Zach Sinor, your NEW front runner for the Heisman:
How does a punter, with an electric Fu Manchu, from Oklahoma State shoot up the Heisman rankings so quickly? The power of the internet:
You want interactive stats??? THIS website got em:
#H29smanSZN: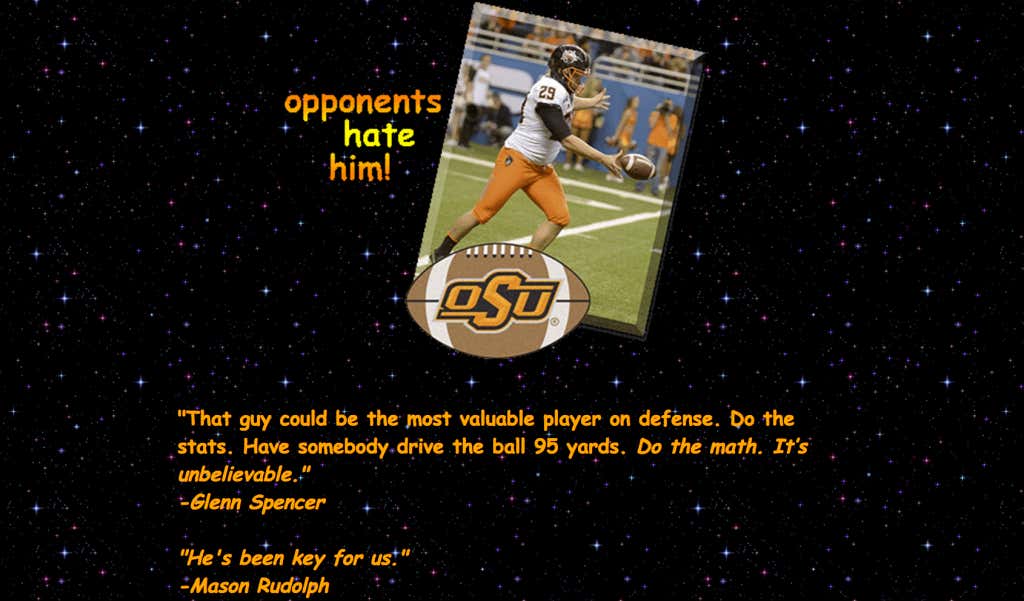 Don't know if it would be fair to say what my favorite part of this high-quality website is because of it's multiple stunning features, but the fake quote from Glen Spencer definitely would be up there:
Turns out Sinor is a dog lover and designed his retro website on his way down to Big 12 media days:
Pretty impressive that he designed that website all in a few hours considering the futuristic graphic design.
He even came with a pamphlet to pass out to reporters, solidifying himself as the #1 Heisman candidate at the moment:
It'll be great to look back on this day in a few months when Sinor is pinning the ball inside the 5-yard line on 60-yard punts. Everybody in the college football world will be asking, "where were you when Sinor started his campaign?"
Although, there is a chance that Sinor is the first "July Heisman." We've seen Septemeber Heismans like Kenny #Trill Hill and Denard Robinson, but I'd hate to see Sinor start off the new July Heisman trend.
There is one thing for sure and that's Zach Sinor is the most electric punter in the NCAA:
P.S. Really looking forward to the NCAA finding a way to make this a violation for Sinor and suspend him for 3 games.
-Intern Jack