Watch Trump Battle The Wind Trying To Return This Marine's Hat... Twice
These types of videos always get a lot of traction. For some dumb reason it's just interesting watching the leader of the free world do something normal and human like grabbing a guy's hat after the wind blows it away. And then the wind blowing it away again. And this all becomes infinitely more interesting when you add in the fact that it's Donald Trump. Because everything he does is hilarious. He can't miss — handshakes are hilarious, tweets are hilarious, speeches are hilarious. And of course even his walks to Marine One are hilarious.
As is tradition, let's breakdown the highlights.
The Clapping
When this video started I didn't know wtf was going on. Why is Trump walking away from the camera clapping like a maniac? What is he clapping for? What did I miss?
But no, looks like he's clapping for the Marines as he b-lines to pick up this poor fella's hat. Well done Donnie.
The Move
Big fan of this move in general from Trump. He could've easily had an aide grab and return the hat, but instead goes right ahead and does it himself. At least tries to do it himself, before failing and ultimately indeed having an aide return it. Still, most powerful dude in the world bending over over, grabbing the hat, and returning it is nice to see.
The Return
The actual return is where things get a little out of hand. What is this two-handed move? Looks like he's tidying up his 5-year-old for his first day of school not dressing a Marine.
And of course, the patent Trump tap…
…never fails. Whether it's a back tap or an underarm tap or a top-of-the-hand tap or a shoulder tap, Donnie delivers. Guy fucking LOVES the tap.
The Wind
The wind would not be denied. Not on this day. Look at the chaos it invokes, Trump basically bear hugs this Marine in this moment of panic.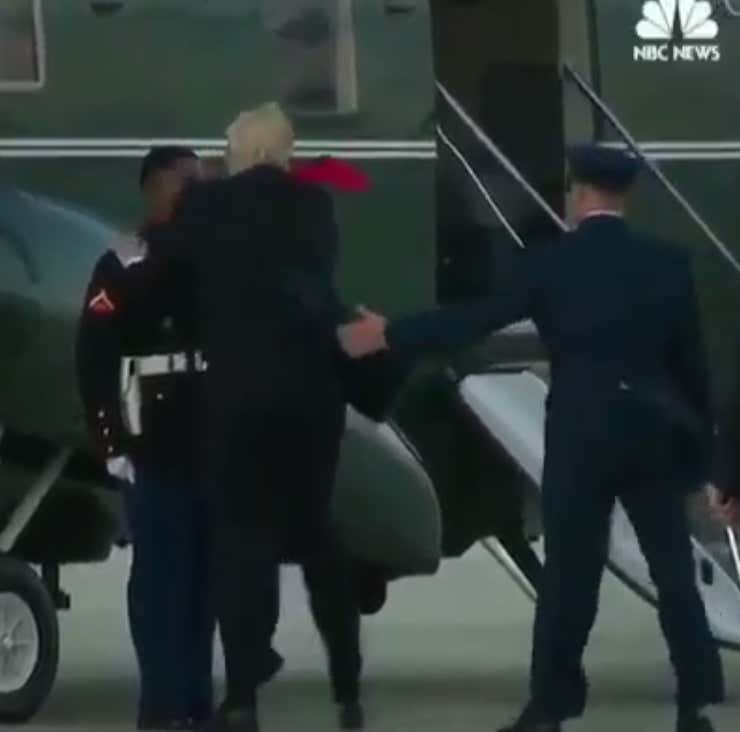 Tough moment. You try to do something nice, know the cameras are rolling, but the wind's not having it. Mother Nature quickly improves to 2,000,000,000 and 0.
The Second Attempt
Yeah we're gonna let somebody else try this time…
…and it turns out it's pretty windy out so actually we're just going to hand you the hat. Just put it in your hands so you can hold it because wearing it is not working. Hope that's cool.
The Exit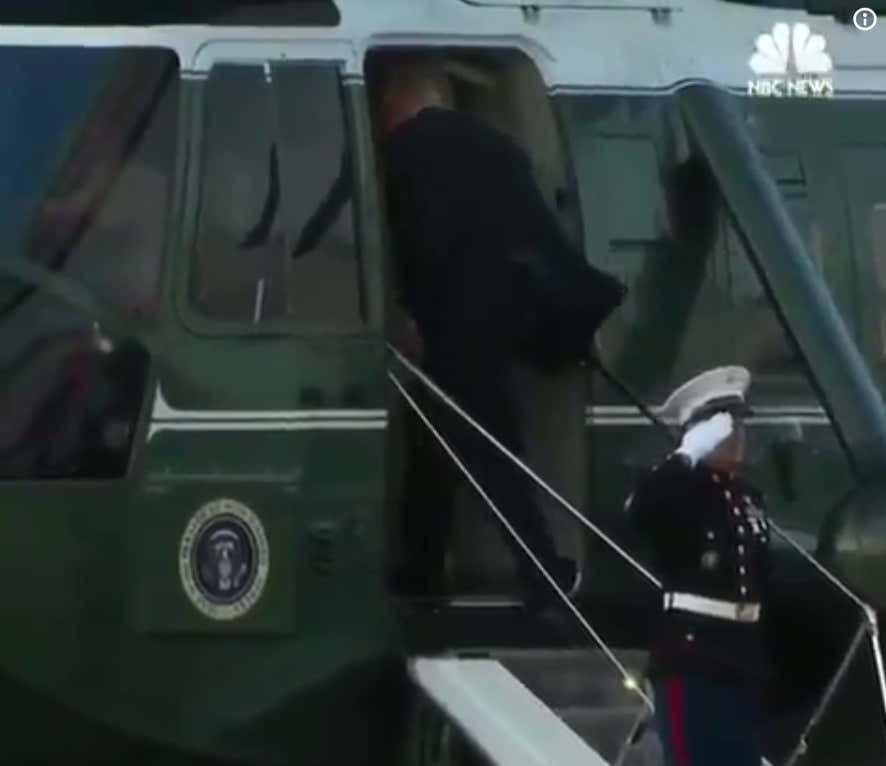 And just as mysteriously as he arrived clapping, he was gone. Fascinating stuff from Ratings Machine DJT, as always. Nothing this guy does is boring and he knows it.