The New Old White: 2017 Greenbrier Classic Preview
Hello friends. The Greenbrier Classic is a relatively new event on Tour with the feel of a century-old classic. This feeling comes from the course's history, as Greenbrier's Old White Course opened in 1914. As is tradition, we'll get to the track in a bit.
The event itself commenced in 2010, replacing the historic Buick Open. That year, Stuart Appleby shot just the fifth 59 in Tour history in the final round to win by one.
The Greenbrier Resort is an old, classic, luxury resort in West Virginia's Allegheny Mountains. It's been around since 1778. Our very own Pat McAfee and crew are getting a first-hand glimpse of the place this week.
It's very nice. Like I said, the 7-year-old event seems like it's been around forever.
Last year, record flooding caused the cancellation of the Greenbrier and for much of the course to be rebuilt. Tough to hold a Tour event in this:
Since, the entire back-nine and all eighteen greens have been rebuilt. She's ready.
Thanks to last year's layoff, 2015 winner Danny Lee comes in as the defending champ.
The Track
The Old White TPC is a 7,287-yard par 70. You go out in 34; come home in 36. Or, if you're Stuart Appleby, you go out in 28; come home in 31. Must be nice.
Built at the foothills of the nearby mountains, it's actually a pretty flat layout with the gorgeous backdrop of the mountains (big hills). Like so.
Although Appleby did win it at 22-under in 2010, and shot an extremely rare 59 in doing it, the course has held up in years since. In 2011, Scott Stallings won after getting into a playoff at just 10-under; in 2015, Danny Lee got into a playoff at 13-under en route to his victory.
The course was extended in 2013, and has very successfully stood the test of time. It boasts some GREAT architectural features, which the players almost unanimously love.
Notable Holes
1st, 449 yards, par 4
I love the first hole. It's got a beautiful look from the tee, and serves as a straightforward, challenging par 4 to kick things off. And it's got this look back up towards the clubhouse: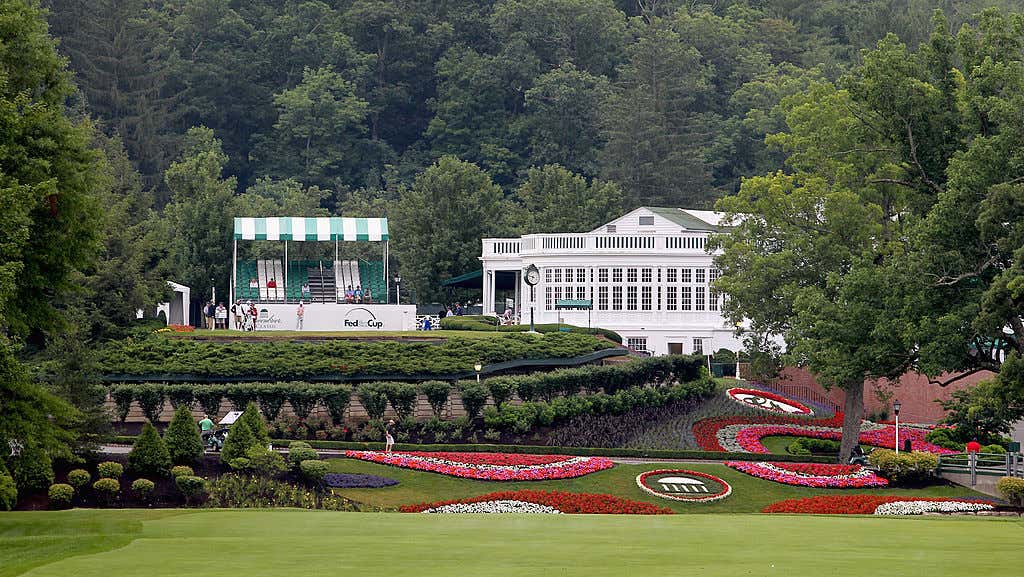 What's not to like?
3rd, 205 yards, par 3
I've always been fascinated by golf course architecture, but in the past few months that fascination has accelerated. Quickly. Probably because it's golf season and I'm in a new city, playing new courses, seeing new shit I've never seen before, but also could be because I stumbled across a few websites through which I've rabbit-holed away my weekends.
For golf course architectural fiends, the 3rd on the Old White is orgasmic. Here we have a Biarritz, a specific type of 3-par modeled after the famous 3rd hole of the former Biarritz Golf Club, France.
A Biarritz is a long (typically 200+) par-3, open at the green's front for running the ball up, with a huge swale cutting through the green's middle. It's designed to test a player's ability to hit long-irons straight.
I feature a lot of Zac Blair because he's a golf course architecture enthusiast who happens to be on Tour and walking incredible tracks on a daily basis. The Fried Egg guys, complete with the sketch below from Zac, do a phenomenal job of detailing the Biarritz here, if you want a good read.
We'll enjoy watching how tee shots react and how lag putts are managed on the 3rd all week. Incredible hole.
8th, 234 yards, par 3
Sticking with our obsession of golf course architecture, we hit the 8th. You can obviously tell Zac loves this hole, and for good reason. Even if you don't know the term, you're familiar with a Redan hole — Redan refers to the type of green complex that slopes away and downwards from the entrance point of the green. The overwhelming majority of greens in golf slope back-to-front, many with false fronts; the Redan is essentially the opposite.
Redans are historically difficult. The term comes from the Crimean War, when the British captured Russian-held forts, or "Redans." That term is now used to describe how this type of green complex defends holes.
18th, 175 yards, par 3
The Old White features the rare closing par-3 (the other notable case of this on Tour was East Lake, until its nines were swapped to promote more drama last year; it worked).
A very manageable yardage, those in contention should give themselves a good look for bird on 18.
The Clubhouse
Greenbrier Clubhouse grade = 1,000,000,000.
The Field
Phil's teeing it up for the first time since he split with longtime caddy Bones, and first time since he missed the U.S. Open for his daughter's high school graduation. Phil's always fascinating to watch; will be even more so this week.
Some other big names include Bubba Watson, Patrick Reed, Kevin Kisner, Tony Finau, Keegan Bradley (PG2.0).
Fore Play guys in the field: Willy Wilcox, Smylie Kaufman, Billy Hurley III, Ollie Schniederjans, Jim Herman. If you're in West Virginia, be sure to show these guys some love.
Predictions
Winning Score
Much of the course is brand new and, although it's dryer than last year (lol), there's been some rain. I think it'll play pretty friendly.
-16 = winning score.
Winner
For those of you paying attention, the People's Golfer 2.0 has righted the ship in the last few weeks. He finished T8 at the Travelers, then followed that up with a T5 at the difficult TPC Potomac last week.
Game's coming together nicely. Keegan wins at Greenbrier.
Steven Bowditch Memorial DFL Award
Steven Bowditch.
I love our buddy Bowdo as much as the next guy, but look at this stretch and tell me I could justify any other pick?
Pretty sick week at the CareerBuilder tho.
Dark Horse
Can't pass up Patrick Rodgers at 80-1. The kid's got superior talent and will breakthrough and win one day; might as well be this week.
Here are your betting odds.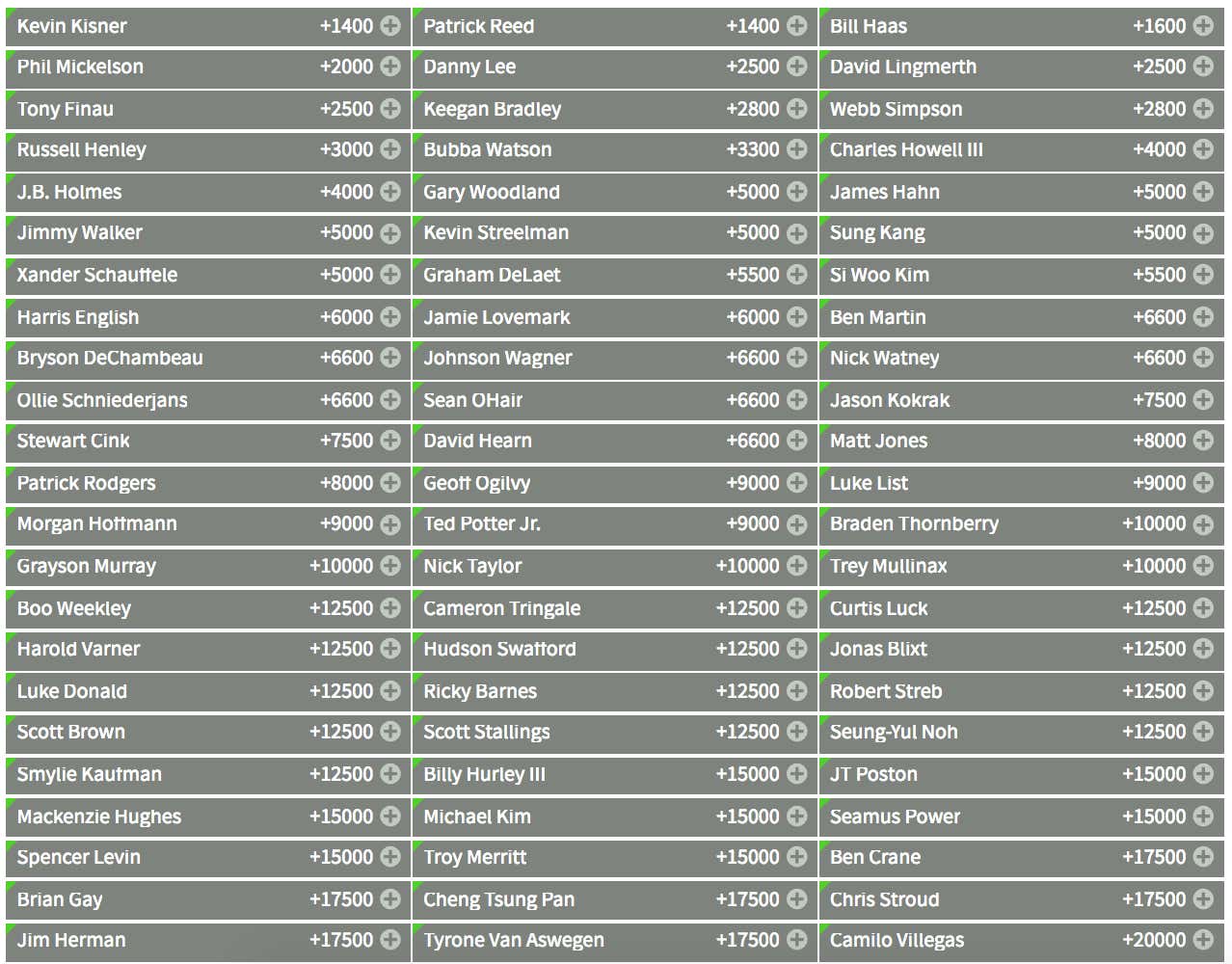 Coverage
Thursday & Friday: Golf Channel, 3-6 PM EST.
Saturday & Sunday: CBS, 3 PM EST til climax.
Final Thoughts
I am not kidding when I tell you this week's Fore Play with Danielle Kang is MUST LISTEN. She's an absolute animal who checked in with us from Vegas just 48 hours after winning her first major (and LPGA event). She talks about partying, how cool it is to be able to curse, tells some Dustin Johnson and Wayne Gretzky stories, and is just an all-around cool ass chick.
Easily my favorite lady golfer on the planet, now and forever.
Enjoy the Greenbrier. Big week for the resort and the event after a year of rebuilding.
PS — Also, in the morning's this week and weekend, you can catch the Irish Open. Hell of a field, with defending champ Rory McIlroy and these dudes: Hideki Matsuyama, Jon Rahm, Justin Rose, Thomas Pieters, Rafa Cabrera-Bello, Danny Willett, Tommy Fleetwood, Matthew Fitzpatrick.