The Orioles Play Over The Last Few Weeks Has Been.....Uhhhh....Not Great, Dylan Bundy Is Good, Ubaldo Jimenez Is Not, And Adam Jones Makes History
How is the Orioles last few weeks going? As the GIF says, "NOT GREAT, BOB." Since the O's choked away a 9-1 lead during that Friday night game against the Yankees on April 28th, they are 11-14, including 3-10 in their last 13 games.  You name it, the Orioles have lost a game that way in the last few weeks. Walkoff? April 28th against the Yankees. 1 run game? Oh, just about every other night. Lose a 5 run lead? Ubaldo contributed to that on Monday, after a 5-0 lead turned into a 14-7 loss at home against Minnesota. After their win on Saturday against the Blue Jays, the Orioles had the best home record in baseball at 15-3 at, they've now lost 4 straight in Baltimore. Nothing is going right for this club right now, Manny can't hit and won't run to first, if your name isn't Dylan Bundy, you can't pitch, the bullpen is pissing all over itself, Chris Davis just struck out looking again, it is not fun to watch this club right now. That will change, they won't play this shitty forever, but they do have a tough schedule coming up. 3 in Houston, and then 9 straight at home vs the Yankees, Red Sox, and Pirates. 25-20 and second in the East isn't the worst thing that could have come from the first 45 games of the season, especially with Gausman pitching like doodoo, no Zach Britton, and only 4 starts from Chris Tillman, lottttttta baseball left, but right now it is truly frustrating to watch the Orioles.
Chris Davis
This is the Chris Davis we have grown to know. He can go through a series going 0-15 with 10 Ks in a series, and then go on a tear and hit 5 homers in 5 games. Davis hit his team leading 10th homer yesterday in the 4-3 loss to Minnesota, that homer broke a 1-20 skid he was in, that skid included 11 Ks. But of course, right before that was a streak where he had 5 homers in 5 games. The homers seem to come in bunches, but so do the strikeouts. Including yesterday, he has struck out 66 times this year, including 32 times in 21 games in May. It's not just that Davis is striking out, it's that he goes down looking. Time after time Davis will get the backwards K while seemingly staring off into space as a ball passes right down the dick. If there are 2 strikes, he is looking fastball, and if it's not a fastball coming, he's out, it is unreal. According to baseballsavant.com  which I don't think was updated when I checked it, Davis had struck out 30 times LOOKING this season, 31 including yesterday. So Davis has gone down looking the same amount of times as Lorenzo Cain, Anthony Rendon, JJ Hardy have struck out this year, and he has K'd looking more times than AJ Pollock, Dee Gordon, Hanley Ramirez, Andrew Benintendi, Jackie Bradley Jr, Anthony Rizzo, Kevin Pillar, and Matt Wieters. He's well on pace for yet another 200 K season, this would be his third, plus a 199 strikeout season in 2013.
Honestly, what are you looking at?
The bottom line is that Davis is a go big or go home hitter. He's a free swinger who is insanely streaky. His average is a hair under .240 right now and he has an OBP of .348, so he's still managing to get on when he's not watching a perfect pitch go by. If he became a more consistent hitter who learned to take what the defense gives him, it would make this lineup that much more dangerous. When Is way take what the D gives him, that means he has to be okay with dropping down a bunt when there is literally no one on the third base side. I get it, they paid him to hit Eutaw Street, but sometimes when you are in a 1-20 slide, dropping down that bunt can get your bat going, gives you some confidence. It would be nice to see a better plate approach by the slugger, especially with guys on late in the game.
Dylan Bundy Is Very Good. Ubaldo Jimenez Is Not
Without a doubt, Bundy has been the story of the year for the Birds. For a guy who was basically a Rule-5 pick last year, he had to stay on the roster because he had no options left, to the unquestioned ace of the Orioles (not saying much). He pitched 109 2/3 innings last season, between the bullpen and starts later in the season, he came into this season knowing he would be a starter, and he hasn't looked bad. We didn't know how many innings he would be able to go this season, but it doesn't seem that they have any restrictions yet. Going over 6 IP in every start, with his lone non-quality start coming against the Tigers, that makes 9/10 starts for Dylan, quality starts.
After going 10-6 last season, he's 5-3 this year with an ERA of 2.92 and a WHIP of 1.14. He's not blowing people away with his 100 MPH fastball like he did in high school and made us all fall in love with him, but he's still getting the job done. He's throwing his cutter this season (heart eye emoji), and that has been such a good weapon for him. The Ks could be higher, only 46 in his 10 starts, but he's still holding batters to a .235 average this season. Bundy and early Wade Miley have been the only guys who have looked good this year in the rotation, just imagine where the Orioles would be if Dylan wasn't a stud. Scary.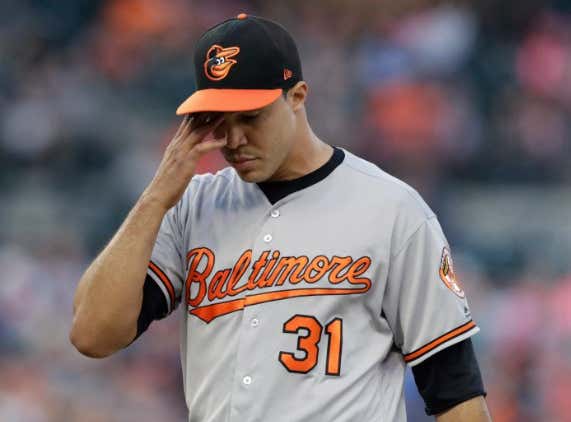 Ubaldo Jimenez is garbage. I bet I've written 38 blogs in my 3+ years at Barstool about how bad he is. Given a 5-0 lead the other night against the Twins, he coughs it up and he along with Tyler Wilson, hand the Twins a 14-7 win. Jimenez is in the last year of his deal, and there are rumors that he may not even make it to the end of the deal. Rumors are swirling that everyone in the organization are ready to cut ties with the pitcher who has an ERA over 7 this season. It's been this same song-and-dance for 4 years almost. One good start, followed by 48 shitty appearances. Buck will barely commit to another start for Jimenez, but I pray to the gods every day that I wake up to "Ubaldo Jimenez has been DFA'd".
Cut the ties with this clown, he is not a good pitcher. He won't be good as a starter, he won't be good as a reliever, he won't be good as a fast food worker next year. Cut him, give him the rest of his money, and let him go. And for those asking "WHO WILL REPLACE HIM???" Does it really matter? I could go out there and be as effective as Ubaldo. Stretch out Alec Asher and let him take Jimenez's spot. I am so god damn tired of the same Ubaldo start and quotes after. "I thought I had good stuff and they just hit it. I have to be better. I want to help the team." I'm done and finished with Ubaldo Jimenez. The Orioles are a better team without him on the roster.
Quick little shoutout to Cap10 America, Adam Jones, for becoming the All Time leader in home runs at Camden Yards. In it's 25th year of existence, Jones takes the reigns from Rafael Palmer, who had 124 at Camden Yards. This is no small feat for AJ, who played on some bad teams early in his career, but he kept his head down, played his game, and now has a record that most people thought he'd never get. Couldn't happen to a better guy, the heart and soul of this club. The top 10 list is below. (Psssst, Manny, this record will be yours if you want to stay here just a thought).
1. Adam Jones: 125
2. Rafael Palmeiro: 124
3. Chris Davis: 114
4. Brady Anderson: 96
5. Melvin Mora: 89
6. Cal Ripken Jr.: 85
7. Nick Markakis: 82
8. Miguel Tejada: 73
9. Chris Hoiles: 71
10. Jay Gibbons: 64
10. Manny Machado: 64
O's have a bumpy ride the next few series, let's look at their upcoming road trip. As you may remember, the Orioles had a disgusting series in Houston last year, striking out 52 times in 3 games. Chris Davis may try and break that record himself this weekend. It's fine though, not like the Astros have a guy with an ERA under 2, and one of the most underrated pitchers this season, in Lance McCullers.
Friday, May 26 @ Houston- Kevin Gausman (2-3 6.65) vs Joe Musgrove (3-4 5.63)
Saturday, May 27 @ Houston- Wade Miley (1-2 2.59) vs Dallas Keuchel (7-0 1.84)
Sunday, May 28 @ Houston- Ubaldo Watertrash Jimenez (who cares, his stats suck) vs Lance McCullers (5-1 2.43)
O's need a very good series to get back on track here, things could fall off the tracks for a little while if they let these next 3 series get out of hand.