Cody Garbrandt Pulling Out Of The UFC 213 Main Event Sent Chaos Into The Flyweight Division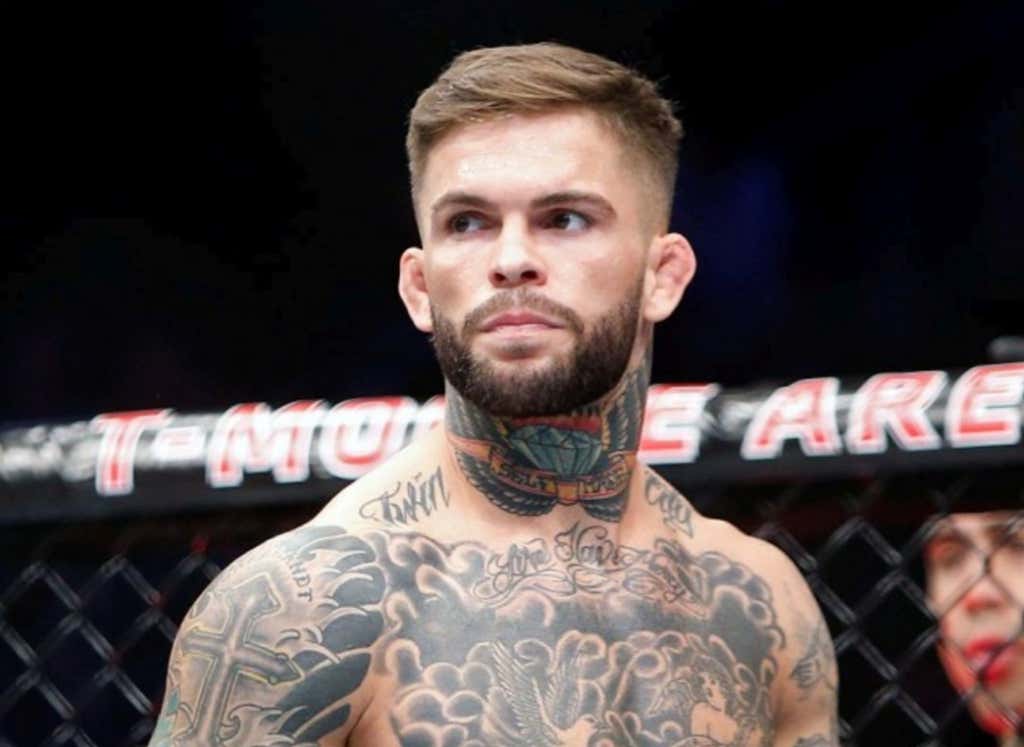 ESPN- UFC president Dana White told ESPN.com on Tuesday that a bantamweight title fight between Cody Garbrandt and TJ Dillashaw has been officially called off, due to a Garbrandt back injury.
According to White, Dillashaw (14-3) will be rebooked to a flyweight title fight against 10-time defending champion Demetrious Johnson in August. Johnson, though, said later Tuesday that he's not interested in such a fight.
Right before the UFC's big Summer Press Conference on May 12th, TJ Dillashaw started claiming that Cody Garbrandt wouldn't make the walk on July 8th. Garbrandt quickly fired off a few (now deleted) tweets about getting back surgery in Germany, and didn't really deny that the fight between TUF coaches was off. Now, it's confirmed, and for the third year in a row, the main event of the UFC's International Fight Week card has fallen apart.
Dillashaw is eager to compete for the gold, and has been since losing his own in January of 2016, so he started campaigning for a shot at Demetrious "Might Mouse" Johnson's championship down a weight class, at 125lbs. TJ first mentioned this thought last September, with the intention of defeating Mighty Mouse and proving that he's the pound for pound best in the world. Dana White and the matchmakers with the UFC love this plan, and want to headline the UFC's Seattle show with the massive title fight where Johnson will attempt to break Anderson Silva's record for most consecutive title defenses, but Mighty Mouse isn't too thrilled about it. He seems to think Ray Borg is the most deserving contender for his gold, and doesn't want Dillashaw "skipping the line".
I'm a huge Mighty Mouse guy, as I've written in multiple blogs about him recently, but I reeeeaaaally don't like this move. While Ray Borg may be a more deserving contender for the FLYWEIGHT Championship, fans would much rather see the TJ Dillashaw fight, especially being that it's to break a historic record. The added drama of having a former champion in Johnson's way is much more exciting than Ray friggin' Borg (no offense Ray, I do like you). Plus, when you said this last month:
"I've never turned any fight down for coming into my weight class and challenging for my belt. I've never done it and it's not going to stop now and it's never going to happen. If Jose Aldo says I can lose 25 pounds, I'm going to fight you, I'm like 'sweet, perfect, let's go down to that weight class and make it happen.' Like I said, a lot of people have said it before."
You can't start picking and choosing who the UFC matchmakes you with. That's an all or nothing quote, not an "eh but this guy has more tenure in my weight class so maybe he deserves it more" quote. When we factor in Ray Borg's response, where he basically said he's like a title shot but he's cool with not getting one, Mighty Mouse certainly looks like he's trying to duck Dillashaw.
I hope they work this out, because Johnson vs Dillashaw could be the fight of the year. It's the fight I want to see most, I know that.
P.S. Today is the three year anniversary of TJ Dillashaw beating Renan Barao to win the UFC Bantamweight Championship. I remember thinking at the time, "Wow. That was the best performance I've ever seen in the octagon." and three years later it's hard to dispute. Flawless on every level.