This Tinder Girl's Wearing Camo With A Huge Gun And It's Still Not The Most Aggressive Part Of Her Profile
Well then. That's the kind of girl…you're not fucking her. No sir. You are getting fucked by her, possibly in the back of a pickup truck, maybe after a few ice cold brews. The scent of dead animal carcass wafts through the cab of the truck as she grabs your arm a little harder than you'd expect but you don't want to act like a bitch about it. She's on top and grinds away at your dick like an old Intellivision joystick, using you like a human Sybian without any regard to the kind of movement you're into. A guttural noise creeps out as she finishes and immediately climbs off, no interest in your climax or lack thereof. You knew what you were getting into. You knew.
AND HEY IT'S ANOTHER WEEK OF THE TINDER ROUNDUP. And that means it's time for you to catch up with the internet's most beloved livestreamed dating show, Swipe Drunk Love:
You can listen on Soundcloud too. This week we talked deal breakers and had Alyssa's dad, 710 WOR Mets broadcasting legend Howie Rose, to talk about his experiences and how he thinks Alyssa's doing in the dating world. It was real shit and very fun to talk to him, check it out.
And of course make sure to follow me on Twitter and Instagram to DM in your screenshots (follow me on Snapchat too if you want to tag along with me in Orlando for WrestleMania). Without further adieu, the blog:
(via RB)
Follow the Swipe Drunk Love Instagram for more bonus Tinder blog content every single day.
If Jessie is real I say we have a Hunger Games fight to the death for her (via ML)
These are very conflicting messages ma'am (via JSH)
LOST references have not aged well. (via C)
Hope you didn't want to enjoy sleep tonight (via M)
I hate these "send me $5″ girls but she seems legit. Don't send her $5 though (via DCW)
Sri Lankan and Chinese is a potent mix, who knew? (via OT)
Harvard
(via BK)
Hot Star Wars nerd seems like a fast track to getting catfished out of your kidney but that's me (via TW)
It definitely would not be hilarious to invite her to fuck then dump a bucket of pig's blood on her head (via CF)
This may be the first unenthusiastic cheerleader on Bumble but it still counts (via JG)
A Bengals cheerleader not knowing she's supposed to be on Bumble, totally makes sense (via Z)
Cocky 18-year-old titties are always titties I would like to meet (via JW)
This week's reminder that a trans girl will really fuck with your perceptions of predictability (via EM)
Boulder girls, few in number but when you find one (via MJW)
Apparently this is WVU QB Will Grier's sister in case you're a fan of a rival school and looking to steal some head space (via BOG)
Your competition for the week fancies himself as a real lothario. He is wrong. (via B)
Okay but for the sake of you finding love there's no reason you can't get both in one photo. That's just better marketing (via RZ)
Real kick to Trent's dick here (via SF)
And onto the hot and NSFWish ones…
An officially approved social media follow of the week for ya (via TH)
(via CC)
Many people are saying chokers and a #SpagsPromise are the look of the Spring (via ZD)
I assume every girl named Kendall looks like Kendall Jenner (via T)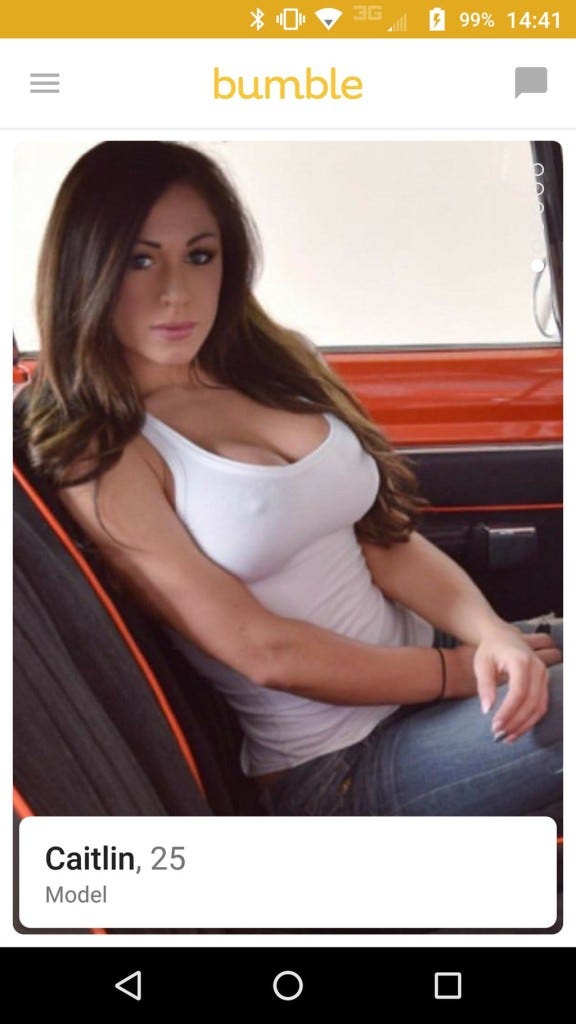 Don't need to see a full portfolio to know this #SpagsPromise is good at modeling (would still like to see a full portfolio) (via JDB)
That does seem pretty hospitable (via R)
This bio is approximately a billion times better because she's hot (via JD)
No way she bowls over a 130 (via DD)
Is there a reason all the bikini barista girls I see online seem hotter than strippers? (via AB)
Hell of a photo angle where you can practically sniff her taint (via MO)
#SpagsPromises come in peace (via ECS)
A 40-plus CEO #SpagsPromise
(via OHB)
No clue what she's talking about with that bio but the #SpagsPromise renders it moot (via TZ)
Is this an areaola? I'm confused, still posting tho (via BC)
Smh Wellesley women using men for their bodies (via LG)
Sometimes you can just tell who's here to promote their social media handles (via MA)
Posting every single 18-year-old with nipple piercings is the #SpagsPromise within a #SpagsPromise (via ZS)
And there we have it, another week in the books. Follow me on Twitter and Instagram to send in your scereenshots, thanks to the folks who sent things in, and happy swiping!