The Wag: Kyle Wilson Tournament Of Misery, Sweet 16 Update
A week ago we announced the first annual Kyle Wilson Tournament of Misery (#TheWag). After receiving 630 bracket predictions and your first two rounds of Twitter voting, here is where we stand:
"Just End The Season" – "They All Caused Pain" – "Fitz Shitz" (strong name work) are all tied for first place with their picks but this is still anybody's game with "Eff Fitz" – "We Suck" – and "Looks Like Tarzan" all closely behind among others. A reminder that the winner will receive two tickets to the opening home game at MetLife.
Sweet (Sad) Sixteen Match-Ups
D/ST Region
Kyle Wilson vs. Dee Milliner: Battle of first round CB busts. The Injury vs. The Wag.
Dewayne Robertson vs. Vernon Gholston: Battle of top ten picks drafted to sack the QB, who could not sack the QB.
QB Region 
Ryan Fitzpatrick vs. Browning Nagle: New Pain vs. Old Pain.
Tim Tebow vs. Geno Smith: This is feeling like another L for Geno.
Offense Region
Stephen Hill vs. Justin McCariens: So many drops in one match-up.
Blair Thomas vs. Kyle Brady: Penn State Bust Showdown!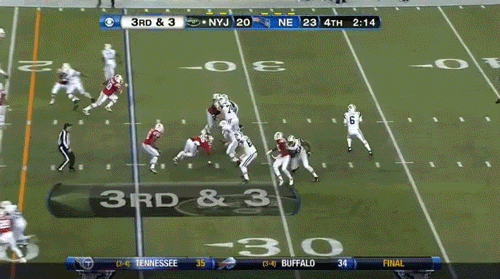 Coach Region
Rich Kotite vs. Brian Schottenheimer: Schotty has no shot.
Mike Tannenbaum vs. John Idzik: Showdown of 2 of the past 3 GMs. Can't believe Idzik beat Terry Bradway.
Voting will take place right here Tuesday through Friday so we can crown a champion of misery. We also broke down the misery in our latest podcast on KFC Radio below: