USA World Juniors Team Defeats Communism Once And For All, Beat Russia 3-2
Game Time: 3:30 pm ET
Puck Line: USA -1.5
Over/Under: 5.5
Prediction:
Well here we are. The first two games of the tournament were a warm up for this. A nice layup to start the World Juniors against Latvia. And then some more batting practice last night with a 5-2 win over Slovakia (really 5-1 but I guess garbage time goals still count). But now the Group B Gauntlet of Death finally starts. USA vs Russia today and then Canada on New Years Eve. But for right now, our sole focus is on those commie bastards from Mother Russia.
The Russians already lost to Canada 5-3 on the opening day of the tournament. I think USA pulls out of this one with the win but it'll be a close one that comes down to the wire. Think 4-3 or something like that. Expect another huge game out of the Clayton Keller, Colin White and Tage Thompson line today. Here's a friendly reminder of what they were up to yesterday.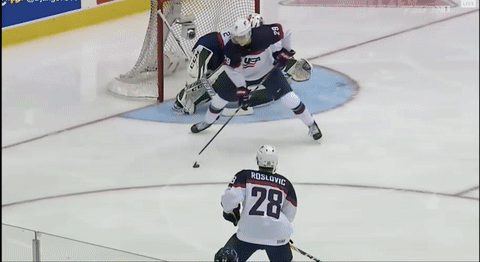 Other than that, I think Jeremy Bracco is going to come up big at some point in this game. Kid seems like he fucks heavy with the clutch gene.
Make sure to follow along on Twitter @BarstoolJordie for live updates/videos/GIFs. And check back in on the blog for updates during each intermission. Let's fucking rock. USA! USA! USA!
1st Period Updates: USA, 1 – Russia, 1
Russia came out of the gate with a little jump and Flyers' prospect German Rubstov almost scored the fuckiest goal of the tournament with this bank off the back wall.
Luckily the bank is still observing the holidays and not open today. Anyway, USA found their game for a while and were dominating the Russians all over the ice. All 3 zones, just fucking shit up left and right. And who else but Clayton Keller to give the boys in blue their first lead of the game?
Just look at that patience right there.
If the way the Arizona Coyotes have been handling Dylan Strome is any indication, then Clayton Keller's patience is really gonna help him out when they refuse to call him up for another two seasons.
Anyway, USA was still defeating communism one shift at a time until those Russian bastards cashed in on a shorthanded 2-on-1.
Lucky break but the Russians finally woke up after this one. Still think the Americans come away with the decision that period, but that's a kick in the dick for sure.
2nd Period Updates: USA, 3 – Russia, 2
Just like Clayton Keller, Colin White has been going beast mode this whole tournament so far. He had 2 goals in 2 games heading into today. So why not keep the streak going on the powerplay with his 3rd in 3?
Not the prettiest goal the kid will ever score. But goal scorers always find a way to end up in the right place at the right time.
Then after the Americans killed off the Russians' first powerplay of the game, they came right back and answered with this Troy Terry deflection from Erik Foley.
Then Jeremy Bracco nearly put the Americans up 4-1. But Ilya Samsonov decided to fuck around and break out the Save of the Tournament instead.
So instead of a 4-1 lead, the Russians got another powerplay and captain Kirill Kaprizov cut the lead to 3-2 with this deflection.
Heading into the 3rd period with a 1-goal lead. Like I said before the game, this one is going to come down to the wire. 20 minutes left to kill communism once and for all. Let's get it, boys.
Final Update: USA, 3 – Russia, 2
Nothing like having to protect a 1-goal lead in the 3rd period. My butt was fully clenched for the entire 20 minutes. Especially during moments like this chance for Flyers' prospect Mikhail Vorobyov.
Erik Foley decided to remind Putin who his daddy is. And it's Uncle Sam, bitch. From America with love.
Pretty sure that guy is actually dead now. RIP.
Then the United States was knocking on the door step and as is tradition within Russian culture, they decided to cheat by knocking the net off on purpose.
Uhhhhhh hey, idiots. You can't do that. So USA was awarded a penalty shot up 3-2 with just under 2 minutes left to play. Up to Tage Thompson here to insure the win and….
No dice. But thanks to Tyler Parsons and this huge save late in the game…
It's sweet sweet victory.
3-2 Democracy. Suck it, Russia. Suck it long and suck it hard. 3-0 heading into Canada on New Years Eve. No matter what, Team USA hooks it up with an easier route to the Gold Medal game. They'll either come out with the 1 or 2 seed in Group B. Group A is super fucky this year and aside from Sweden, nobody looks threatening. So now we're on to Canada. It's about to be a bloodbath.
Thanks for following along. Make sure to throw that follow on Twitter @BarstoolJordie. It will only be the 3rd or 4th worst decision you've ever made.