Ben McAdoo Used The Viral Videos Of The Man Punching A Kangaroo And The Lion Mauling Its Tamer To Motivate The Giants For The Cowboys Game
NY Post- In the days leading up to the biggest game the Giants have played at home since the 2011 playoffs, against the 11-1 Cowboys on Sunday night at an electric MetLife Stadium, coach Ben McAdoo showed his team a video of a peaceful lion before its cage was rattled and it reminded everyone why it is the king of beasts. "We have to stay hungry. We have to be hungry, and it's time to … it's time to eat," McAdoo told The Post. "We had one with a man and a kangaroo. It's a video on the internet that's gone viral. The kangaroo had his dog in a headlock, and he bopped the kangaroo in the nose. It was a fist fight between the kangaroo and the man."
"I think this guy was a hunter or something," Brad Wing told The Post, "and the kangaroo had the guy's dog in a headlock. I guess the kangaroo and the dog were fighting, and he was trying to protect his dog, so he went over and kind of separated the two and then punched him in the face." What was the point of it? "Just to not be scared, I think that's what he was going for with that one," Wing said. "Just to rise to the opportunity and just kind of react, just play without thinking too much."
"Everybody has a plan about what they're gonna do and how they're gonna do it until they get punched in the face," Victor Cruz told said. "And I think that's what Coach is trying to instill in us, that we need to come out firing, and see how they respond." And the lion? "He lays there, he lets his kids play with him, he lets the wife bite at him, eventually the animals in the jungle see that and they think that he's … soft," Jay Bromley said. "They think that they can kind of do whatever they want to him. Until the animals started coming closer, and then the lion has to kind of eat somebody, because he has to let them [know] that it ain't all fun and games."
You do not have to be atop the NFC East to consider yourself the king of beasts. "I think the lion was to indicate how the lion seems to just chill and be passive in his own state until he's provoked and until it's time to do what a lion does," Cruz said. "And we have to be that way and feel that way this upcoming game."
Benjamin Lee McAdoo, you've done it again you brilliant son of a bitch! While other NFL coaches are worried about stopping Zeke and the best offensive line in years, Benny Mac is going to the next level. McAdoo strikes me as the type of coach that has the Barstool app and is subscribed to notifications for every blogger, just waiting for that next viral video that will inspire grown men making millions to play a kid's game. He also probably has 5,000+ unread emails and text messages but those things "don't bother him". Getting rid of those ugly red notification badges is like worrying about fixing a bad offense with good players instead of motivating the team. It worked Week 1 when McAdoo played Copernicus to deal Dallas their only loss of the season and it will work tonight when Mad Scientist McAdoo deals them their second loss of the season. Again, next level coaching.
Al Pacino told us in Any Given Sunday that football is a game won by the guy willing to claw with their fingernails for that inch. And if you aren't willing to go that extra inch for a coach that plays Game of Thrones, Step Brothers, or the latest viral video, the door is right behind you. Big Blue needs 53 men willing to die for that coach, even if they clearly are not sure exactly why the coach played those videos. I just hope Benny Mac has the video of the guy fucking the McChicken in his back pocket for motivation before the Super Bowl.
And now your Moment of Ben.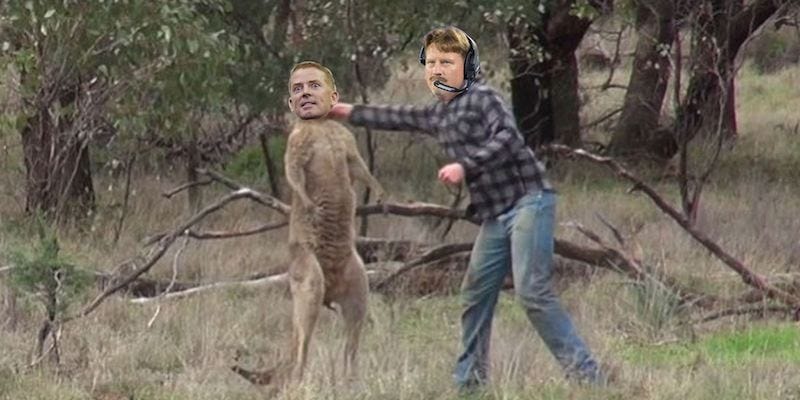 P.S. It would be amazing if McAdoo mistakenly played the Highlight Without Rights video of the kangaroo fight instead of the actual kangaroo fight. There is something beautiful about the way PFT drops "cunt" in an Aussie accent.