College Football Playoff Picture
By now we all know about Louisville's debacle Thursday night, which eliminated the Cardinals from being in any contention of the college football playoff. Yeah, I was very wrong about them. I thought they'd get up for the game that could've put them into the playoff. I thought the Heisman winner would completely dominate a team that let up 38 points to SMU. It didn't play out that way, and it's probably for the better. If this was secretly the team Louisville was, then thank God they didn't sneak in over a more deserving team, plain and simple. Quick shout out to Tom Herman and the outstanding job he's done at Houston. The dude is 22-3 since taking over as head coach and whatever big name school (cough* cough* Texas) lures him away will be getting an absolute wizard.
Anyways this is going to be an awesome finish to the college football season. There are truly so many different ways this could end up finishing. Let's look at where everyone stands…(Numbers next to each team represent their CURRENT seed in the rankings)
1. Bama 11-0 
Week 12: W 31-3 vs. Chattanooga
Upcoming: 11/26 Iron Bowl (-18) vs. Auburn
Alabama came out flat versus Chattanooga and actually trailed 3-0 after the first quarter. Saban was NOT HAPPY.
Outlook: They picked it up promptly in the second half after Saint Nick probably threatened pulling their scholarships. No need to worry about Bama as should handle Auburn no problem on Saturday and then meet Florida in SEC Championship Game where they will be a massive favorite.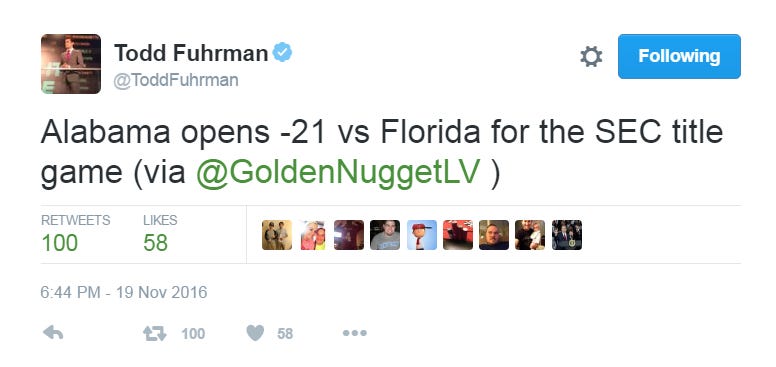 2. Ohio State 10-1
Week 12: W 17-16 @ Michigan State
Upcoming: 11/26 (-6.5) vs. Michigan
Despite being a 20 point favorite you just knew this game was going to be ugly and close. But I mean, not this close! With nothing to lose Mark Dantonio went for the lead with four minutes remaining. I don't hate the move at all, but Tyler O'Connor throwing directly to OSU's Malik Hooker wasn't the best decision.
It was an eye-opening performance to say the least. J.T. Barrett did run for 105 yards on the ground, but going 10-22 for 86 yards is simply not going to cut it this weekend. Ohio State has to be at their absolute best on Saturday in what is basically the unofficial college football quarterfinal versus Michigan.
3. Michigan 10-1
Week 12: W 20-10 vs. Indiana
Upcoming: 11/26 (+6.5) vs. Ohio State
Well, things did not look good for the Wolverines at halftime Saturday. John O'Korn looked uncomfortable in the pocket and the results were not pretty. The biggest play on Saturday came with five minutes remaining in the 3rd quarter when O'Korn took off running down the sideline on a 3rd and 8 on the Michigan 36. That set up a De'Veon Smith 34 yard rushing touchdown to give the Wolverines the lead for good. Michigan's defense prevailed and they lived to fight another day despite the blizzard that ensued in the 4th quarter.

Outlook: The Michigan faithful better hope Wilton Speight is ready to go Saturday. O'Korn clearly isn't going to cut, or at least if he plays like that (7-16 59 yards). The dude didn't complete a pass that was 10 or more yards down the field! Harbaugh said he won't rule out Speight for this weekend and they will see if he can practice early in the week. You can take that one of two ways: 1) Speight truly has a chance to play this weekend 2) Harbaugh won't reveal his hand to Urban Meyer, forcing him to prepare for two quarterbacks. Either way O'Korn needs to get a whole lot better in a very short period of time. Winner moves on Saturday, loser goes home.
4. Clemson 10-1
Week 12: W 35-13 @ Wake Forest
Upcoming: 11/26 (-23.5) vs. South Carolina
Clemson looked great this weekend against a far inferior opponent. Wake gave Louisville a bit of trouble a few weeks ago, but Clemson was well prepared for anything the Demon Deacons threw at them. That wraps up ACC play for Clemson and now they await most likely Virginia Tech in the ACC Championship Game.
Outlook: The path is simple; win out and they are in. What seed they will be is a good question, but that of course relies on what teams get in. It's been a dicey year for the Tigers, but we should expect to see them on New Year's Eve.
6. Washington 10-1
Week 12: W 44-18 vs. Arizona St.
Upcoming: 11/25 (-5.5) @ Washington St.
The Huskies closed out their home schedule with a thumping of the Sun Devils. It's something they needed after their hiccup against USC the week prior. What's a little concerning is that Jake Browning still didn't look totally comfortable (27-44 338 yards 2TDs 2INTs) against a below average Arizona State defense. You would've liked to see the star gunslinger have a better game to tuneup for this week's humongous match-up. The Huskies visit Clarence D. Martin Stadium on Friday for an early afternoon clash with rival Washington State. The Cougars come off a disappointing hard fought loss to Colorado, but you can bet they want to end their rival's season in front of their home fans and punch a ticket to the PAC 12 Championship Game. When we're all laying on our couch Friday motionless, recovering from our food comas thankfully we'll have this PAC-12 battle on our TVs.
Outlook: Things looked bleak a few weeks ago after losing to USC, but if the Huskies take care of business this week they'll head to the PAC 12 Championship Game. Awaiting the Huskies will either be Colorado or a rematch against USC. If Washington wins out they will have a great case for the committee to be the fourth and final team for the playoff.
7. Wisconsin 9-2
Week 12: W 49-20 @ Purdue
Upcoming: 11/26 (-14) vs. Minnesota
The Badgers dominated on both sides of the football Saturday, but there appears to be a little confusion as to who is going to be the signal-caller moving forward. Bart Houston replaced Alex Hornibrook after only a few unsuccessful series to begin the game. With Houston at the helm, Wisconsin scored five second quarter touchdowns. Now, Houston didn't throw five touchdowns so let's not get ahead of ourselves, but he surely helped open up the running game and moved the ball better as a result. It'll be interesting going forward who Paul Chryst leans on as we get down to the final games of the season.
Outlook: Wisconsin has a similar fate to Penn State. If they win the Big Ten title game will it be enough to get them into the final four. It may come down to who Wisconsin faces in the game. If it's Michigan and the Badgers come out on top, it should be enough for the committee. If Penn State awaits, despite being a top-10 team, I'm not so sure the same fate applies. A two-loss Big Ten champion versus a one-loss Oklahoma Big 12 Champion or a one-loss Washington PAC 12 Champion is a great debate to have. I think it comes down to their opponent in the title game.
8. Penn State 9-2
Week 12: W 39-0 @ Rutgers
Upcoming: 11/26 (-12) vs. Michigan State
Penn State did what every good Big Ten team has down to Rutgers this year, shut them out. They ran the ball down the Scarlet Knights' throats to the tune of 339 yards compared to just 39 for Rutgers. That's going to be the recipe if this team is going to win the Big Ten. Smash mouth football led by future NFL tailback Saquon Barkley. It's tough to give a team too much credit for handling Rutgers, but they need to be just as ready to go this week against the Spartans.
Outlook: You have to wonder if Michigan State threw their best punch at Ohio State this past weekend. Will they have anything left for this coming Saturday against the Nittany Lions? Well, that may not even matter depending on the Michigan-Ohio State result right before their kickoff. If Michigan wins they will win the East Division and move on to the title game, if Ohio State wins then the door swings wide open for Penn State. Now, even with a Big Ten title under their belt it still begs the same question if that will be enough. Now, you all know how I feel about Penn State being in the final four, but in the end they have a legit shot to get there now. If things break their way in terms of the conference title, Nittany Lions fans should be huge Washington State fans on Saturday. If Washington is out of the picture things become much clearer for Penn State to actually make it. They will also be huge fans of Oklahoma State Saturday night, because with Oklahoma out I mean there's not even a debate that the Big Ten Champ will get in.
9. Oklahoma 9-2
Week 12: W 56-28 @ West Virginia
Upcoming: 12/3 vs. Oklahoma State (BEDLAM)
Maybe the biggest result of this past weekend was Oklahoma's romp of the Mountaineers. The Sooners ran the ball at will versus West Virginia thanks to their dynamic duo of Samaje Perine (160 yards 2TDs) and Joe Mixon (147 yards 1TD). Baker Mayfield totaled four touchdowns and the defense forced four turnovers. A game that was supposed to be back and forth fight was over after the first quarter.
Outlook: This sets up BEDLAM. Oklahoma State visits Oklahoma in two weeks for the Big 12 Championship. Two teams playing extremely good football in a winner take all game. What more can you ask for? If Oklahoma wins it could very well mean a spot in the final four depending how things turn out for the other teams I already listed.
So What Have We Learned?
WE NEED AN EIGHT TEAM PLAYOFF. These eight teams I listed above should all have a chance to compete for the championship in December. What is the downfall? More money for the NCAA? Oh no! They would never…