Kristaps Porzingis Had Himself A NIGHT Vs. The Pistons
Yes our Latvian prince set a new career high in points against the Pistons. But in the immortal words of Benjamin Lee McAdoo, stats are for losers. And last night's performance by Kristaps Porzingis was about so much more than stats. He had The Garden making that sound that only The Garden can make.
First of all he killed a guy. That was pretty cool (once Knicks fans realized Porzingis' leg didn't snap in half). RIP in Peace Jon Leuer, we hardly (or most likely didn't) know you.
And followed it up with an all-time great reaction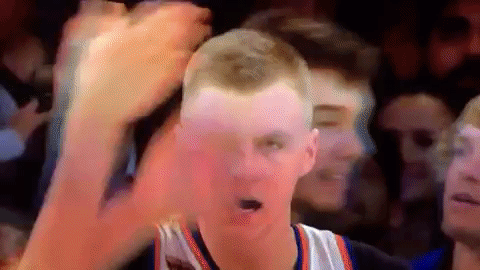 Last year when the Hammer of Godzingis dropped on someone, that would usually be about it. He'd get buckets but not take over Twitter for the entire night. But Kristaps obviously was working extra hard in the gyms of Liepaja (that I've been to, nbd) to become even more of a showstopper.
Like when he appeared to be a 21 year old playing against 14 year olds
Or when he drained a 3 like most 7'3″ players can do with another A++++ COCKY reaction. That tongue is atop the Christmas list of every smokeshow in the Tri-State area
He also went full New Yorker on a ref by saying "Good call" turning his head and then seamlessly dropping a "Fuck outta here"
Get that man some Timbs! That was easily the highlight of the night full of highlights, even though our little Latvian angel has been slowly morphing into a New Yorker right in front of our eyes for a while now
But he capped it all when he endeared himself even more to The Garden faithful with a huge block on Zombie Jon Leuer while also giving love to the people in the not so cheap seats
Plus these little nuggets
After last night, I am officially ready to declare Kristaps Porzingis The King of New York, with Odell Beckham Jr. a close second, Noah Syndergaard third, and Ray Ramirez dead fucking last. What a night! I need this newspaper cover tattooed to my heart ASAP.
All I ask is that Kristaps doesn't forget about us little guys (figuratively speaking) now that he has been anointed King Porzingis.
Knicks Superteam Status: