The Atlanta Braves Signed R.A. Dickey To A One-Year Deal With An Option For 2018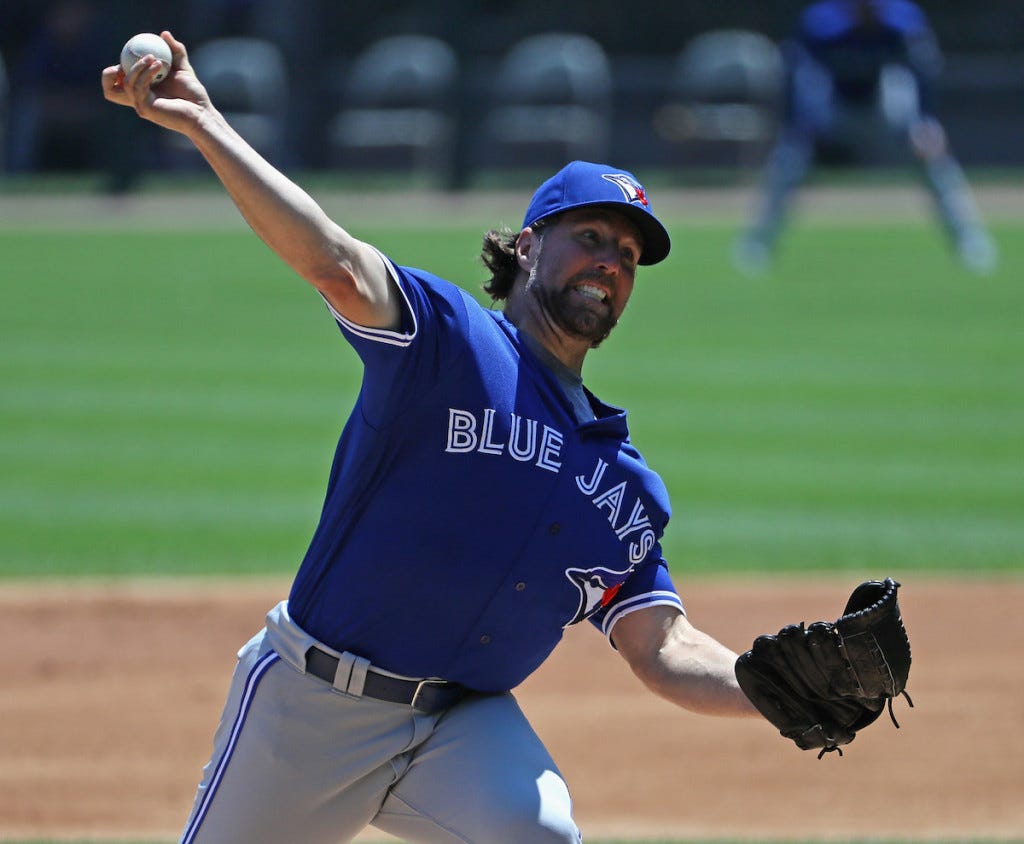 The Atlanta Braves are in full rebuild mode, and nothing says "rebuild" quite like signing a 42-year-old to a two-year deal.
Nah, I'm actually fine with this. I'm just a cynical asshole, and my brain has been trained to find the negative in everything and make fun of everybody. Yeah, he's old as shit, but he's averaged 211 innings per season since 2011. There's incredible value in that. Now, does that mean he'll throw 200 innings for the Braves next year? He could. But in his age-42 season, I'd mentally prepare myself for that not happening.
In 2016, Dickey failed to eclipse the 200-inning plateau for the first time since 2010, but he still threw 174.1 innings that season, as well as tossing 169.2 innings this year. Let's not get too picky here. Even when he doesn't hit 200 innings, he still gets pretty damn close. Not only that, but he's durable as hell. He hasn't been on the disabled list once since 2005, and since the summer of 2011, he's only had to miss a start with a minor injury once, which happened in 2014, although he did have knee surgery at the end of the 2015 season. He still made 33 starts and threw 214.1 innings that year.
Since the start of the 2011 season, only seven pitchers have thrown more innings than Dickey — David Price, James Shields, Clayton Kershaw, Madison Bumgarner, Justin Verlander, Max Scherzer, and Cole Hamels. Pretty solid list to be on, if you ask me. Dickey has a 3.68 ERA since the start of 2011, which is respectable as hell, especially when you consider that the league average ERA over that span was 3.95. It's even more impressive when you throw in the fact that this span also covered his age-36 through 41 seasons. But, it's what have you done for me lately, and Dickey's 4.46 ERA in 2016 is likely a more accurate representation of what to expect from a 42-year-old, although he'll definitely benefit from switching from the American League East to the National League East, where he spent three years as a member of the Mets.
If you're Atlanta, you know you're not competing for a title in 2017, but somebody's gotta fill these innings, and Dickey seems like an affordable option that can give you both innings and an ERA that you can at least justify sending out there every fifth day. Prior to the Dickey signing, the Braves projected rotation was something like Julio Teheran, Josh Collmenter, Matt Wisler, Aaron Blair, and Mike Foltynewicz. Of those five pitchers, only Teheran has thrown 200 innings in a season. None of the others have even reached 180 innings at the major league level, so the Braves are definitely hoping Dickey can eat some innings for them in 2017.