J.R. Smith Is The Only Man That Can Save Space Jam 2

TMZ- LeBron James might have familiar company on the set of "Space Jam 2″ … 'cause TMZ Sports has learned producers have already reached out to Cavs star J.R. Smith for a role in the flick. We spoke to Smith's rep Daniel Hazan … who says producers contacted him a few weeks ago to see if Smith would be down for a part — and J.R.'s ears perked up. "There is mutual interest," Hazan says.
As for the role — nothing's set in stone, but producers have kicked around the idea of Smith possibly voicing an animated character … a la "the Monstars" from the original. It makes sense for producers to go after Bron's teammates — when Michael Jordan starred in the original "Space Jam," several Bulls teammates like Scottie Pippen ?and Luc Longley got to come along for the ride. Hazan says he's hopeful the two sides will be able to work something out soon — saying at the end of the day, "It all depends on the deal."

Lets go live to J.R. for his reaction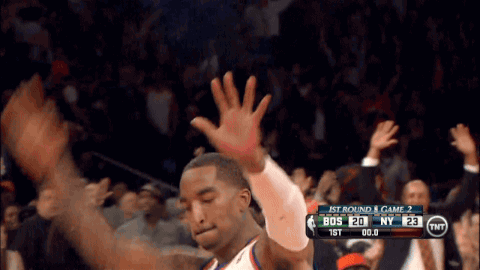 Let me start off this blog by saying I am very, very, verrrrrryyyyyy much against Space Jam 2 getting made. The first was a staple to millions of childhoods, starred a player basically universally beloved, and was an original idea. But now we have LeBron and Hollywood going back to the well and looking to plunder our childhoods. And I there's nothing I hate more than childhood plunderers.
But if J.R. is actually in the movie, he can make it entertaining. I'm not saying good, but entertaining. J.R. made some Knicks teams fun even when he wasn't playing well simply because he is on his own planet. Sure he also destroyed some teams in the process as well, but that was just J.R. being J.R. Similar to Manny Ramirez but without first ballot Hall of Fame talent. J.R. is must watch TV whether he is Good J.R. and draining jumpers from the parking lot or Bad J.R. and untying shoe laces or cracking Jason Terry with an elbow and getting suspended during the playoffs. I think this shot chart sums up J.R Smith pretty well.

22 goddamn threes. J.R. is the embodiment of the phrase "shoot your shot" in all aspects of life.
The catch is that the only way J.R. can be fun is if they let Earl Smith be Earl Smith. They cannot simply make him a MonStar or the black version of Bill Murray's character from the original.
So what the producers need to do is pull a reverse Major League. Let Space Jam 1 be the clean-cut movie and Space Jam 2 can have some edge to it. You need J.R. putting moves on Lola Bunny's sexy ass and asking if she wants the pipe. You need J.R. appearing to be high as a motherfucker and talking about space with Marvin The Martian. Sure that stuff doesn't have to be in your face and spelled out, but you can do those tricks that Disney movies do to make it fun for kids but while still telling jokes that go over their heads for the adults. Hell, if Warner Bros. can throw a joke like this on Animaniacs back in the 90s, why not push the envelope in 2016 for Space Jam 2?
That being said, regardless of whether or not J.R. is in the movie, Space Jam 2 will be a MASSIVE disappointment if the soundtrack isn't a 10/10 like the original was.
That went six times platinum (at least by 2001). Re-release it today with some "remastering" or some shit and we can probably make those six platinums turn into an even dozen.

It also had quite a #nice run on the end of the decade charts.

Then again, LeBron and his people are the ones that thought broadcasting his decision to rip out the hearts of his hometown's team to make a super team in Miami was a good idea. So the odds of this all happening is slim to none.
But since it is Monday, lets get the week started right with the full Space Jam soundtrack.