Victor Cruz Took A Pay Cut So He Could Stay With The Giants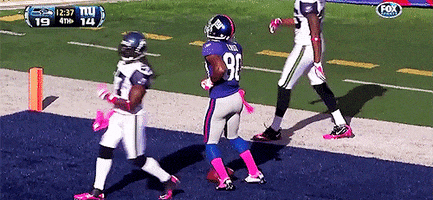 NYDN- The contract impasse between Victor Cruz and the Giants is no more. The salsa-ing receiver is sticking around for the 2016 season.  Cruz announced the news in a Twitter and Instagram post on Wednesday night, several hours after Big Blue's big free agency spending spree. For the last two months, there had been talk that the veteran would either have to take a pay cut or part ways with the only NFL team he's ever known. But player and team resolved those issues on Wednesday."Once a Giant always a Giant," Cruz wrote. "See you in September. @ New York, New York."
Cruz was due to make $7.9 million this season, and count $9.9 million against the salary cap. A source confirmed that he will now earn $1.3 million in base salary, with playing time incentives that could lead to $5.5 million. He also can recoup money via production incentives.  The deal insures that Cruz can attempt one more storybook comeback with the Giants this fall. Cruz, who will be 30 this November, hasn't played since October 2014, when he injured his right knee against the Philadelphia Eagles. He attempted a comeback last season, but did not survive a single full practice before landing on injured reserve with a calf injury. Cruz has finished three straight seasons on injured reserve.
Welcome back Vic! I have never been happier for the return of a player that I don't think will ever actually play another game and was going to get cut if he didn't give back a ton of money.  Now don't get me wrong, I hope and pray that number 80 returns to the field and Salsas all over the NFL's face again. But everything you have read about his injury is that it is often a career ender.  And it seems like other parts of a player's body can fail him as he tries to rehab the injured body part.  Luckily I'm just a dumb blogger though. Because the mere thought of Cruz even being 75% of what he was alongside ODB causes blood to rush down south in any Giants fan's body.  Nobody led to more overweight white idiots like myself absolutely butcher The Salsa than Victor Cruz.  It was depressing watching The Other Steve Smith journey around the NFL (including his traitorous move to Philly) in search of playing time and health. So again, hopefully Victor gets well with the Giants or one day retires in blue. But in case that doesn't happen, Jerry Reese neeeeeds to find a solid receiver opposite of ODB.  I don't care how he does it.  If it was me, I would sort by Speed like in Madden and sign the fastest guy, followed by sorting by Hands and signing the highest-rated catcher.  It always worked for me, as evidenced by the countless Madden Lombardi trophies in my house (nbd).  Basically as long as that receiver doesn't have the first name Rueben and the last name Randle, I'll be thrilled.
And if worst comes to worst, Cruz gets paid a million dollars to have a front row seat at the Giants march to the Super Bowl.  Now go out and keep building this monster up, Jerry!