New York Jets vs. New York Giants: The Mailbag
The 6-5 New York Jets are "on the road" this week to face the 5-6 New York Giants. Yes, both these teams are still in the middle of the playoff hunt…because parity? We took your questions about the match-up and answered them below. Thanks for sending them in through Twitter. You can read more on the game here. As always looking forward to some friendly Patriots fan feedback below…if you can walk away from compiling conspiracy theory GIFs and images with Scott Zolak about why you blew a 21-7 4th quarter lead to mighty Brock Osweiler. On to the questions! 
@TurnOnTheJets@BarstoolNewYork If Revis plays, do you think Jets provide more safety help for Revis vs Beckham?

— Vin (@Mr_Krunch_) December 2, 2015
Yes. I don't think leaving Beckham completely singled up on an island is a wise decision, particularly after what DeAndre Hopkins did against Revis and considering he missed last week with a concussion. There will be situations where he is manned up with no help but I think in most passing situations the Jets will put a safety over the top. You need to make somebody besides Beckham beat you. Let the Giants win by funneling targets to Rueben Randle, Dwayne Harris and Hakeem Nicks' corpse.
@TurnOnTheJets should the Jets start the pass early to set up the run against the Giants? Also, will the streak snap?

— Kalind Patel (@NYCKNP) December 2, 2015
The Giants have the NFL's worst passing defense at 309 yards allowed per game. The Jets have arguably the best 1-2 wide receiver combination in the league right now, with Brandon Marshall and Eric Decker having combined for 17 touchdowns and over 1,600 yards through 11 games. So yes, they shouldn't be shy about attacking through the air early and often. Hopefully, this forces the Giants not to stack the box and gives more space to Chris Ivory…although he doesn't always need much space.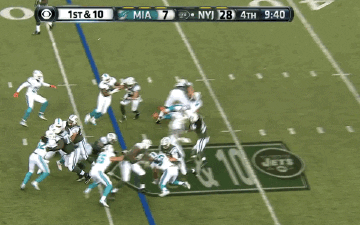 @TurnOnTheJets@BarstoolNewYork Ivory stat predictions for Sunday ?

— Rob Mac (@RobMacNYJETS) December 2, 2015
Speaking of Ivory, I'd guess he settles somewhere in the 75-90 rushing yard range with maybe another 15-20 receiving yards and a touchdown. The Giants have an average run defense at best so there is no reason to think he can't approximate his normal rate of production.
@TurnOnTheJets If Revis plays and covers Beckham, how many catches do you think Beckham will have?

— Robert Dobek (@RobTheYankee) December 2, 2015
One of the smart things the Giants do is relentlessly target Beckham regardless of the opponent because he is their best player and a big play machine. I do think Revis will play and follow Beckham around for most of the game (with safety help) and I think the hope is to keep Beckham somewhere around 80 yards and from having any back breaking big plays…kind of like Victor Cruz did against the Jets back in 2011. THANKS ERIC SMITH AND CRO! 
@TurnOnTheJets@BarstoolNewYork What Eli is going to show up this week?

— Paul Andrew Esden Jr (@BoyGreen25) December 2, 2015
Eli is one of the weirdest players in NFL history. He has basically been an average, inconsistent quarterback outside of two dominant Super Bowl runs when he shattered the entire region of New England's hopes and dreams (thanks, Eli!), although to his credit he has played very good football overall the past 2 seasons. I'd count on Eli playing well and moving the ball consistently. The key is forcing him into one or turnovers that you can take advantage of for points.
@TurnOnTheJets@BarstoolNewYork will the Jets defensive line show up?

— MerlTeez (@MerlTeez) December 2, 2015
It would be nice. The Giants offensive line has been inconsistent at best and the Jets looked to have nailed down the proper defensive line rotation last week. I'm not sure the Giants should even bother rushing attempts against the Jets, considering the Jets have the league's best run defense the Giants don't have a running back with over 420 yards on the season. However, it will be more important to generate a pass rush so the Jets badly need Muhammad Wilkerson, Sheldon Richardson and surging rookie Lorenzo Mauldin to show up off the edge. 
@TurnOnTheJets talent wise what team do Giants mirror that #jets have played already this year?

— Will (@gillies9) December 2, 2015
The Giants are like many of the mediocre teams that the Jets have played this year and that they are themselves. They have been inconsistent but have enough talent to win just about any game on their schedule. The Jets and Giants lost by one possession to New England but the Giants just lost to the Redskins, who the Jets killed yet the Jets lost to the Eagles, who are disgustingly awful (but the Giants lost to as well). Who the hell knows? It is a winnable game that will probably come down to the final possession or two.